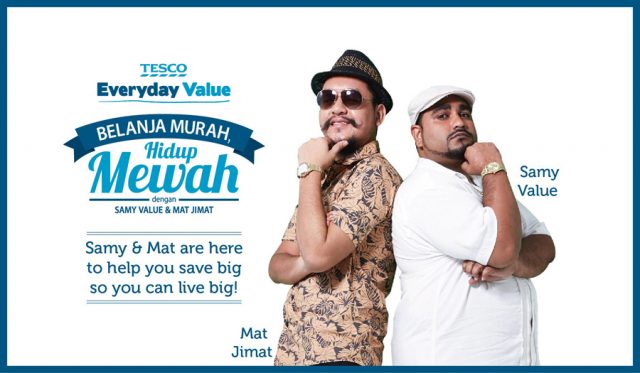 Tesco Malaysia has come up with an interesting campaign to target male consumers hoping to pay less but enjoy a luxurious life (Belanja Murah, Hidup Mewah). The two fictitious characters Samy Value (rhymes with the name of the previous Malaysian Indian politician Samy Vellu) and Mat Jimat (or Mr Save) are there to help Tesco consumers save big so they can live big.
By buying Tesco Everyday Value, Mat Jimat is able to save up to buy a private island, while Samy Value is able to own a boat through the savings from Tesco Everyday Value. The other clip shows how they are able to buy big boy toys like submarine, helicopter and even space ship with Tesco Everyday Value.
There are more than 400 Everyday Value items giving considerable savings to consumers. Male consumers, those that are looking to reduce their expenses, may not be too picky on brand names but can be sensitive to prices. The new 'save big so they can live big' concept does help to show the more you save, the more you can realise you dream. This private label marketing campaign is more about giving consumers the necessary tools to help them achieve their goal. The way to achieve that goal is to live on Everyday Value private label range!
Tesco knows it is the right time to expose Malaysians with the value-end of the private label range with a view of the impending introduction of the 6% GST in April 2015. By then, Malaysians will be looking for various options to lower their grocery spending and the Everyday Value items will be there to meet their needs.
http://www.tesco.com.my/everydayvalue/