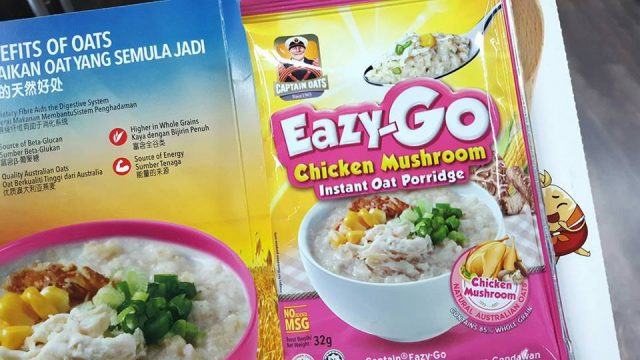 Federal Oats Mills Sdn Bhd, famous for its Captain Oats instant oatmeal and quick cook oatmeal, introduced the new Eazy-Go instant oatmeal range at Thaifex 2017. The new range, likely to be launched in Malaysia in July 2017, comes in a sachet and offers convenience to busy consumers looking for something to fill up their day.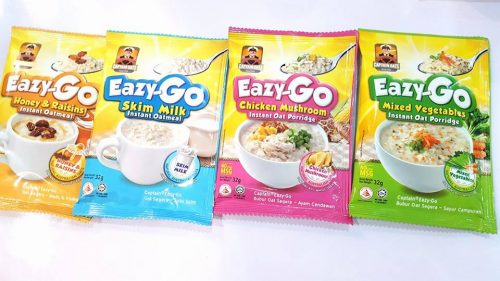 Eazy-Go range
Chicken Mushroom Instant

Oat

Porridge
Mixed Vegetables Instant

Oat

Porridge
Honey & Raisins Instant Oatmeal
Skim Milk Instant Oatmeal
This marks the first time Captain Oats is venturing into the flavoured instant oatmeal and oat porridge segment.
Ingredients
The key ingredients in the Eazy-Go Chicken Mushroom Instant Oat Porridge are oats (85%), chicken stock powder (salt, corn starch, permitted flavour enchancer [yeast extract powder, sodium guanylate, sodium inosinate], sugar, hydrolyzed vegetable protein, spice powder, chicken meat, garlic powder, onion powder, chicken fat, palm fat), whole milk powder, dried corn, dried mushroom, sugar, salt and dried spring onion. There is no added MSG.
Halal and Healthier Choice
It is certified halal by JAKIM and come with the Healthier Choice – higher in wholegrain by the Singapore Health Promotion Board.
Preparation method
The preparation method is add 220ml of hot water then stir well and wait for 3 minutes.
Sponsoring Ipoh Starwalk
The company sponsored Ipoh Starwalk with 30,000 packs of Captain Oats (including Eazy-Go) and RM 15,000 cash, which was held on 7 May 2017.
Sampling of Captain Oats Eazy-Go is also being held at selected places in the country.
New animated Captain Oats
The iconic Captain Oats is now appearing as a friendlier animated character, which will be used to drive consumer engagement with the younger generation.