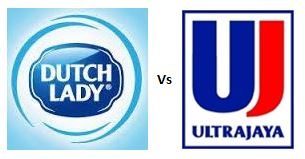 It is now the perfect time to benchmark Malaysia-listed Dutch Lady Milk Industries Sdn Bhd (DLady) with Indonesia-listed PT Ultrajaya Milk Industry (ULTJ). Both companies are leaders in the dairy market in their respective countries. DLady has a 64% share of the Malaysian liquid milk market in 2011, while ULTJ is the biggest liquid milk product manufacturer in Indonesia with a market share of 27.5% by volume in the first nine months of 2013. Apart from milk, ULTJ is the fourth biggest RTD tea producer with a market share of 15.6% in carton and PET bottle by volume.
ULTJ derives about 63% of its revenue from dairy, 28% from tea and health drinks and 9% from others. DLady is primarily into dairy with products including infant formula, yogurt, UHT milk and fresh milk.
The two companies exhibit similar trends in gross profit margin. Gross profit margin fell in 2008 during the world food crisis where prices of key food commodities including rice, wheat, corn and milk rose rapidly. In the first half of 2014, we are seeing a repeat of 2008 with margin badly impacted by rising raw material costs, resulting in both operating income and gross margin during the Jan-June 2014 period falling below the 2009 levels.
However, we are seeing reports of milk prices falling as evident in the rising global milk production and the fall in trade auction results. Dairy auction prices fell due to the Russian dairy import ban and the increase in supplies.
The charts of DLady and ULTJ reveal their share price moves in a rather similar manner with DLady's share price flattish since the end of 2012 and ULTJ rising within the Rp 3,800 to Rp 5,100 band since early 2013. If the price of dairy does turn south, this will be an important share price catalyst for DLady and ULTJ to breakout from their current prices.
DLady P/E (ttm) is 24.5 with a dividend yield of 2.14%, while ULTJ P/E (ttm) is 48.05 with a dividend yield of only 0.27%. This makes DLady a better investment preposition. Moreover, DLady has a higher net profit margin compared to ULTJ.
Disclaimer: Not vested