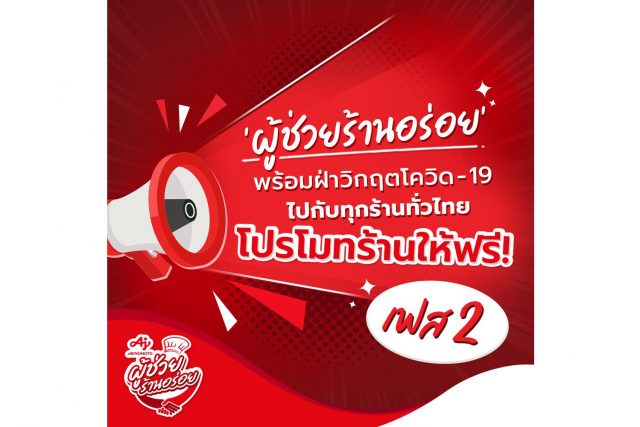 9 AUG 2021 – Ajinomoto Co., (Thailand) Ltd. has stepped up its support of all restaurants, especially SMEs, by creating "Ajinomoto, the Umami Helper". Available via LINE OA, Ajinomoto, the Umami Helper is a community for food vendors. Once registered, the community provides special recipes along with professional business management techniques that food vendors can take and adapt to their own outlets. All this plus a range of entertaining activities for vendors to join through which they can get rewards. Registered vendors will also get promoted by Facebook: อายิโนะโมะโต๊ะ ผู้ช่วยร้านอร่อย as another way of bringing in more customers.
Ajinomoto would like to encourage all food vendors affected by COVID-19 to do whatever it takes to get through this crisis together. Ajinomoto Group's contributions to the effort include creating different products tailored to customers' and food vendors' needs under the umbrella concept of "Eat Well Live Well society" and in accordance with Ajinomoto Group Creating Shared Value policy (ASV).
The campaign has already attracted much attention and participation among loads of food vendors. As such, Ajinomoto decided to step up the campaign with Phase 2.
Interested food vendors can easily register via Line OA (Lind ID: @AjinomotoTH). Moreover, you automatically get a chance to get a Free Promotion with total value 5,000 baht through Facebook อายิโนะโมะโต๊ะ ผู้ช่วยร้านอร่อย that promotes your business within a 5 KM radius. Plus many more major rewards!