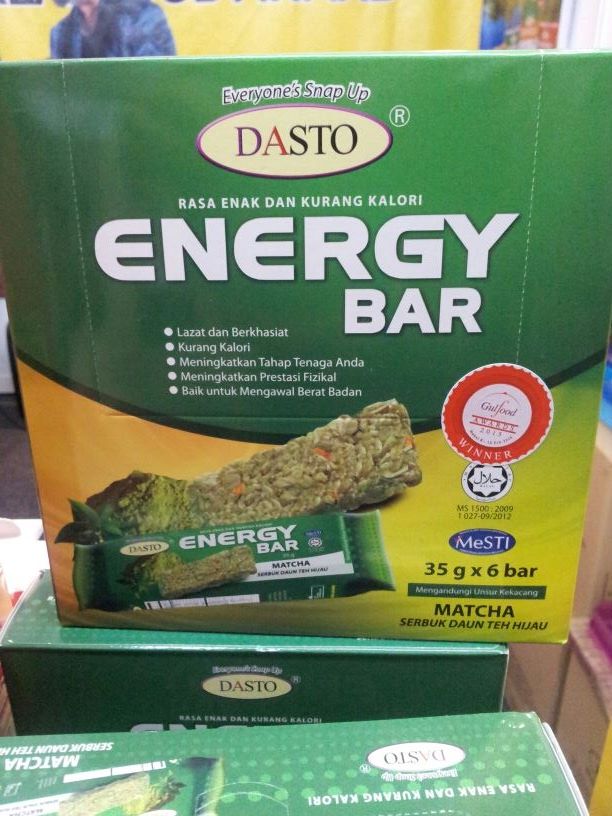 The DASTO Energy Bar Matcha has won the Best New Halal Food Award in Gulfood Award, Dubai in 2015 and was showcased at the recently concluded MIHAS halal fair in Kuala Lumpur, Malaysia. The 35g energy bar is made from matcha green tea powder, dry mango, almond, oat, nipah syrup, peanut butter, salt, canola oil and brown rice. It is high in zinc, calcium, fibre and low in calories and glycemic index. The energy bar helps to reduce calories, increase the energy levels and is useful for weight control. Apart from matcha, there is also a durian energy bar as well as the Crunch and Munch Mind and Muscle Energy Bar produced by the same company Dr Aishah Solution Sdn Bdn (DASTO).
Dr Aishah Tul Radziah Lebai Hussin, commonly known as Dr Aishah, is quite an authority in weight control. She is also the founder of DASTO and runs a clinic with her husband in Sg Petani in the northern state of Kedah. Dr Aishah created a new Fast Amazing Result (FAR) weight management program to help individuals control and reduce their weight. The program was created after she herself experienced a rapid increase in weight to 68kg after suffering from menopause. Using the self-invented FAR method, her weight reduced to a normal level within 5 months.
The alarming obesity and overweight problems has created demand for functional food and dietary supplement. DASTO is one of the companies that have made a name in this area. What is unique about DASTO's formulation is it uses local ingredients such as dry mango, pumpkin and dry coconut as well as imported ingredients like oat, raisin and almond to make the DASTO Granola. Since the price of these products are higher than normal granola/energy bar, the companies plans to sell them through specialised channels such as pharmacy. At the moment, DASTO is available at AEON Big in Alor Setar and Butterworth, appointed agents and online.
A new factory in Perda Food Park, Butterworth will be completed within one year and this will boost the production capacity.  DASTO will also be launching the probiotic green tea made in collaboration with Institut Penyelidikan dan Kemajuan Pertanian Malaysia (MARDI) and the new protein bar.
Key takeaway:
– The use of local ingredients is the unique selling point of DASTO. Using local ingredients not only save cost but also make them relevant to the dietary needs of local consumers.
– Since the products are formulated by Dr Aishah, her medical background lends credibility to the product functional claims.
– Winning an award at Gulfood 2015 has improved brand visibility, locally and abroad. In fact, the company has signed memorandum of understanding to penetrate the Middle East markets.