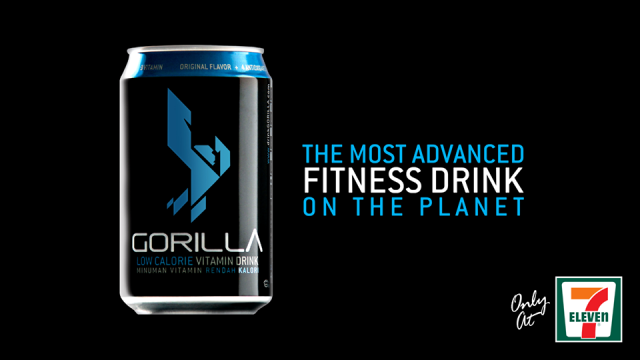 Gorilla vitamin drink, "Formula for health maniac," has been launched in Malaysia and is made available through 7-Eleven, sports and gym centres. The drink claims to be the "most advanced nutrient powered beverage on earth" and only has 13g of sugar in each can. As a comparison, F&N 100Plus contains 21.5g of sugar.
The drink is not shy to reveal its nutritional content on the website as it believes it is much more superior than other isotonic and carbonated soft drinks. The "regular isotonic 1" in the chart below is no doubt referring to 100Plus, the market leader in the isotonic category in Malaysia.
Here is the detailed nutritional information with information taken from the brand website.
Gorilla uses stevia sweetener to achieve the low calories claim. Other ingredients in the drink include calcium lactate, zinc gluconate, acid citric, sugar, vitamins A, B1, B3, B6, B9, B12, C, D and E, magnesium lactate, preservatives, food conditioners and natural pitaya flavour.
Personally, I find there is a lingering stevia aftertaste and a hint of flavour commonly associated with energy drinks. Taste will be stumbling block for Gorilla to win over existing 100Plus fans. The use of the energy drink flavour is very much aimed at current energy drink consumers. This is reflected in the marketing of Gorilla, which is associated with sports such as boxing, futsal and climbing. Naturally, the consumer touchpoints for Gorilla are gyms and sports centres. Gorilla will be competing with other isotonic drinks and coconut water for a share of the fitness and post-workout hydration market. The energy-giving focus of Gorilla will help it win over consumers.