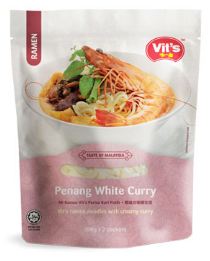 Ramen Penang White Curry? Yes, Vit Makanan (Kuala Lumpur) Sdn Bhd, the company behind the Vit's 唯一 noodle brand has finally entered the Penang White Curry noodle bandwagon with something unique by focusing on what it does best – noodle. The Penang White Curry with the ramen noodle in pouch will not only stand out in a crowded aisle, it will also reinforces the better for you credential. At the time of writing, Vit's Penang White Curry Ramen is still not available in the market.
The ramen noodle has 2% fat compared to fried instant noodle, which Vit's claims to have 20% fat. Unlike other ramen noodle, which requires refrigeration, the Vit's ramen noodle is precooked and vacuum sealed, making it suitable for storage at normal shelf temperature.
The down size of the latest product is each pack of  Vit's Penang White Curry Ramen (196g) contains two individual packs of ramen only enough for two people. This makes the ramen noodle more expensive than the other non-ramen white curry noodles in the market, which usually comes in a pack of four. I bought this Vit's ramen noodle at the halal food exhibition MIHAS 2015 for RM 6. As a comparison, Maggi Royale Penang Seafood Curry 4 x 91g retails at Tesco at a price of RM 8.29. [Vit's Penang White Curry is selling at Aeon Supermarket at a promotion price of RM 6.50 on 27 April 2015]
As for the taste, I will let Ramen Rater do the rating.
According to Vit's website, the ramen series include Penang Asam Laksa and Penang Hokkien Mee. There is also a line of premium instant noodles with the same flavours albeit in normal fried noodle, not ramen.
MyKuali New Formulation
The debut of Vit's Penang White Curry Ramen comes at a time when MyKuali has moved on the phase two. Consumers have spoken! The new MyKuali franchise now comes with a new formulation with an "improved noodle texture and soup base with garlic garnishing." The improved noodle is available at Giant, Jason's, Mercato and Cold Storage.
Maggi Royale wants to cook for you
At Mid Valley in March 2015
Maggi Royale continues with its marketing blitz and this time with an in-store activity in March 2014 to emphasis the 'authentic Penang hawker style' taste of Maggi Royale Penang Seafood Curry. The activity was held at the entrance of Aeon Supermarket in Mid Valley. The place featured kopitiam style chairs and marble tables to replicate the street food atmosphere.
Kopitiam style chairs and marble table
Consumers who bought a pack of Maggi Royale and Maggi was served with freshly cooked noodles with fresh ingredients. This campaign served to demonstrate to consumers the instant noodle can taste really authentic if you know how to prepare it.
Cooking on the spot
Conclusion
 
The debut of Vit's with the ramen noodle opens a new front in the Penang White Curry campaign. The focus of Vit's approach is better for you through the healthier choice of ramen noodle. MyKuali continues to focus on getting the taste right, which is what it is famous for in the first place. The MyKuali White Curry Noodle is now V2.0 with new formulation based on feedback from its fans. Maggi Royale has gone on the route of the Asian premium noodle series with the Penang and Korean range and its in-store activities are still all about "the taste adventure."