Tofusan eyes ASEAN expansion
Tofusan Co., Ltd., Thailand's No.1 organic soymilk producer, said it has plans to export its soymilk into other Southeast Asian countries in 2018 through the DKSH network. This comes on the sideline of the official announcement of the distribution partnership between Tofusan (โทฟุซัง) and DKSH. Tofusan is famous for its soymilk with tofu sheet.

Partnership with DKSH
DKSH was appointed by Tofusan to handle marketing, sales, distribution and logistics services in Thailand. This includes the expansion of Tofusan products in modern trade, convenience stores, hotels, schools, restaurants, community retailers and food service channels.

Opening new factory in Samut Sakhon

Tofusan aims to open a new factory in Samut Sakhon, a city close to the Bangkok Metropolitan Area, reported Bangkok Post. The capacity of the new factory is 300,000 bottles of soymilk per day. It will add to the existing daily production capacity of 100,000 bottles a day.
UHT soy milk has the biggest segment
According to Tofusan, UHT soy milk was the biggest segment in the soy milk market in Thailand in 2014 with 84.31%, followed by sterilisation 13% and pasteurisation at 2.94%. Lactasoy is the market leader in UHT soy milk, while Tofusan is active in the pasteurised and sterilised soy milk segments.
The image below was taken from iizziistudio.com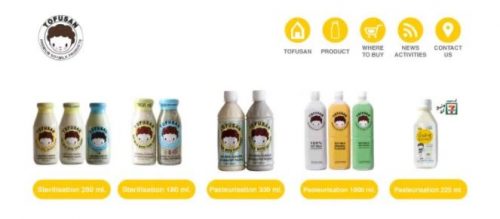 Market leader
Tofusan debuted in the market in 2011 and by the end of July 2015, it had captured 54% of the market in the bottled soy milk segment. Ohayo and Shinpo was respectively second each with a 20% share and Fong Fong with the remaining 6%.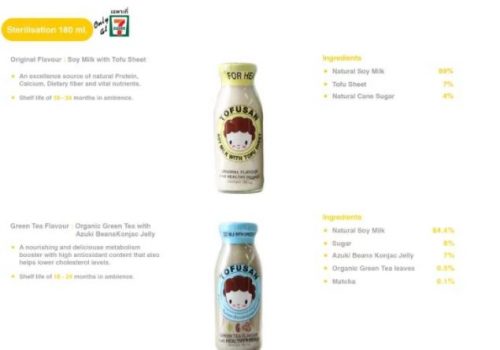 New product with 5 colours
The new Tofusan soy milk has beans of 5 colours including white bean, green bean, red bean and soy bean in konjac. The retail price of the 225ml drink is THB 15 and is only available at 7-Eleven. The calcium in the drink comes from white sesame.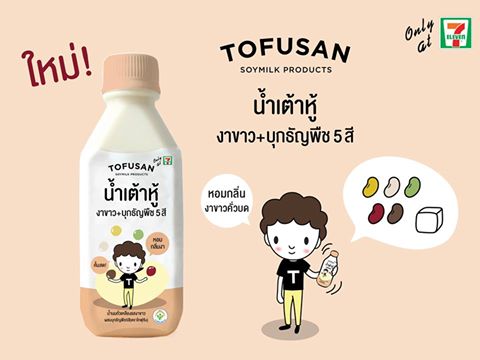 What Mini Me thinks
UHT soymilk such as Lactasoy and Green Spot (Vitamilk) has found a ready market in Southeast Asia. Huge growth is seen in the Philippines for Vitamilk. The demand for pasteurised and sterilised premium soymilk is slowly picking up as consumers upgrade to better soymilk and this is where Tofusan can play a role.
Food Protein Asia 2017
To know more about Asia's soaring demand for protein enriched foods and learn from Monde Nissin, Parabel, Meijer Consult, Axiom Foods, Fonterra Brands, Danone Nutricia and many more at Food Proteins Asia 2017 on 9-10 Nov Bangkok, Thailand.