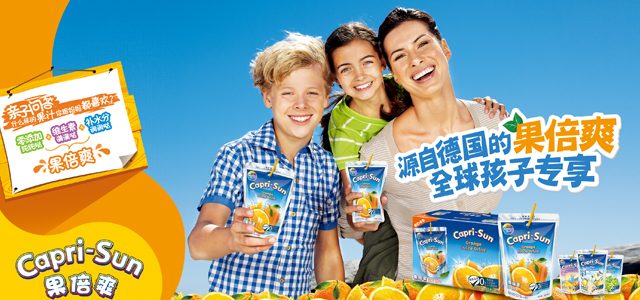 Reignwood Group, better known for its Red Bull energy drink in China, has officially launched the German children's fruit drink Capri-Sun (果倍爽) in China. Capri-Sun is now part of Reignwood's consumer product portfolio, which includes Red Bull and the newly launched Vita Coco (唯他可可). The Capri-Sun drink is in a 200ml pouch targeting 6-15-years-old. For the initial phase, four flavours have been made available including orange, white grape, peach & apple and pear. Additional new flavours will be introduced in 2016.
Production and marketing of Capri-Sun in China is handled by Bestshin Beverages (Beijing) Co., Ltd. 百仕欣饮料(北京)有限公司, a wholly-owned company of Reignwood. The RMB 520 million production facility is located in Beijing Huairou Yanqi Economic Development Area. The factory has four production lines for straw pouch in 200ml and one production line for spouted pouch in 330ml with a total annual production capacity of 650 million pouches. The 330ml spouted pouch is aimed at the 13-29-years-old.
Capri-Sun is marketed as a kid's drink from Germany. The German connection provides a mark of assurance to wary Chinese parents who are concerned about food quality. The drink contains no preservatives and additives and has different vitamins. At the launch event, Capri-Sun introduced the children fruit juice concept, which aims to ensure children consume drink fruit juice designed to meet their growing up needs.
One of the challenges is to ensure young consumers in China know how to drink Capri-Sun. The launch of Capri-Sun will be putting pressure on Huiyuan and other domestic children-focused fruit drink companies. More fruit juice targeting children will likely appearing in the market in the wake of Capri-Sun's launch.