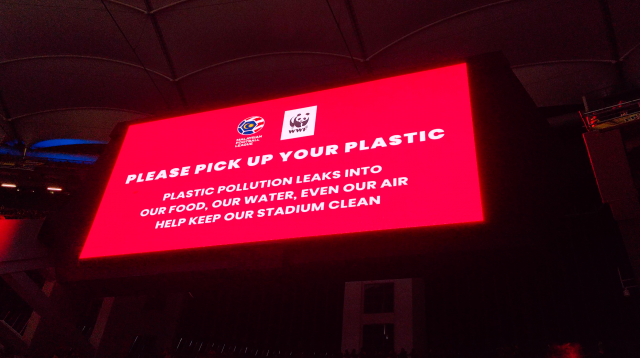 MFL collaborates with WWF to combat plastic pollution in the 'Your Plastic Diet' campaign at the Shopee FA Cup Final 2019 and upcoming Malaysia Cup 2019
Kuala Lumpur, 2 August 2019 – Malaysian Football League (MFL) united football fans to help save the environment in collaboration with the World Wide Fund for Nature (WWF), as part of WWF's Your Plastic Diet campaign. A world's first, the Shopee FA Cup Final on 27 July 2019 marked the first collaboration with a football event for the Your Plastic Diet campaign. Fans were engaged with messages on microplastic pollution shown to spectators at the Shopee FA Cup Final 2019 and will also be shared during the upcoming Malaysia Cup kicking off on 2 August 2019.
The Your Plastic Diet campaign raises awareness on how plastic pollution has led to particles of microplastic being ingested by people all over the world, with a study commissioned by WWF finding that people could be consuming as much as five grams of plastic a week on average. The Your Plastic Diet campaign helps people understand this better by presenting the statistics in the form of easily recognisable items. Did you know you could be eating enough plastic to make a credit card every week?
"Most football fans are family-oriented people who want to share the meaningful things in life with their loved ones. Usually, this is love for their team, but love for the environment and the importance of doing our bit to help is also a vitally important message. Football fans care about heritage and leaving a good legacy for our descendants, and what better legacy to leave than a healthy earth and the practice of caring for mother nature. The Shopee FA Cup Final and Malaysia Cup are key events in Malaysia's football calendar, so we use these must-attend events to create awareness on plastic pollution among more than 80,000 football fans. We hope that Malaysians will be motivated to reduce the use of plastic and to consider how to dispose of waste properly," said Kevin Ramalingam, Chief Executive Officer of Malaysian Football League.
Commenting on the collaboration, Sophia Lim, Chief Executive Officer and Executive Director of WWF-Malaysia said: "We are pleased to have this opportunity to work with Malaysian Football League to spread the urgent message on plastic pollution. As football is one of the biggest sports in Malaysia, we hope our message can reach a significant number of spectators, not just those watching at the stadium, but also many more watching on televisions around the country. Sports fans are well known for their undying passion and enthusiasm for their team, and we would be delighted to have them rooting for and doing their bit for Team Earth too."
At the Shopee Piala FA Final football match, messages on plastic pollution were shown on the LED perimeter board and as advertisements on the giant screen. In line with the event, targeted messages reminded spectators that 80,000 people could consume more than 360 plastic whistles within 90 minutes. There were also public announcements calling upon the spectators to keep the stadium clean by cleaning up after themselves, picking up rubbish in their vicinity, and disposing of all waste properly.
"Globally, football fans who clean up after themselves have attracted positive attention, and I hope our Malaysian football fans will also practice this positive behaviour at all of our local matches," Kevin added.
For more information on the Your Plastic Diet campaign, please visit https://wwf.panda.org/get_involved/campaign_with_us/plastics_campaign_page/