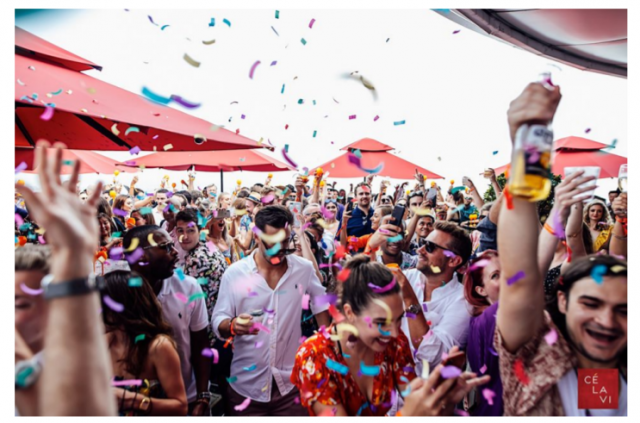 Singapore, 2 August 2019 – On Saturday, 17 August 2019, escape to the skies as CÉ LA VI's acclaimed Sky High Brunch will be making its return. Set against the backdrop of the Singapore skyline, indulge in exceptional cuisine lead by Chef De Cuisine Joeri Timmermans, high-energy beats and bottomless flow of Veuve Clicquot and innovative cocktails.
Sip on a selection of premium pours and contemporary cocktails such as Tanqueray Mojiti, Pimm's Cup, Tanqueray Smash and Berry Bellini while swaying to the beats and rhythms spun by Resident DJs. The urban rooftop party is complete with eight dedicated counters featuring an extensive array of specially curated contemporary Asian dishes.
Guests can indulge in a fresh selection of Oysters, Prawn and Mussels at the Raw Bar, while highlights from the Asian Tapas section include the Premium Maki, Spiced Bell Pepper "Muhammara" Dip with toasted pita bread and flavourful Avocado Tacos.
Discover unmissable dishes at the Grill Station including the tender Wagyu Beef Sliders with kimchi and tangy assam sauce, or crispy Chicken Katsu Sando served with Napa cabbage and Kewpie mayo. For a satisfying vegetarian dish, opt for the Grilled Eggplant served with sambal manis, or the Grilled Corn on the Cob seasoned with Chilli mayo, coriander, cotija cheese, paprika and lime for a zesty finish.
Over at the Satay Station, guests can indulge in innovative takes on classics such as Ayam Lilit or Pork Satay paired with peanut and coconut cream, served with acar & calamansi wedges. Highlights from the Hot Station include Steamed Barramundi with a nam jim dressing, pineapple and tom klong broth, Braised Chicken in Green Curry, Duck Betutu, Cripsy Pork Belly and Vegetarian Khao Soi. Those with a sweet tooth will delight in mouth-watering desserts such as the Vietnamese Coffee Lolly, Pecan Caramel Tart, Mango Cheesecake and the enticing Gooey Brownie.
Guests can revel in alluring tropical beats spun by CÉ LA VI's resident DJs, elevating the atmosphere with the freshest sounds. Infectious beats and summer island vibes create an unparalleled social affair for the weekend. Pre-sale tickets now available at https://ticketing.igo.events/e/481/sky-high-brunch-17-aug-19
About CÉ LA VI Singapore
CÉ LA VI is our interpretation of the popular French saying "This is Life". CÉ LA VI was born in Southeast Asia, inspired by the region's creative legacy. CÉ LA VI's DNA is deeply rooted in the artistic influences of the region's art, carvings, paintings and temples. Our mission is simple: the pursuit of pleasure, passion and play in an inspiring and spectacular setting because "This is the Life". We deliver luxury lifestyle, dining and entertainment brand through exceptional guest services, iconic locations with stunning vistas and a journey of the five senses.