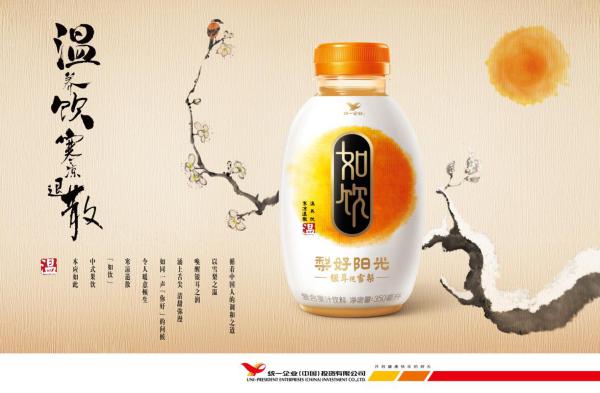 Uni-President introduced the Chinese-inspired juice brand in December 2014 with Stewed Pear with White Fungus Flavour Juice (梨好陽光) as the first drink for winter. The drink is consumed warm. The key ingredients snow pear and tremella help promotes the traditional life-nourishing concept.
Ruyin opens up a new Chinese-style juice category 中式果饮, which uses local ingredients traditionally used to nourish the body. Launched in May 2015 are two more new products 梨想万岁 made from pear and monk fruit and 冬瓜小荞 with winter melon and duckwheat 苦荞 as the key ingredients.
The pace of Uni-President's juice sales fell into negative territory in 2014 as the pear juice market, pioneered by Uni-President, shrank. On the bright side, the juice-flavoured functional drink Haizhiyan 海之言 was a success story with sales of RMB 600 million in 2014 alone. The company will be doing all it can to arrest return to a growth trajectory in 2015 for the juice segment and Ruyin will be playing a role.
Uni-President China juice segment sales, 2008-2014
Haizhiyan 海之言. Calamansi is the third flavour launched after grapefruit and lemon