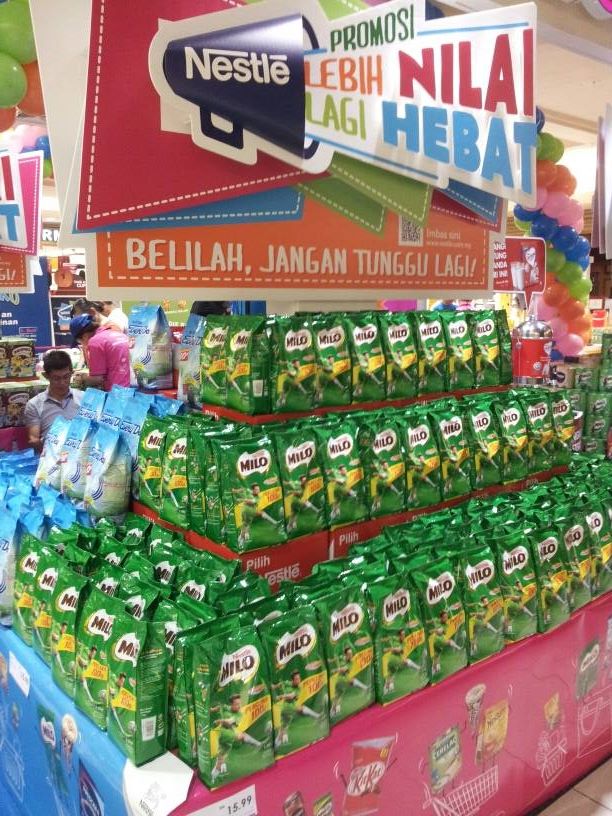 GST is now upon us. In a bid to retain customers, some retailers and producers have decided to absorb the GST. Mydin Mohamed Holdings Bhd said it will absorb the cost of the GST from the RM 300 million monthly profits at its supermarkets and hypermarkets.Mondelez Malaysia announced it will not increase its product prices following the implementation of the GST. "In fact, we will be implementing a 5.7 per cent price cut on our product list to maintain the prices that we give to our retail partners and distributors," said Mondelez Malaysia managing director Pete Bingeman.
As of 10 April 2015, 39 companies have pledged to absorb the 6% GST and maintain their current product prices, said Hasan Malek, domestic trade minister.
Milo comes with 100g free volume
Nestlé (Malaysia) Bhd will pass on tax savings to retailers but added that retailers are the ones that set the final prices for consumers. The company has launched the 'Lebih Nilai, Lagi Hebat' (More Goodness, More Value) campaign to keep its products competitively priced in the post-GST environment.
Some of Mondelez Malaysia's products did see their prices unchanged but some of the biscuits under the Jacob's and Oreo brands witnessed at least a 5% hike following the implementation of the GST. Several products in the sample such as Twisties Chispter and Chipsmore became cheaper due to on-going promotions. Perhaps like what Nestle mentioned earlier, retailers have the final say in price and this probably explains why Mondelez did not manage to absorb all the GST hike.
Visual cues are important to demonstrate the value for money proposition. Many brands including Nestle and Mondelez have added extra volume for selected items following the implementation of the GST on 1 April 2015. I have touched on this topic in an earlier posting on instant noodle. Here are other examples.
Chipsmore offering extra 25% volume
Twisties free one pack inside
Nescafe free 3 sticks
Breeze extra 15% volume
Even though the prices have increased, at least consumers find comfort knowing very well their favourite product has larger volume at least for now. In a post-GST environment, value for money will become an important theme and FCMG companies can make full use of this by launching smaller pack or family pack to create better value perception.