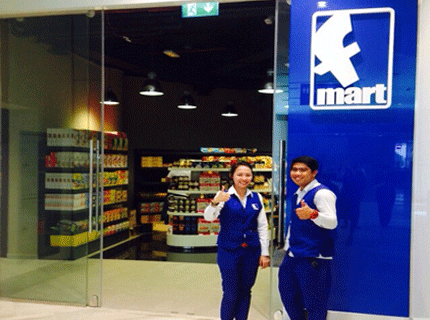 F-Mart, a new chain of premium convenient stores from UAE-based Families Group, plans to open four convenience stores in Malaysia in April 2015. The plan is to have 100 outlets in the coming three years. Each store will have 60% products sourced from Malaysia and 40% from around the world. F-Mart will be a halal convenience store. However, it will not the first halal convenience store chain in Malaysia but the second. The first belongs to Circle K, which is also the first halal Circle K in the world. As of 1 February 2016, there were 15 Circle K outlets in the country.
Circle K in Malaysia with an Arabic signage
Personally, I think halal convenience store has potential in Malaysia especially in Malay dominant areas where the products will be geared towards the Muslim market. In the example of Circle K, the store has a prominent Arabic signage next to the Circle K logo to denote it is a Muslim-friendly store. Whether F-Mart or Circle K can succeed in a marketplace dominated by 7-Eleven is still a question but their presence in the market shows halal is becoming an important business consideration in line with changing consumer lifestyle of Malay consumers.
As of May 2016, F-Mart has yet to open a store in Malaysia.