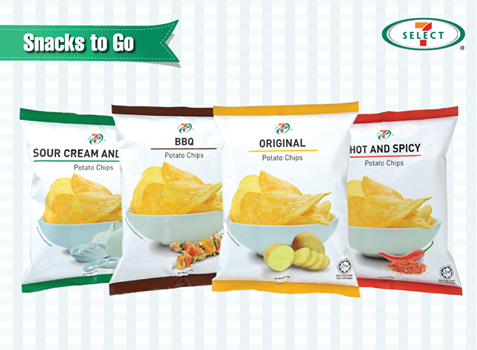 After working to improve its hot food and ready meal offerings, 7-Eleven Malaysia is directing its effort to private label (PL) snacks. As with all 7-Eleven PL snacks, the packaging always come with a large white space to create less noise. The made-in-Malaysia range includes sour cream and onion, BBQ, original and hot and spicy. Each pack weighs 60g.
The convenience store is doing a promotion for the new snacks. For every pack of 7-Select chips, you will get one bottle of Aktif drinking water 500ml for free. The price for the snack-chip combo is RM 3.70. I am not sure how much the chip is priced individually but as a PL product, it should be priced lower than branded potato snacks.
7-Eleven has also introduced South Korean snacks in 80 outlets. It claims to be exclusively imported from South Korea. Did i see honey butter chips in the picture? The one that has created a hysteria in South Korea? Unfortunately not.
So, where is my honey butter chips?