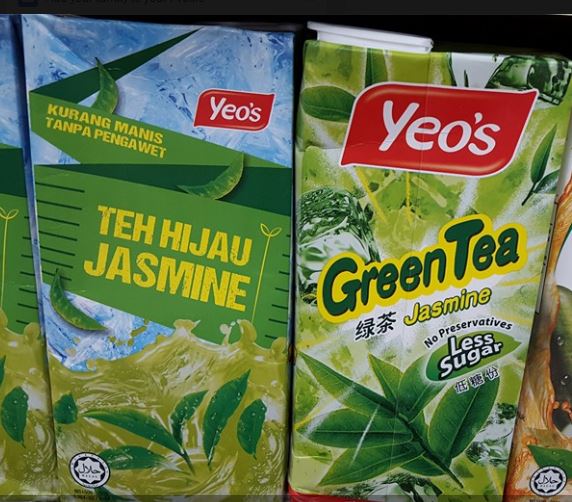 Refreshing the packaging design is part of the marketing process to improve sales and to capture new consumers. However, when the new design fails to shine and did not convey the essence of the product then it is better not to give it a new paint of coat.
Readers can judge for themselves which packaging works. Here is an example of Yeo's new look for its range of Asian and tea drinks. The image on the right is the existing packaging design, while the one on the left is the new look. As you will notice, the Yeo's logo is now smaller and insignificant. There is a lack of contrast and the overall design is very dull, looks like watercolour painting.
Here is another design for the Asian drink series. Similarly, the Yeo's logo is now significantly smaller. The font size is skinnier and the images of the key ingredients be it lychee or melon are no longer prominent. The skinny font size and the black colour text, punctuated by the vast white space, has diluted the product's impact. Highlights of the earlier design are the Yeo's logo (consumers can identify with the brand) and images of the ingredients, which helps making selection easier by identifying with the ingredient.
New look
Existing design
For soya drink, the earlier design is much better than the new design.
Existing pack design
Comparing with other competitors
F&N has always been promoting its soy drink by focusing on the NutriSoy brand rather than the company F&N. That is why NutriSoy occupies a bigger space on the packaging. Ace Canning's HomeSoy continues to retain its iconic design with a bowl of soy drink and the brown colour scheme.
Based on the new design, Yeo's has now de-emphasised the Yeo's brand. Instead, it has turned the word 'Soy', with no design at all, into the main character. I do hope Yeo's can retain the existing pack as the new design has failed to deliver the punch.
New Yeo's design on the far right