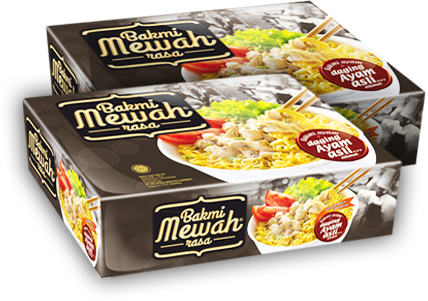 Bakmi Mewah is the first instant noodle in Indonesia with real chicken meat. According to Wikipedia, bakmi "is a wheat based noodle which was brought to Southeast Asia by Chinese immigrants with Fujian or Hokkien origin, generally prepared and topped with minced soy-sauce pork and few sliced of char-siu or barbecued pork." Mewah means luxurious in Bahasa Indonesia.
The meat is surprisingly tasty and is not dehydrated. Unlike other instant noodle in Indonesia, Bakmi Mewah by PT Mayora Indah, the same company that produces Mi Gelas, is packed in a box, not plastic.The premium positioning is expressed through the use of real chicken meat and the black box where black is often used to express premium quality.
Thanks to the roadshow at Carrefour, Mangga Dua Square, the author had the opportunity to saviour Bakmi Mewah. The pop-up store provided consumers a chance to taste Bakmi Mewah for free. There was no obligation to buy but the price of IDR 19,000 (USD 1.38) for a pack of three was very tempting. The individual selling price was IDR 7,300 per 110g pack.
Bakmi Mewah temporary stall at Carrefour, Mangga Dua Square, Jakarta, November 2015
The author finds the taste surprisingly delicious. When eating Bakmi Mewah, one does not feel like eating an instant noodle, thanks to the use of real chicken meat. Here is the close up look of the free Bakmi Mewah.
Actual noodle and ingredients inside the box
Usually, companies will only serve a small portion of the instant noodle in a disposable tray cup for sampling. However, Mayora Indah served the whole pack and the noodle was cooked specially on demand. A mother and daughter sat next to me. After finishing eating, she took a photo of her daughter eating the noodle and then uploaded the photo on social media to share among her contacts. The pop-up store has succeeded in generating word-of-mouth marketing and turning sampling into actual sales. The mother eventually bought three packs.
Price wise, Bakmi Mewah is priced above the IDR 7,000 mark per pack, making it one of the few local instant noodles with the premium price tag. The other premium noodle is Tropicana Slim Low Fat Noodle Ayam Bakar, which claims to be a healthy, low fat noodle.
As a comparison, most of the local instant noodle brands like Indomie, Sarimi, ABC and Mie Sedaap are priced in the IDR20,000 to IDR 30,000 per kilogram range compared with Bakmi Mewah, which is retailed at IDR 66,363 per kilogram.
The average price of Bakmi Mewah is IDR 66,363 per kilogram
Will Bakmi Mewah herald the start of the premiumisation of the Indonesian instant noodle market? Potentially so as there is such much instant noodle one can eat. The only way to grow the market is to go up the value scale.
But what I do expect is Bakmi Mewah, given its superior taste, may carve a market for itself in the premium segment. Premium products do have a chance in Indonesia. Diamond Cold Storage's Brookfarm is a good example. Launched in mid-2014, the product is still available in the market. This demonstrates consumers are willing to pay for premium product if the products deliver the premium qualities.
IDR/RM exchange rate at 0.00028. Store check at Hypermart, Jakarta in December 2014. Greenfields, Indomilk and Diamond are based on promotion price.