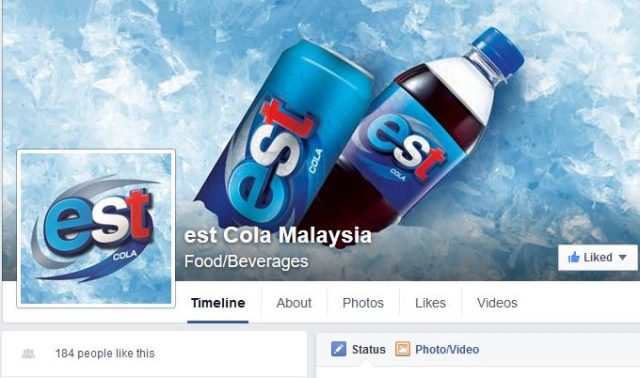 Est Cola entered the modern trade in Malaysia few weeks ago. The F&N brand started the Est cola journey by first going into the traditional trade and foodservice channels before venturing into the larger store format such as Cold Storage and Giant as well as petrol station convenience stores like Shell. At the moment, Est Cola has no presence in the 7-11 network. [Found Est Cola in 7-11 on 30 November 2015]
The company said it has a 25-30% share of the carbonated drinks (CSD) market in Malaysia. However, sales of carbonated drinks in 2015 fell slightly with the overall market stagnating or growing in low single digits, said Fraser & Neave Holdings Bhd CEO CEO Lim Yew Hoe. This shows the overall CSD market has become a low- or no-growth category.
As a result of the low growth environment, the CSD segment is not the main thrust for F&N. The company sees more opportunities in non-carbonated ready-to-drink products such as Farmhouse and Magnolia, added F&N chief financial officer Soon Wing Chong. The company's main CSDs are sold under the F&N Fun Flavours and F&N Clearly Citrus range.
The new Est Cola, which replaces the previous My Cola, is essentially a product to provide F&N with a presence in the cola segment. The current F&N Fun Flavours range consists of sarsi, orange, ginger ade, strawberry, fruitade, zappel, clearly citrus and ice cream soda. After F&N separated from Coca-Cola in 2012, My Cola was the answer to filling the void left by Coke. Now, Est is taking up the challenge and is in a much better position due to better branding and pack design.
Est Cola even has a Facebook page but as of 12 November 2015, there were only 184 likes. The Facebook page was created nearly one month ago on 16 October 2015.
Est Cola comes in a slim can. F&N said the choice of slim helps reduce logistics costs and saves the company about RM5 for every 1,000 cans it produces. Some of the 100Plus and F&N beverages are already sold in the slim can.
F&N slim cans
In the PET category, Est Cola is more competitively priced than Coca-Cola with the exception at the Shell petrol station convenience store. The price of Est Cola is in the same range as Pepsi without taking into consideration the average price. If taking into consideration the different volume, Pepsi, with its larger volume of 600ml is cheaper than Est Cola and Coca-Cola.
For the can format, Est Cola is clearly the winner. By shelf placement, Est Cola still lies in the peripheral as listing fee is high in the modern retail channel.
Conclusion:
Est Cola cannot depend on price alone. More marketing budget needs to go into the Est Cola account to grow the brand. The success of Mountain Dew can be a good example to emulate.