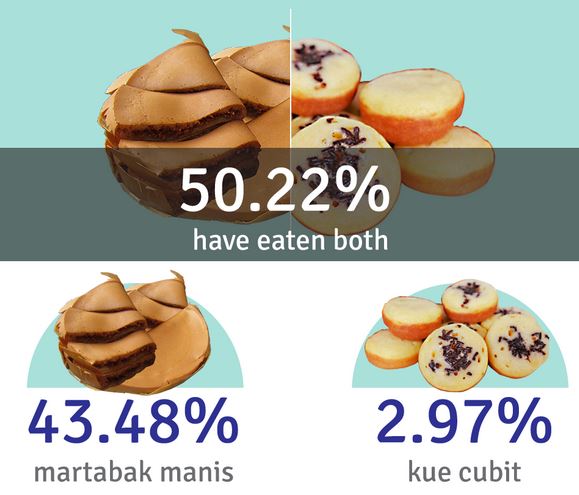 One of the most interesting survey data I have come across lately is the one by Jakpat or Jajak Pendapat, the number one mobile survey in Indonesia. The
"Premium" Local Food Trend (Martabak Manis and Kue Cubit) report
has revealed slightly over half of the respondents have eaten Martabak Manis (sweet pancake) and Kue Cubit.
The most interesting aspect of this report is how sellers improvise street snack foods and how it has impacted the brands. Cheese (74.92%) is the most favourite topping, followed by chocolate (67.03%). Interestingly, we can also find products from specific brands used as key toppings. Examples include Nutella, Oreo, Ovomaltine (Ovaltine), Toblerone, Silverqueen and Kit Kat. All these brands are primarily chocolate-based food. The only exception is green tea/matcha, which tends to carry a healthier image.
The popularity of these branded products as Martabak Manis topping provides opportunities for the creation of new eating ritual. Instead of dunking an Oreo biscuit into milk, you can also eat Oreo with Martabak Manis the Indonesian way. The adaptation of brands into street food also opens a new avenue to make expensive products like Toblerone and Nutella accessible to a wider audience. Ultimately, the expanding usage paves the way for greater frequency of consumption Branded food will eventually become inseparable part of the eating experience of Martabak Manis and Kue Cubit.