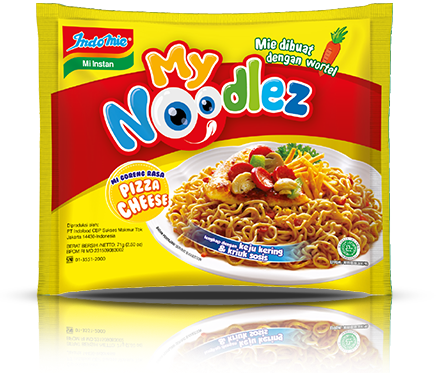 There are numerous debates about the impact of instant noodle on health. To maintain a healthy lifestyle, most health experts would suggest staying away from instant noodle as instant noodle is often high in sodium and saturated fat. With instant noodle already getting a bad press, it is ironic Indomie recently introduced My Noodlez, the first instant noodle for children.
The My Noodlez range differs from the mainstream Indomie instant noodle. It is specially formulated to appear healthier than ordinary instant noodle. The range consists of Salmon Teriyaki, Seaweed (rumput laut) and Pizza Cheese. The noodles are made either from seaweed (noticed the green coloured noodle) or from carrot (wortel)
For My Noodlez Pizza Cheese Flavour, the noodle comes with 0.1% carrot powder, Carmine CI 75470, Annatto (CI 75120) and riboflavin. Total energy is 300kkal, of which energy from fat is 60kkal. The pack size is 71g.
Indomie My Noodlez does score a point by targeting the children's market. As with the children's market, it is mom who determines what goes into the tummy of their kids. By using noodles made with seaweed or carrot, it helps to strike a balance between health and indulgence. Ultimately, it is mom who cooks the noodle for their young ones. At least mom can add some additional toppings such as vegetable on My Noodlez to create a more balance meal than not being able to constantly keep an eye on their children's consumption of noodle snacks, which is often laden with MSG.