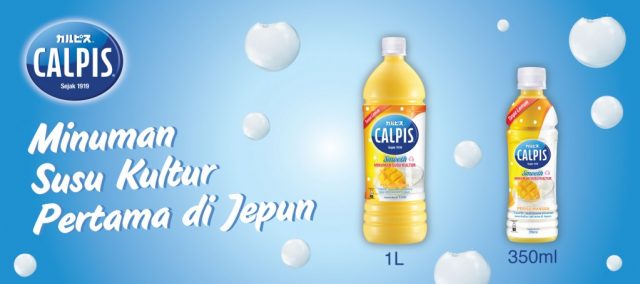 Following the introduction of Wonda coffee in Malaysia in early 2014, Asahi's second product, Calpis lactic acid drink, saw its debut in December 2015. Calpis has been in Indonesia since 1995 and is trading under the name Calpico. It is only after 20 years before Calpis is finally officially launched in neighbouring Malaysia. Calpis is manufactured locally by the PepsiCo official bottler Permanis Sdn Bhd, a company Asahi acquired in 2011.
Since 1919 – First ever cultured milk in Japan – Fat fee
"First ever cultured milk brand in Japan", "since 1919″,"fat free" and "good for the tummy" are cues  to promote the new 500ml and 1L Calpis. The two flavours are original and mango. The company has made Calpis sweeter and sourer to cater to the local market, according to a report by
Nikkei Asian Review on 28 December 2015
. Malaysians simply love sweet drinks! The "fat free" claim, on the other hand, will appeal to female consumers looking for permissible indulgence.
Placed alongside cultured milk/yoghurt 
The new Calpis (top right) is sold in the chilled section and is displayed along with other gut-benefiting yoghurt and cultured drink (Vitagen and Yakult). Even though the Calpis does not need to be refrigerated, placing it in the cultured milk/yoghurt aisle does give Calpis a healthy credential.
Aeon Big, MidValley, December 2015
The 500ml Calpis is retailed for a price of RM 2.50 (USD 0.39) per bottle.

Low sugar
Calpis has the lowest sugar content per 100ml serving compared with Yeo's Yeogurt Yoghurt Drink (shelf stable) and Mamee Nutrigen Cultured Drink (chilled). Nutrigen is by far the highest in sodium, energy, sugar, carbohydrate and protein.
What's next

After Wonda and Calpis, what will be next NPD for Asahi in Malaysia? my guess is RTD tea for its healthy positioning and a well developed consumer base looking for innovation in flavour and taste.