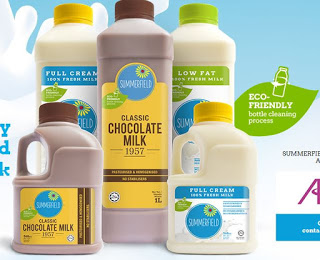 Summerfield, a new range of lightly pasteurised milk, has hit the shelves of leading supermarket/hypermarket chains in Malaysia. The fresh contemporary clean design evokes the brand's 'pure & fresh' image.
Here is a close up view:
Range
The Summerfield range comprises the following products in 500ml, 1L and 2L.
– Full Cream 100% Fresh Milk (yellow)
– Low Fat 100% Fresh Milk (light green)
– Classic Chocolate Milk Since 1957 (brown)
The range is easily identified by the colour scheme with light green representing low fat, yellow full cream and brown chocolate.
Eco-Friendly Bottle Cleaning Process 
The striking point about the new product is that it uses the eco-friendly bottle cleaning process. Hybrid Allied Dairy Company Sdn Bhd, the company behind the Summerfield Milk, claims to use "ozone water technology to sterilise its bottle without using chemicals."
Are consumers concerned about the cleanliness of the bottle or are they already assumed all the bottles are already cleaned regardless of the cleaning process?
Background in Supplying Milk to Schools
Hybrid Allied Dairy
was given a concession by the Malaysian government to supply UHT milk to schools in the northern states of Perlis, Kedah, Penang and Perak under the 1Malaysia School Milk Program (PS1M) since 2011. The PS1M program includes Hybrid Allied, South Korea's Namyang Dairy Products Co., Ltd. and Tetra Pak International S.A.
The factory is located in Kluang in the southern state of Johor, which is next to Singapore.
The launch of Summerfield Milk seen as a move by the company to diversify its revenue to include end-consumers in the retail channel.
Provenance
The message of supporting local milk is very strong. The company is aided by the government as part of the move to increase the country's self sufficiency milk.
Summerfield Milk scores high in calcium
Summerfield Milk scores pretty good in terms of nutritional value. In fact, its nearest competitor is Farm Fresh from The Holstein Milk Company Sdn Bhd. The fresh milk from both companies have low energy and carbohydrate levels but high in calcium. In fact, it has the highest calcium compared with other locally-produced fresh milk at 114mg per serving.
Affordably priced
As a new entrant, Summerfield Milk is competitively priced with affordable price being its USP to compete with other established brands in the market.


Strong NPDs in fresh milk
It is truly refreshing to see a new brand in the fresh milk segment. The appearance of an increasing number of locally made fresh milk brands such as Summerfield, Happy Farm and Country Fresh also shows the growing dairy farming industry in the country. The choice of fresh milk, compared with UHT, does indicate consumers are upgrading to fresher milk and the cold chain is supporting this growth.