From Monday to Thursday (23-26 May 2016), Permanis ran a series of print ad for its new cultured drink Calpis in The Star, an English daily. Permanis, a subsidiary of Asahi, has been very creative with its advertisement. It is known for making use of newspaper to create award-winning advertisements including  "The five-dimensional Premium Gourmet Coffee" for its RTD Wonda coffee.
For four consecutive days, Calpis brand ambassadors graced the front cover of The Star bringing with them their unique ways to 'share the goodness' of Calpis.
Singer Yuna shares the goodness of Calpis through music. Her cover features a 'guitar' with three buttons that can play sounds.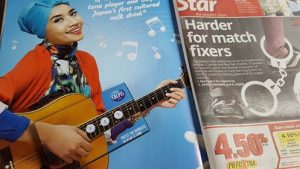 Stand-up comedian Harith Iskander has a house mirror to share the goodness of laughter.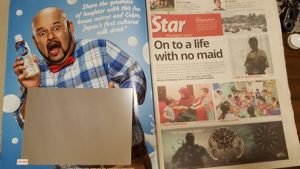 National football team captain Safiq Rahim 'shares the goodness by cheering up a friend with cheering sticks.'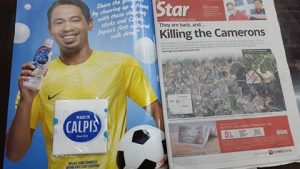 Radio DJ & artist Wan Wai Fun is shown with bubble wrap. She is described as a 'bubbly radio personality' who 'pops stress like the bubbles'.
Each series were matched with a corresponding local language newspaper but without the special items. For example, the Yuna edition was carried by the Malay language daily Sinar Harian, while Wan Wai Fun's was matched with the Chinese language daily Sin Chew Jit Poh to maximise its reach to different ethnicity and readership.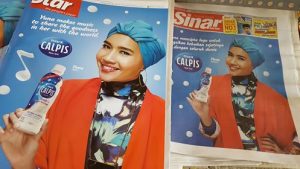 The latest Calpis print ads, when done creatively, show how traditional media can still play a role in the digital world.