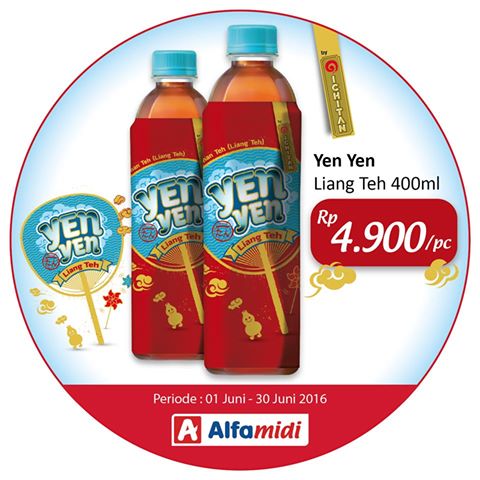 Yen Yen Herbal Tea
Thailand's Ichitan latest move in Indonesia has rolled out its Yen Yen Liang Teh in 400ml PET bottle. Yen Yen is a herbal drink containing 7 Chinese and Thai herbs – safflower, chrysanthemum, bael, jiaogulan, mesona, pure green tea, monk fruit and mulberry leaf.
According to the company, Yen Yen 'can prevent and reduce aphthous ulcer and digestive tract symptoms; mouth sore, rotten lip, rotten tongue, sore throat, hearse, thirsty, cough, eye burns which happen from unbalance life such as sleepless, eat too much fried stuff, dehydrate and digestive symptoms.'
Competes against OT Liang Cha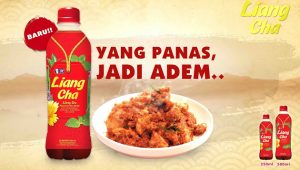 The new Yen Yen Herbal Tea competes against OT Liang Cha, a new RTD herbal tea from OT Group first launched in the second half of 2015. Interestingly both Yen Yen and Liang Cha are in red bottle. The choice of red bottle is likely to be inspired by China's famous RTD herbal drink Wang Lao Ji in the iconic red can or to use red to refer to the Chinese origin of the herbal tea.
Cool Tea
The key marketing message of its competitor OT Liang Cha (350ml PET) is 'Yang Panas Jadi Adem,' which can be loosely translated as 'cooling down things that are hot.' These 'hot' things include spicy food, hot weather and feeling of anger/frustration.
Yen Yen is the companion for spicy food
Unlike OT Liang Cha, the new Yen Yen focuses on the eating occasion. The taglines are 'Temennya Makan Pedas' or spicy food companion and 'Bikin Pedes Jadi Nyes Nyes.' In Malaysia, the TVC for Mamee Cool Tea takes a similar approach of promoting the drink to help to cool down the body after eating spicy food and 'heaty' durian.
Future opportunities for Ichitan in Indonesia

So far, Ichitan has made available 2 RTD tea and 1 RTD herbal tea in Indonesia – Honey Lemon Flavoured Green Tea (420ml PET), Lychee Lemon Flavoured Green Tea (420ml PET) and Yen Yen Herbal Tea (400ml PET).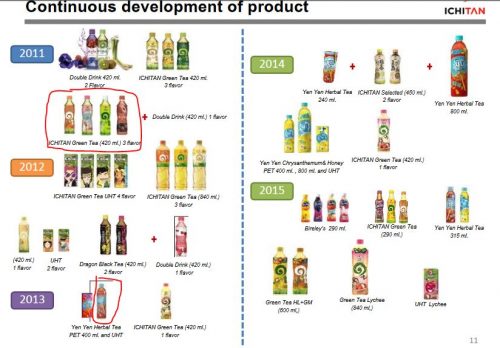 Given the rich portfolio of products, Ichitan still has plenty of products that it can sell in Indonesia including RTD tea in different flavours and pack sizes as well as chrysanthemum tea and Bireley's carbonated soft drink. It is interesting to see what's Ichitan next move in the country.