Bison buys bread supplier
Bison Consolidated Bhd, the operator of myNews.com convenience store chain in Malaysia, has announced it is buying a 100% stake in Otaru Fine Food Sdn Bhd. Otaru supplies bakery products mainly to myNews.com.
Rationale for buying Otaru
The reason for buying Otaru is well explained in Bison's announcement on the stock exchange on 13 July 2016. 'The Otaru Acquisition augurs well for Bison in preparation for managing its own full-fledged food processing centre which it targets to construct and be ready and operational in the financial year 2018.  In the interim Otaru will expand its products range and continue to supply Bison's outlets in the Klang Valley.'
Central kitchen crucial to develop high-margin fresh food business
Bison's Otaru acquisition paves the way to ensure it has the means to supply its stores with food products from the new food processing centre. 7-Eleven Malaysia currently does not seem to have a central kitchen as it still relies on third-party suppliers like CP, Fuji Bakery Supplies (M) Sdn Bhd, English Hotbreads (Sel.) Sdn Bhd and Cafe Decoral Sdn Bhd.
In Indonesia, PT Modern Internasional, the operator of 7-Eleven, is equipped with a central kitchen, which has undergone phase two expansion. The central kitchen supplied 160 new fresh food SKUs during the first three quarters of 2015 and ended the third quarter of 2015 with 244 fresh food SKUs.
7-Eleven Malaysia adds buns to fresh food line-up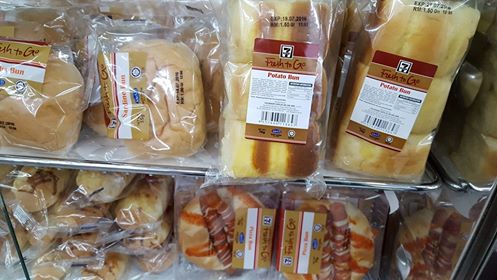 7-Eleven has recently added buns as part of its fresh food range. The buns are made by Fuji Bakery Supplies (M) Sdn Bhd.
However, these buns are not well received. Most of them are approaching their expiry date when the author visited one of the 7-Eleven outlets in Ampang, Selangor.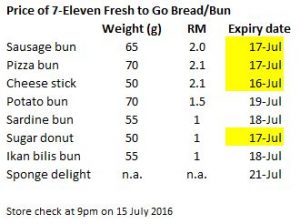 Stored inside a glass cabinet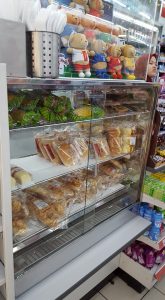 There are few reasons why the buns are not popular. The buns are off limit to consumers as they are kept in an enclosed glass cabinet, which was previously used to display fried finger foods such as fish balls and meat balls.
Not strategically located
Moreover, the glass cabinet is hard to open and it is located opposite a rack full of popular branded bread and buns. The moment consumers step inside the store, what they will see first is the branded bread and buns from Gardenia, Mighty White and Massimo, not the bread hidden in the glass cabinet.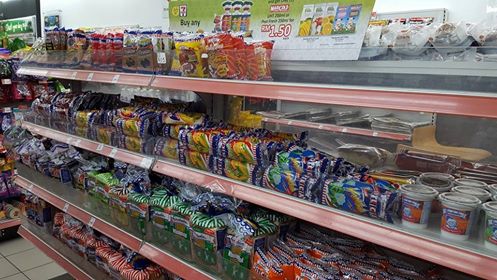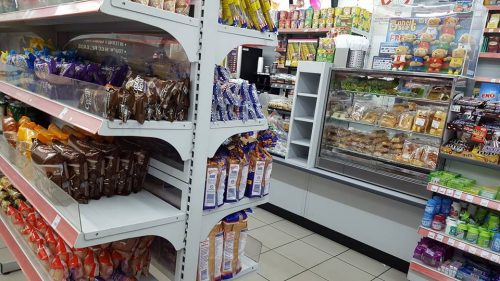 7-Eleven Fresh to Go slightly more expensive than mainstream brands
The price of 7-Eleven Fresh to Go buns is slightly more expensive than their branded equivalent. For example, the 7-Eleven ikan bilis (anchovies) bun is selling at a price of RM 1.00, while Mighty White is priced at RM 0.95.
7-Eleven Fresh to Go Ikan Bilis Bun tastes better but hard to open
Taste wise, the 7-Eleven Fresh to Go Ikan Bilis Bun tastes slightly better than Mighty White's.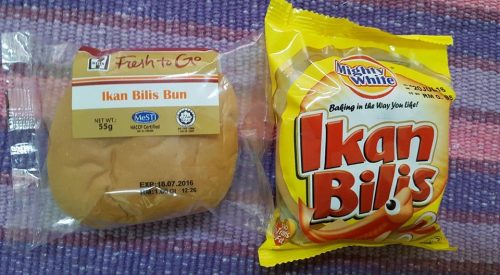 But then comes the issue of packaging. Mighty White packaging is easy to open. It takes a lot of effort just to open the 7-Eleven Fresh to Go bun. Even though the Fresh to Go bun is well sealed and protected to ensure its freshness, consumers who are on-the-go are more likely to choose the other more easy-to-open option.
Indonesia example
The Indonesia 7-Eleven serves as a pointer for fresh bakery. The shelf uses the open concept with products within easy reach. The bread comes with the 7 Fresh concept. On the packaging are printed with the words 'Hygienic, Tasty and Quick' followed by 'Fresh Bakery.'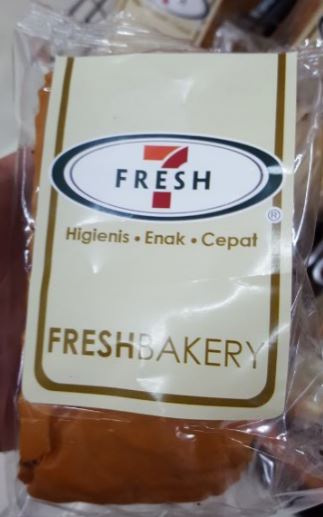 The 'Fresh Bakery' section is located prominently opposite the cashier with strong visibility to consumers when they first step into the outlet and when they pay for their purchases.
Ultimately, the bread eating culture is not strong in Indonesia, which makes 7-Eleven bread stands out due to the small choice of packaged bread. In Malaysia, it is hard to compete with Gardenia and Massimo.
Steamed bun?
What 7-Eleven Malaysia can do is to focus on steamed bun, which is what the convenience stores in the Philippines are doing. There is no branded equivalent for steamed bun and the food is well received by all the ethnic groups in the country. This is something to thing about.