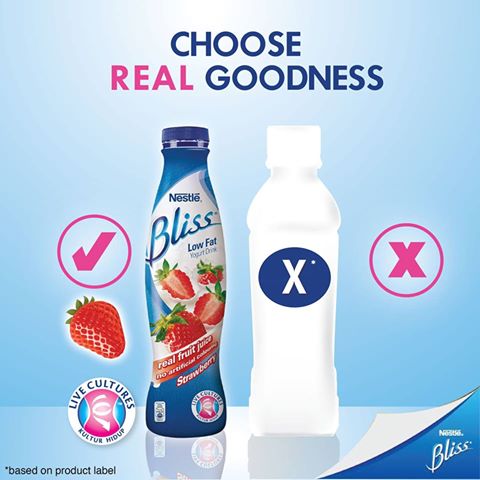 Nestle Bliss has launched a surprising attack on Calpis by claiming  'Not all drinks have real goodness of live cultures and real fruit juice like Nestle Bliss.'
Even though Nestle did not name the competitor but from the look of the bottle, it does resemble Asahi's Calpis. Most of the people who left messages on Nestle Bliss Facebook site saw the obvious connection.
Some netizens have blasted the latest campaign by Nestle Bliss as 'childish,' while some have defended the move as 'cheeky marketing' with a positive aim of improving the competitive landscape in the name of 'competitive advertising.' Several people who left messages on social media said Nestle should name Calpis instead of showing the white bottle where everyone knows it is Calpis.
Few things that come up in this heated debate are ingredients (live cultures), sugar, taste and price. Few people were actually concerned about live cultures. One reader mentioned in Japan, Calpis has live cultures but in Malaysia it is just 'water and flavouring' with no live cultures. Another doubted whether live cultures can be kept in bottle form and wanted Nestle Bliss to proof this.
Many talked about sugar with more negative remarks about high sugar content directed at Nestle Bliss than at Calpis. Several readers did mention both are sweet and one said both drinks could cause diabetes, while another asked for 'less sugar or no sugar version.' One requested Nestle Bliss to reveal its 'nutrition facts,' which could possibly give a more quantifiable proof to the claims.
Taste wise, more readers thought Calpis has better taste and comes with a more competitive price.
It all comes down to perception – that is Nestle Bliss is possibly losing sales. Here are some comments related to such a perception.
'Your sales down huh'?

'Obviously Nestle's ground is affected much by Calpis'

'

Lost confidence on ur own brand

'
Finally, the attack on Calpis may have backfired with some readers saying
'Thanks for reminding me to buy Calpis'

'People talking about your calpis ah'

'

I guess it's competitive advertising done wrong. Lol'

'

Bad marketing! Calpis is the best!

'
Nestle Bliss' initial approach was about reminding consumers to choose 'real goodness' (live cultures and real fruit juice) but at the end of the day, consumers were more concerned about sugar, taste, price and the way the advertising was done. Essentially, the functional aspect of yoghurt drink is still not strong in people's mind. Vitagen and Yakult still has the top of the mind when it comes to the probiotic message.