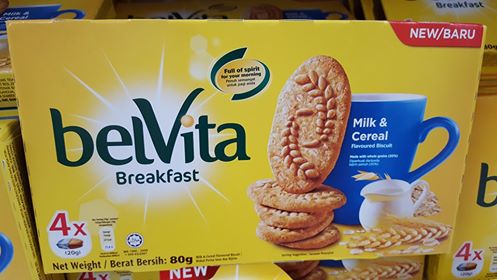 belVita Breakfast biscuit is now in Malaysia as part of Mondelez's roll out of belVita across the world. belVita is now in over 50 countries worldwide with the US, the UK, France, Brazil and Russia as its biggest markets. In the Asia-Pacific region, belVita made its debut in China in 2015. The launch in Indonesia occurred in early 2016. The belVita sold in Indonesia is made in Malaysia.
belVita chalked up USD 550 million sales worldwide
belVita has been a success story for Mondelez with USD 550 million revenue in 2015, growing over 20% annually over the past few years, according to the belVita fact sheet.
All about breakfast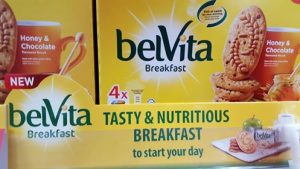 It is all about breakfast for belVita in its marketing message for Malaysia. The biscuit offers 'tasty and nutritious breakfast to start your day' and 'full of spirit for your morning.' The pack claims the biscuits are developed by belVita nutritionists and provide a balanced breakfast with 8 important vitamins and minerals featuring whole grains. belVita is also likely to be the first biscuit brand in Malaysia to associate itself with the breakfast occasion.

On the belVita Malaysia FB page, the company encourages consumers to eat 5 belVita biscuits, 1 serving of fruit, 1 cup of plain yoghurt and 1 cup of tea or coffee for a balanced breakfast.
Breakfast on the go
To link belVita as the perfect breakfast for busy commuters, Mondelez launched a marketing activity by making available belVita biscuits and coffee at selected train stations in the month of August 2016.
8-10 Aug: LRT Kelana Jaya
15-17 Aug: LRT Bandaraya
22-24 Aug: KTM Mid Valley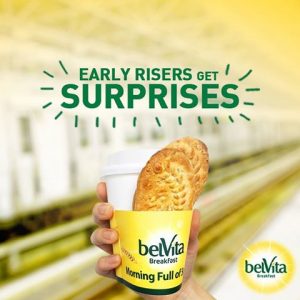 Targeting busy urban dwellers
The belVita TV commercial features two adults with the female rushing to work. She was given a pack of belVita to start the day as a convenient, healthy portable breakfast by her husband. The message is clear, busy urban dwellers are the key target for belVita.
An interesting thing about this TV commercial is it is the same commercial used in Indonesia. The ad features the famous celebrity couple Bunga Citra Lestari from Indonesia and Ashraf Sinclair from Malaysia, which means audiences from both countries will be able to connect with them.
How belVita is displayed in store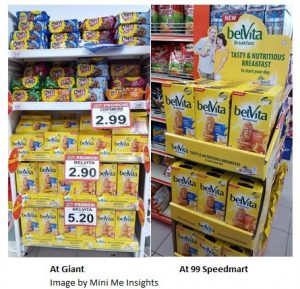 At Giant Hypermarket, Spectrum Shopping Mall Ampang, belVita is placed next to cookies (indulgence) and oat biscuits (healthy). Competing against belVita are products like Quaker Oat Biscuit, Munchy's Oat Krunch, Julie's Oat 25, Chips Ahoy! and Hershey's cookies.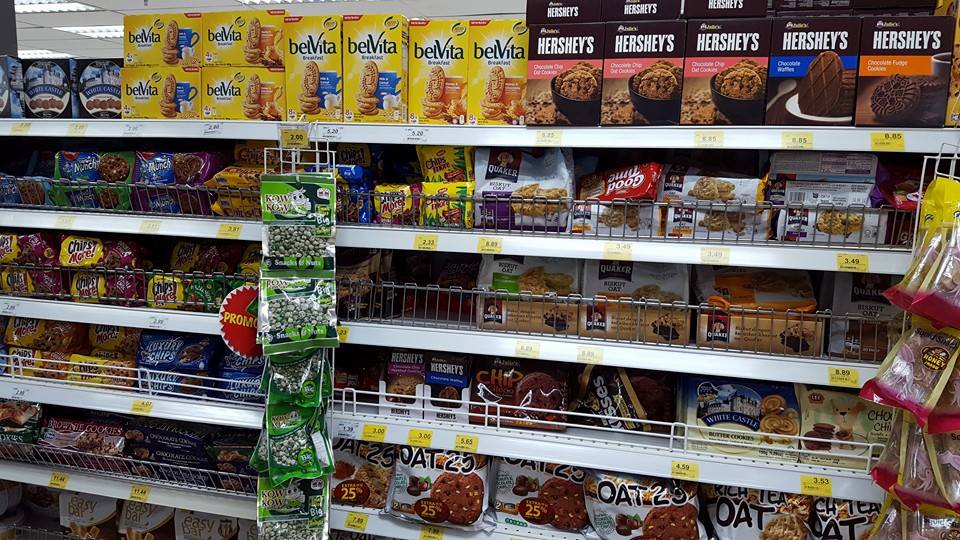 Opposite belVita are mainly crackers including Mondelez's very own Jacob's.
Cracker growing slow

Crackers are popularly consumed in Malaysia for breakfast by topping it with toppings, dunking it in Milo or coffee or dipping it in spreads. However, the matured cracker category is growing very slow. According to Hup Seng, its cracker sales is growing at 2-4% a year in tandem with population growth of 1-2%. It is now betting on oat cookies to propel growth.
For Munchy's to grow in the matured cracker category, it requires innovation such through dip-sized cream crackers by positioning Munchy's Cream Cracker as Kawan Cawan Anda (your cup's best friend. This simple innovation helped Munchy's to grow its cracker sales by 18%, according to Campaign Asia, March 2012.
Sweet spot for oat biscuit
Oat biscuit is growing faster than cracker. This places belVita, which is made from whole grains (20%), in a sweet spot tapping into demand for biscuit that is perceived to be healthy, convenient, offers energy and yet indulgent.
belVita comes in Milk & Cereal and Honey & Chocolate in 160g and 80g packs.
Author's comment on the taste: a bit sweet.