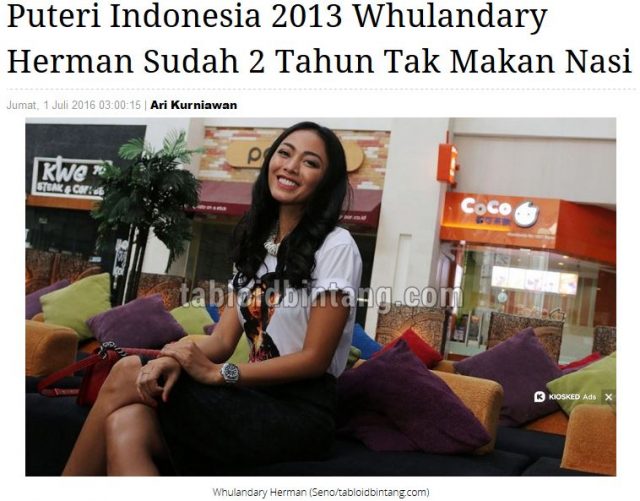 Are Indonesians becoming averse of rice? A growing number of local celebrities are expounding the rice-free diet to achieve the perfect health and body shape. On 1 July 2016, Miss Indonesia 2013 Whulandary Herman disclosed to the media she has stopped eating rice since two years ago. Replacing rice is a diet rich in beans, fruits, vegetables and potatoes. She did this to avoid food high in sugar and carbohydrate.
Celebrities avoiding rice
Whulandary is not alone. Actor Reza Rahadian embarked on a diet that is light on rice to ensure he was fit for the new role as Rudy Habibie in the movie Habibie & Ainun 2. Indonesia Idol first season winner Nania Kurniawati Yusuf, also known as Nania Idol, managed to reduce 12kg by ceasing to eat rice for three months. During that period, she exercised and ate a lot of fruits and vegetables. The commonality between Reza and Nania is that both felt rice is high in carbohydrate.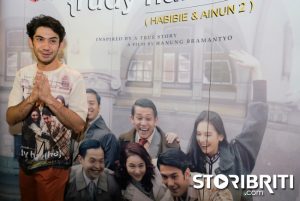 The 18-year-old singer Aurel Hermansyah is also on the list of celebrities that avoided eating rice. She did so after trying many dietary fads. According to her, refraining from eating rice is the easiest and the fastest way to lose weight. Another male celebrity, the 42-year-old rocker Akhadi Wira Satriaji (Kaka Slank) said he replaces the rice diet with lots of fruits and protein to ensure he is fit to perform on stage.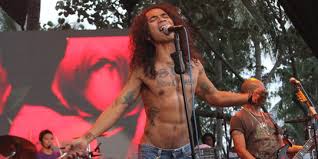 114 kilograms of rice consumed per year
Despite some of the celebrities openly saying they have stopped eating rice, Indonesians are expected to eat 114 kilograms of rice on a per capita basis in 2015. That is a reduction of 10 kilograms in 2014 partly due to the diversification to include more bread and noodles, according to the Indonesia's National Statistics Agency. Even with a forecast decline in consumption, rice is still on most of people's dishes in the country.
Diabetes and rice
Diabetes is a rising health issue in the country. According to the International Diabetes Federation (IDF), there were 10 million diabetes cases in Indonesia in 2015 with a prevalence of diabetes in adults (20-79 years old) at 6.2%.
With white rice often linked to diabetes, brown rice is now touted as the healthier alternative to white rice. Rice manufacturers are launching healthier brown rice featuring the organic, low-GI and low sugar claims.
Prime Lotte Mart organic brown + white rice featuring the low sugar claim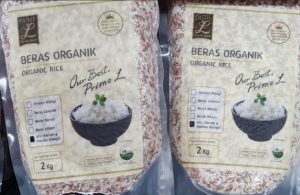 Tropicana Slim organic brown rice with low GI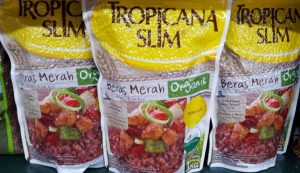 Rice-bashing?
In the West, grain-bashing and anti-wheat sentiment is on the rage. But are we seeing in Indonesia the start of rice-bashing or put it in a more polite manner rice-avoidance? Would Indonesians start to consider other form of carbohydrates such as cassava to replace their love of rice? The celebrity-driven trend of avoiding  any form of rice may have influenced a small section of the society.
Going beyond avoiding rice, the realisation of the link between white rice and diabetes may spur demand for brown rice. In Padang, brown rice in wet market is often sold out as it is popular with parents who buy them for their children and with people suffering from heart problem and diabetes, according to a local media report.
With diabetes on the rise and the media promoting eating less rice, this may influence consumers to start lowering their rice consumption and reconsider replacing the rice-rich diet with other food high in carbohydrate such as casssava (singkong), sweet potato (ubi jalar), oatmeal, corn, potato and wheat. Diabetes, celebrity influence and media reports may change popular perception towards rice as a whole and this would result in a more diverse diet going forward.