There has been a lot of media coverage on the gluten free diet (diet bebas gluten) in Indonesia. Why are Indonesians embracing the gluten-free dietary trend?
Book on gluten-free diet
Indonesians have a history of taking up new dietary fads ranging from Mayo diet, which limits the intake of salt, sugar and carbohydrate, to avoiding rice. So what's in it for gluten free that even led to a local author Lies Dahlia to pen a book on "Healthy Living with Gluten" (Hidup Sehat Tanpa Gluten) in 2014?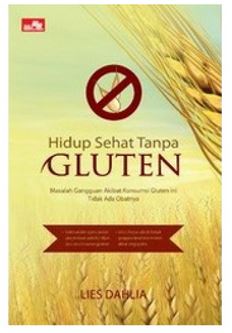 Celiac disease a hidden danger for 1% of population
Even though Indonesians generally are not prone to having celiac disease, it is estimated 1% of the population suffer from celiac disease, according to The Doctor Indonesia. However, many go on with their life without even realising they have celiac disease. Only a few would took the pain of undergoing tests.
Autism and gluten-free
Parents with autistic children are a driving force in adopting the Gluten Free and Casein Free (GFCF) diet. However, there is currently no data on the number of children suffering from autism in Indonesia, said Melly Budhiman, child psychiatrist and chairwoman of Indonesia Autism Foundation (YAI). But it is estimated by the Department of Mental Health in 2013 that there were around 112,000 sufferers aged between 5 and 19.
Local baby food manufacturers have responded by introducing gluten-free rice crackers and biscuits. Here are two examples from Monde and Yummy Bites.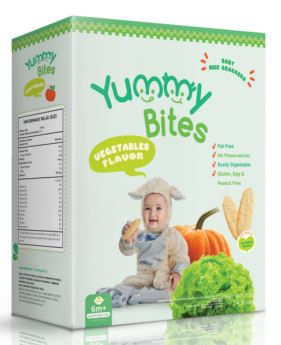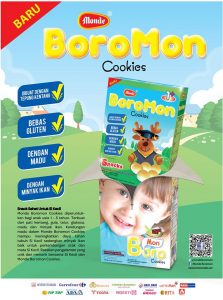 Avoidance for better health
It is better to be safe than sorry. Avoidance seems to be the reason why Indonesians are choosing gluten-free food. The gluten-free trend is largely commercially-driven. By highlighting gluten-free on the packaging, food manufacturers are able to improve the product's healthy image thus justifying a premium pricing.
Gluten-free not confined to snacks
Snacks appeared to account for a high percentage of products with the gluten-free claim due to the fact that a lot of these snacks are imported from countries where the gluten-free claim has become established. However, there are other foodstuff that comes with the gluten-free claim including rice.
Here are a few examples of local specialty food products with the gluten-free/low-gluten claims:
Bionic Farm Organic Red Rice (gluten free) (image below)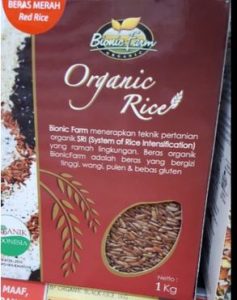 Image below – Bionic Farm Sprouted Beans (gluten free)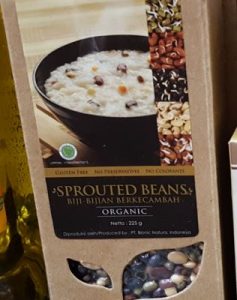 Mister Timber Oat and Almond Stick Crackers Baked with Fruits (low gluten claim) (image below).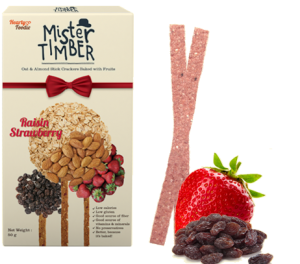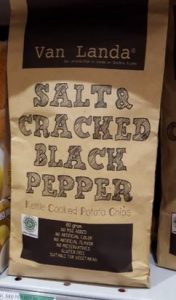 Image above is the Van Landa Salt Cracked Black Pepper Potato Crisps (gluten free).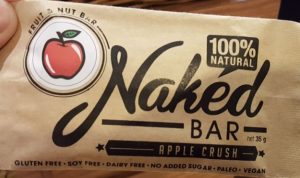 Image above is the Naked Bar Apple Crush (gluten free)
Influence of mass media
The media is playing a pivotal role in imparting the knowledge of the benefits of going gluten free and also dispelling the myths of gluten free.
A Republika.co.id article dated 1 February 2016 cites celiac disease as one of the five reasons why the stomach is bulging. Suara.com on 26 May 2016 says there are five reasons why you should stop consuming bread. The article mentions bread contains a lot of gluten, which causes fatigue, bloated stomach and causes the walls of the intestinal tract to become damaged. Bintang.com on 30 November 2015 names gluten as one of the reasons for frequent bowel movement.
Parenting.co.id, on the other hand, dispels the myth of giving children the gluten-free diet. According to the article, gluten-free food is usually high in sugar and fat. Children fed with a gluten-free diet will become overweight. 1health.id teaches consumers how to choose gluten-free food. The 12 May 2016 article says the frequent consumption of gluten-free food does not mean you will become healthy. In fact, you need to ensure you consumes a balance diet including reducing the intake of sugar, fat and salt.
New food labeling regulation
In response to the rising interest in gluten-free, the Indonesian government has updated the Control of Claims on Processed Food Labeling and Advertisements in 2016 to include regulating the gluten-free claims. According to the regulation, products with the 'gluten free' claim is less than 20mg/kg, while 'low in gluten' is 21-100mg/kg. Food ingredients that are free from gluten are cassava, corn, sago, sweet potato, potato and soya.

Key takeaway
The GFCF diet has permeated parents who are raising autistic children. The mass media also plays a pivotal role in setting the scene for gluten-free claim to remain in the spotlight. Given the largely negative perception crafted by the mass media towards gluten, adopting a gluten-free lifestyle even for a population with low incidence of celiac disease provides consumers with another way to safeguard their health.
Specialty food producers are actively tapping into the gluten-free trend. To prolong this dietary fad, they will be the ones that will need to create the environment for the wider adoption of a gluten-avoidance lifestyle together with the help of the mass media.