Kuala Lumpur, 25 January 2022 – Chinese New Year symbolises the start of a new year. In this year of the mighty tiger, Elevete Patisserie offers a refreshing Chinese New Year collection to cater for this festive celebration. From now until 19 February 2022, Elevete Patisserie's Chinese New Year collection is ready to bring you happiness, great health and prosperity.
On the 15th day of Chinese New Year is known as Chap Goh Mei or Chinese Valentine's Day. In the ancient days, single ladies would toss mandarin oranges in the river as a way to reach their admirer. Those days are long gone as Elevete Patisserie has also curated a Valentine's Day collection for this season of expressing love. It can be delivered to your friend or lover starting from 11 February until 15 March 2022.
Chinese New Year – Celebrate the Year of the Tiger
This Chinese New Year, Elevete Patisserie is launching its collection with a bang as many
families are finally reuniting for the occasion ever since the pandemic. With that, the local
patisserie encourages homebound Malaysians to bring hearty desserts home to share it with their loved ones.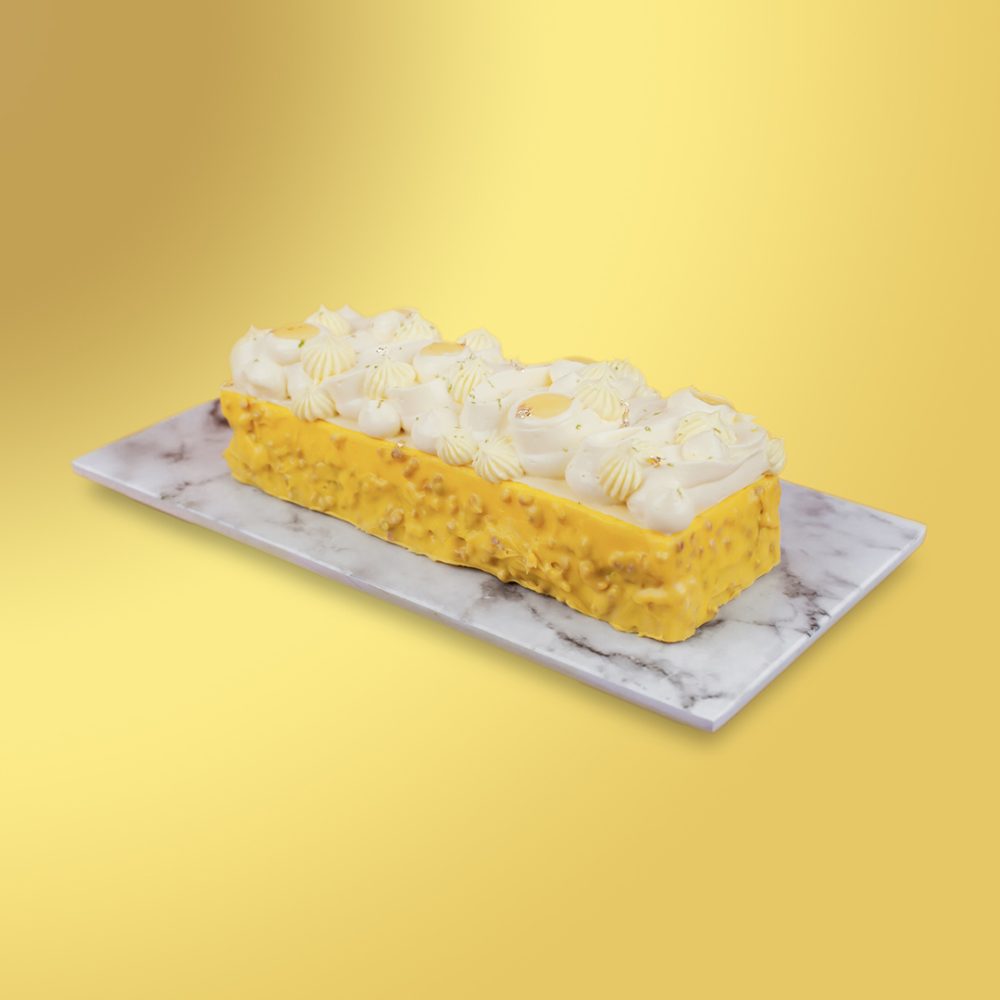 Entering the new year, Elevete Patisserie wishes you an abundance of wealth with The Fortune Bar, a crunchy coconut feuilletine base with a light coconut chiffon paired with citrus pineapple, mango, and tangy lime compote to kickstart the year with a refreshing start. Fancy modern desserts with a traditional taste? The East Meets West Platter is an elegant French dessert platter beautifully designed with the elements of traditional Chinese flavours to match the occasion, not forgetting to pay tribute to the classics like how Chinese says to not forget your roots.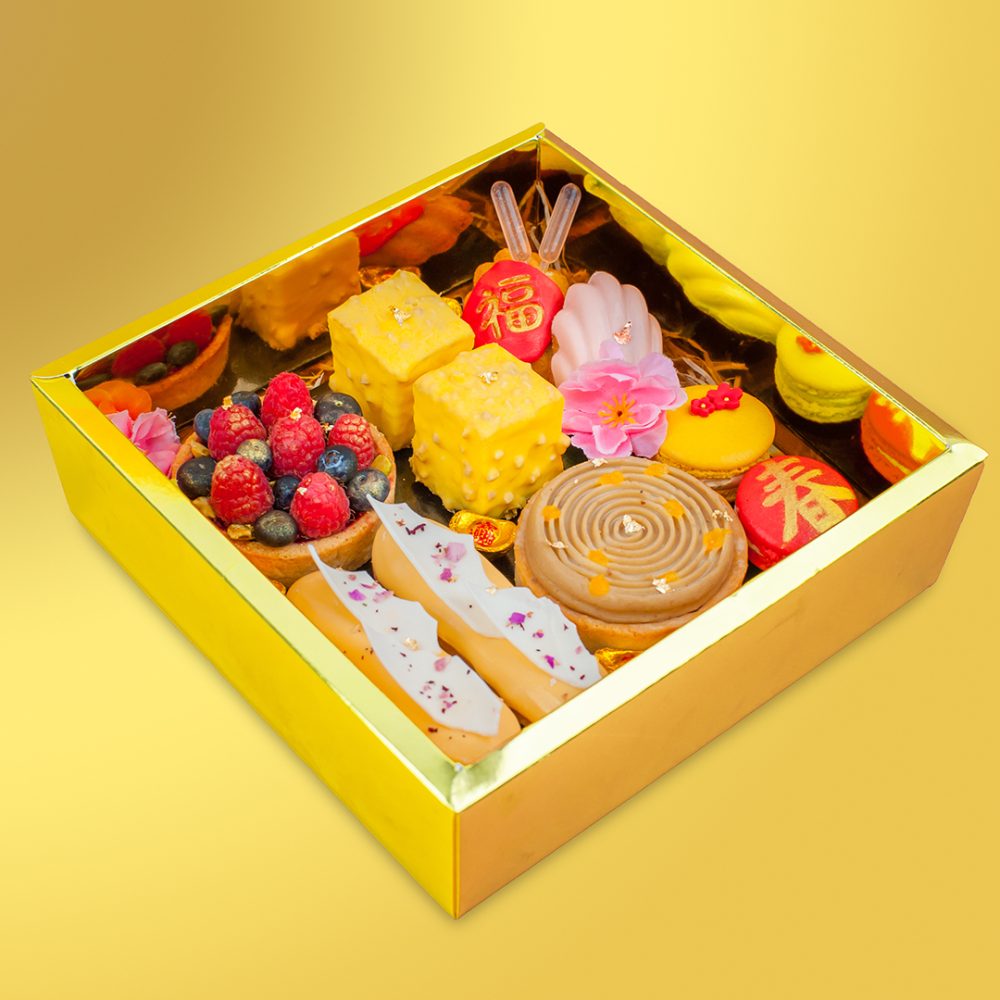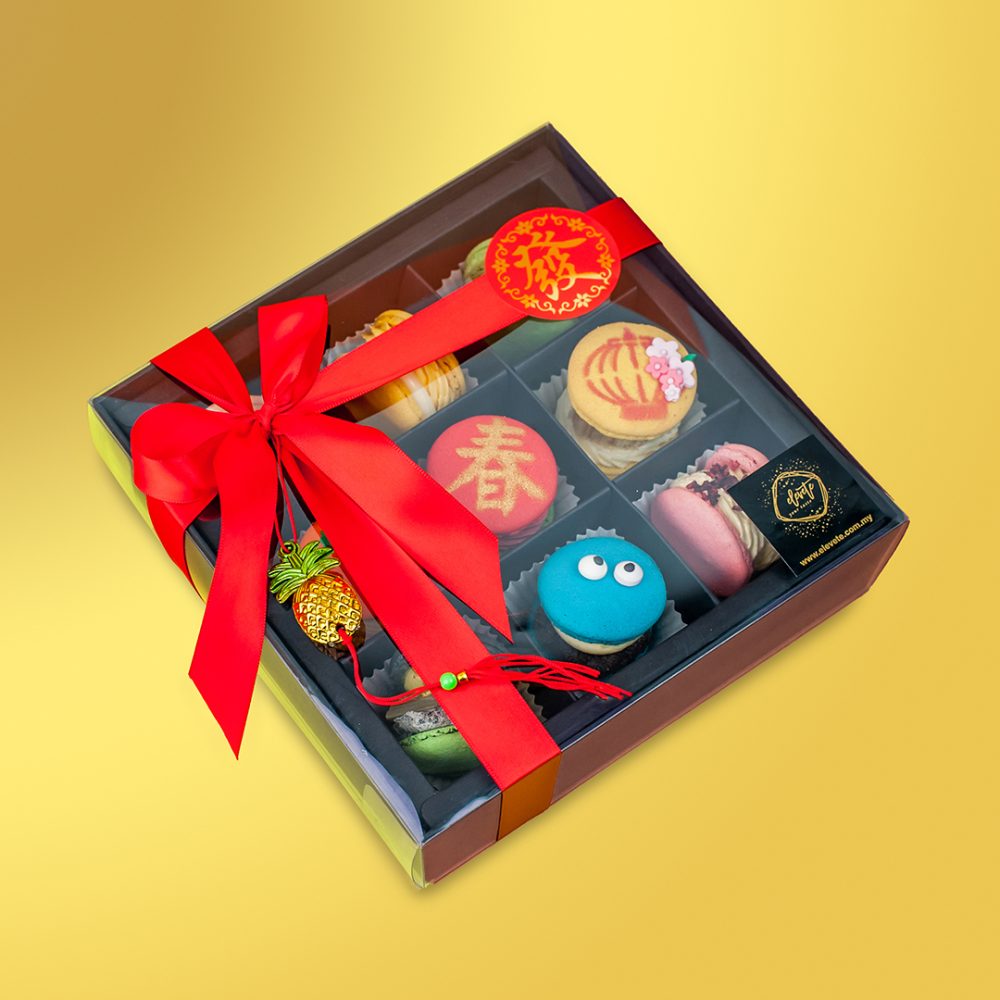 Back by popular demand, the Bundle of Treasure tiffin set is a bundle of prosperity carrying wholesome home baked delicacies like the classic pineapple tart, orange butter cake, and assorted choice of cookies perfect for giftings. As the saying goes, giving more means receiving more in return, accumulate good fortune by sharing Fatt Choy Fattcarons with your loved ones. This lineup is dressed with special seasonal flavours including the Mandarin Orange and Chestnut; Raspberry and Pistachio; Pineapple Tart; Cookie Monster; Ispahan; Ondeh Ondeh; Sunrise; Tiramisu and Zen that will melt in your mouth from the first bite.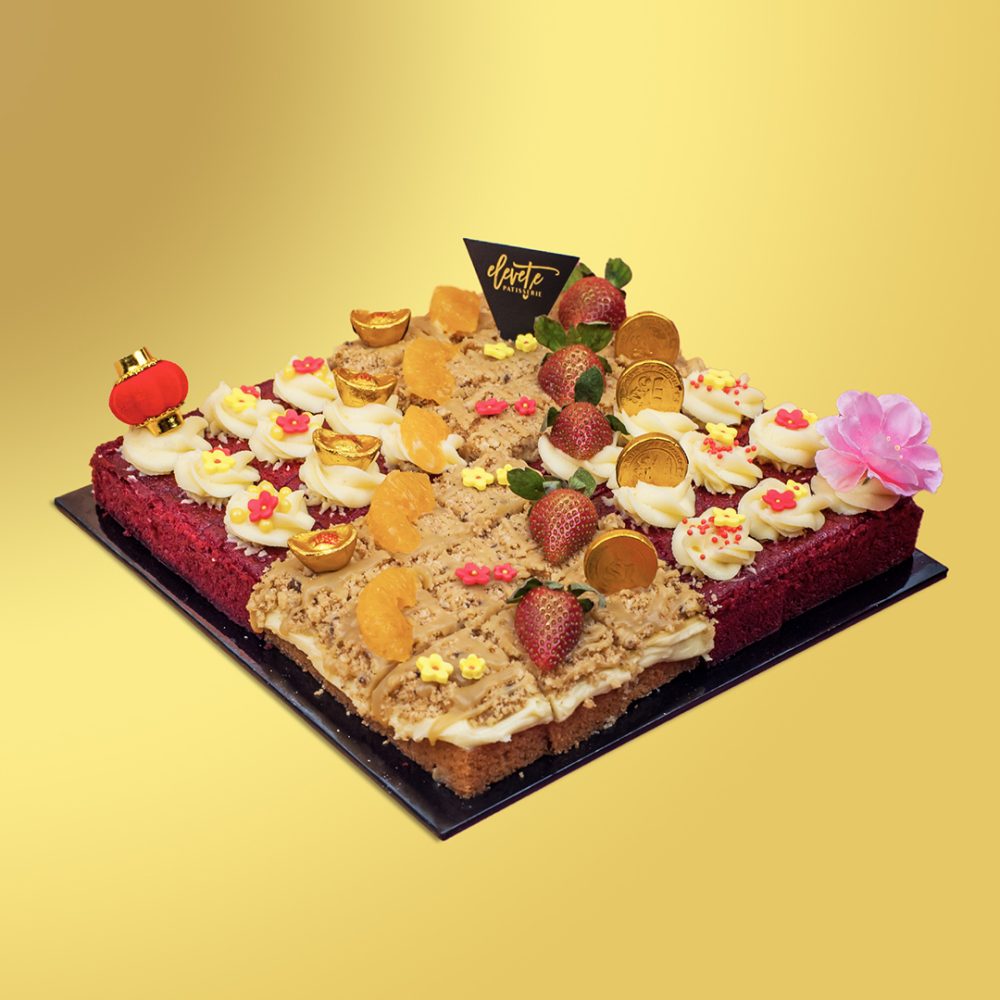 Bountiful Bites is the definition of cookie cake where you can eat cake that has similar tastes as cookies. You can start by tasting their Butterscotch Cookie Cake Bites followed by Red Velvet Cake Bites. The buttery goodness served with candied mandarin oranges, fresh strawberries and ingot-shaped chocolate brings excitement to the table. Auspicious Cupcakes on the other hand is an assortment of 12 cupcakes topped with festive colours, promising to put you in the mood for Chinese New Year. Last on the menu we have the Hummingbird. A fragrant banana and pineapple cake with toasted walnuts binded with a delicate cream cheese frosting decorated with colourful edible flowers. A must have with your loved ones!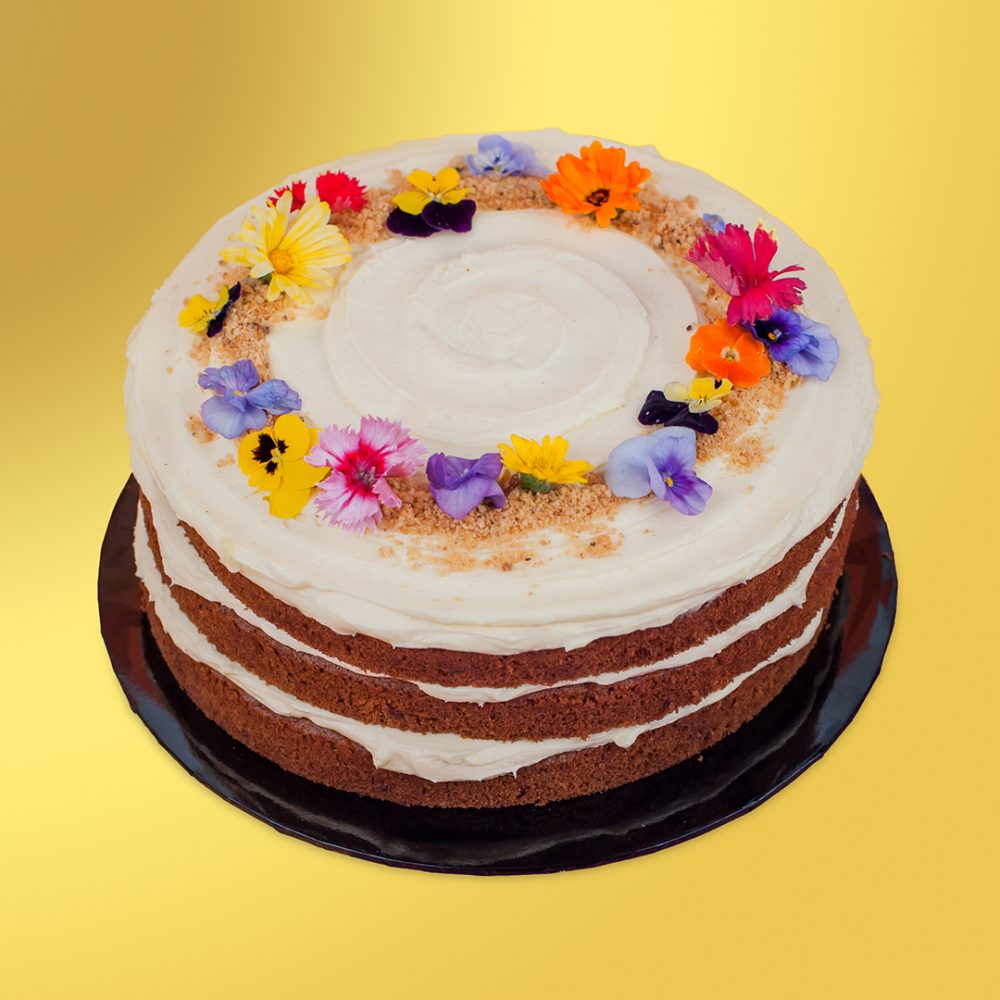 For the reunion of a big family or if you are celebrating with your friends and relatives, bring great wishes to them by ordering the Prosperity Pack, Fortune Pack or Great Abundance which gives you a bundle of discounts! Last but not least, Elevete Patisserie wishes all Gong Xi Fa Cai!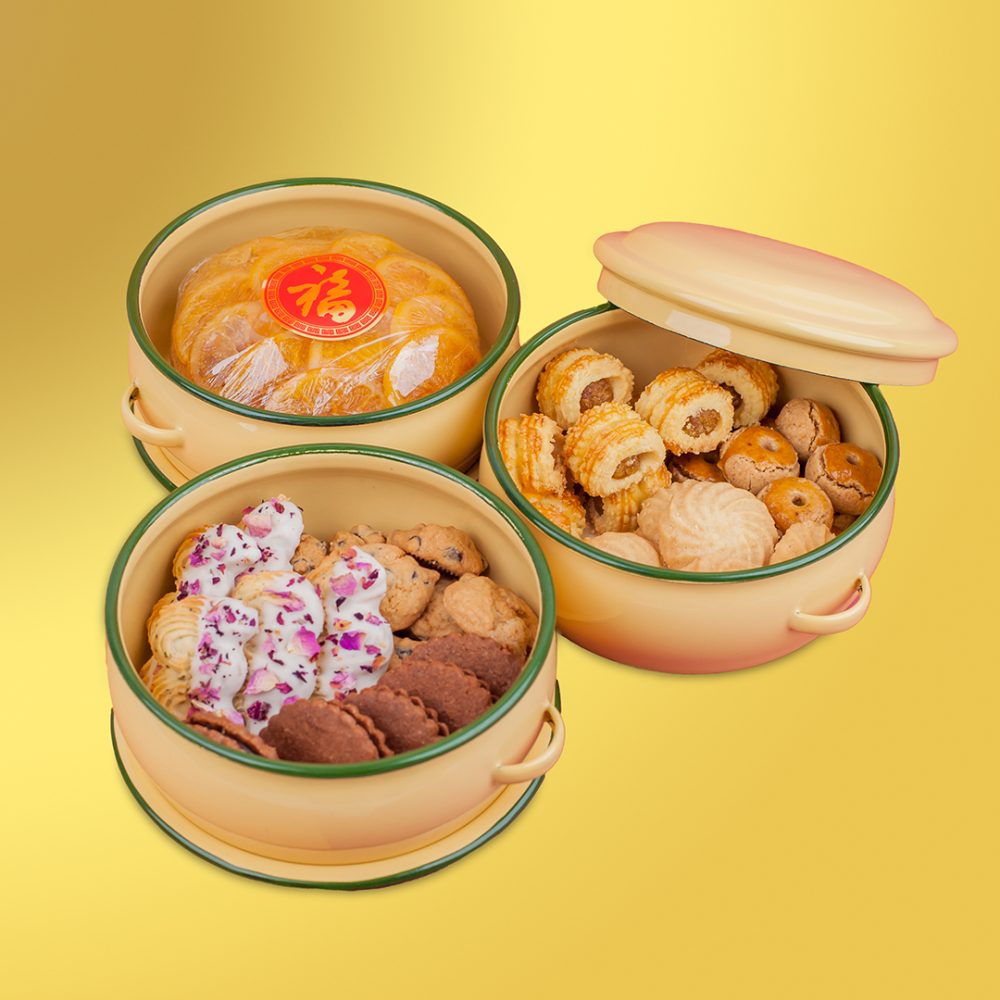 Valentine's Day – It's a Bundle of Love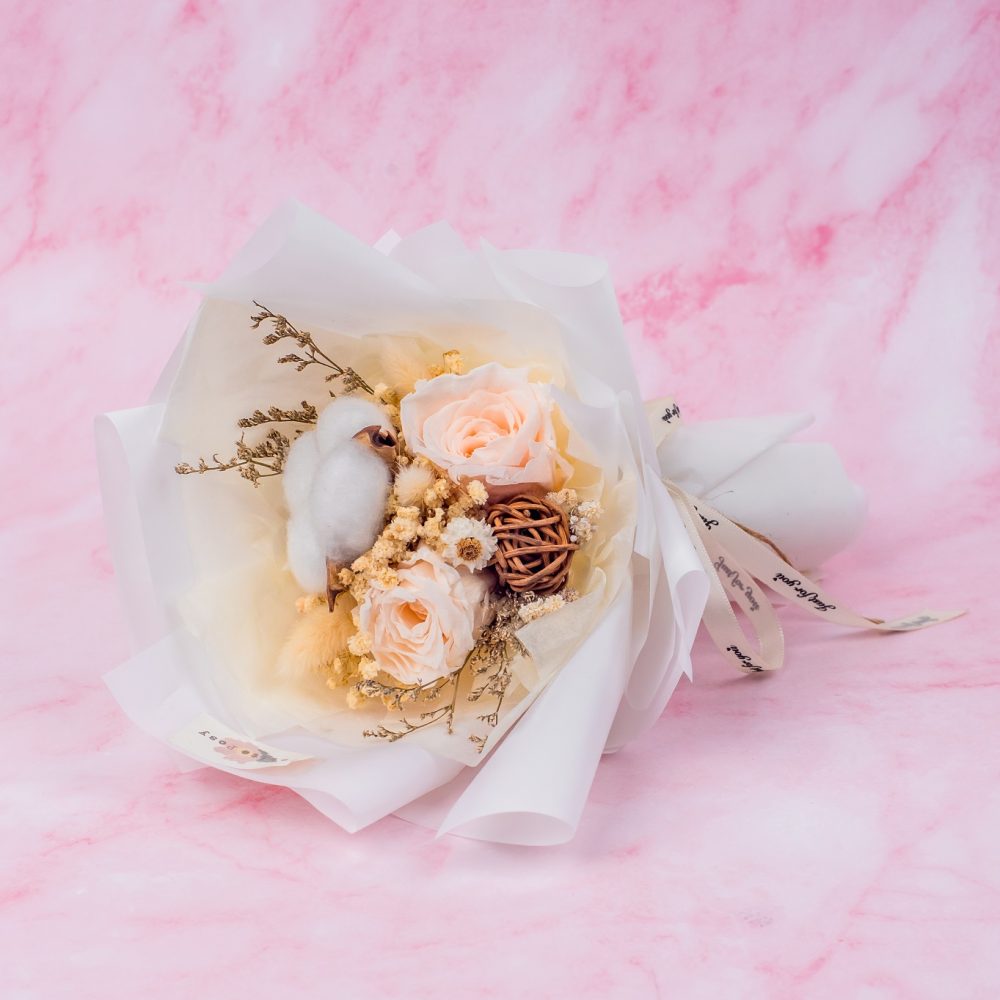 There is no need to introduce this special day as lovebirds are usually looking forward to
creating some romance. Introducing Elevete Patisserie's 'It's a Bundle of Love' collection, each Valentine's Day purchase will be paired with a bouquet of beautifully preserved flowers as a final flourish to complete your gift.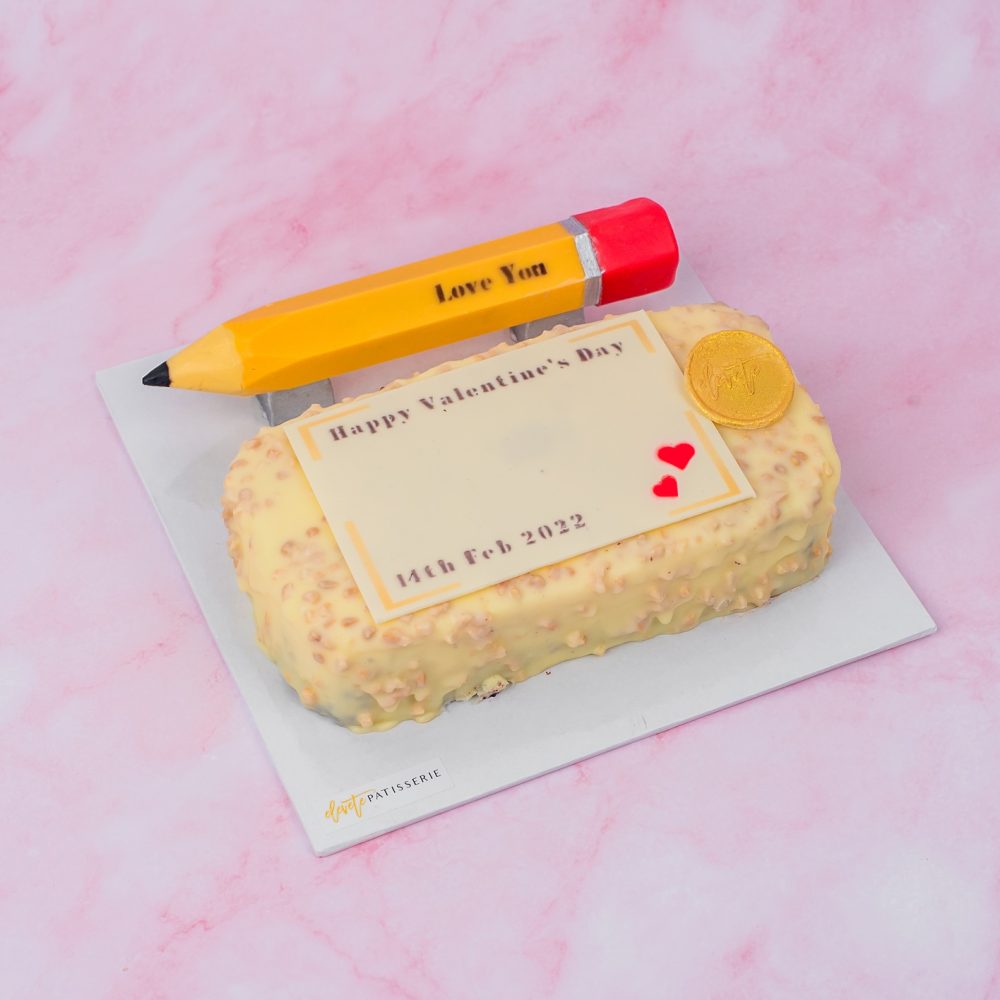 The first option that will catch your Valentine's eye would be the adorable Pen It with Me on Wonderlust. The design of the pencil was specifically inspired by the creative Swiss-French Pastry Chef, Amaury Guichon. A chocolate plaque coated in a gift card is placed on a Wonderlust cake slice bar where you can remind your soulmate of the lovey-dovey words they said to you.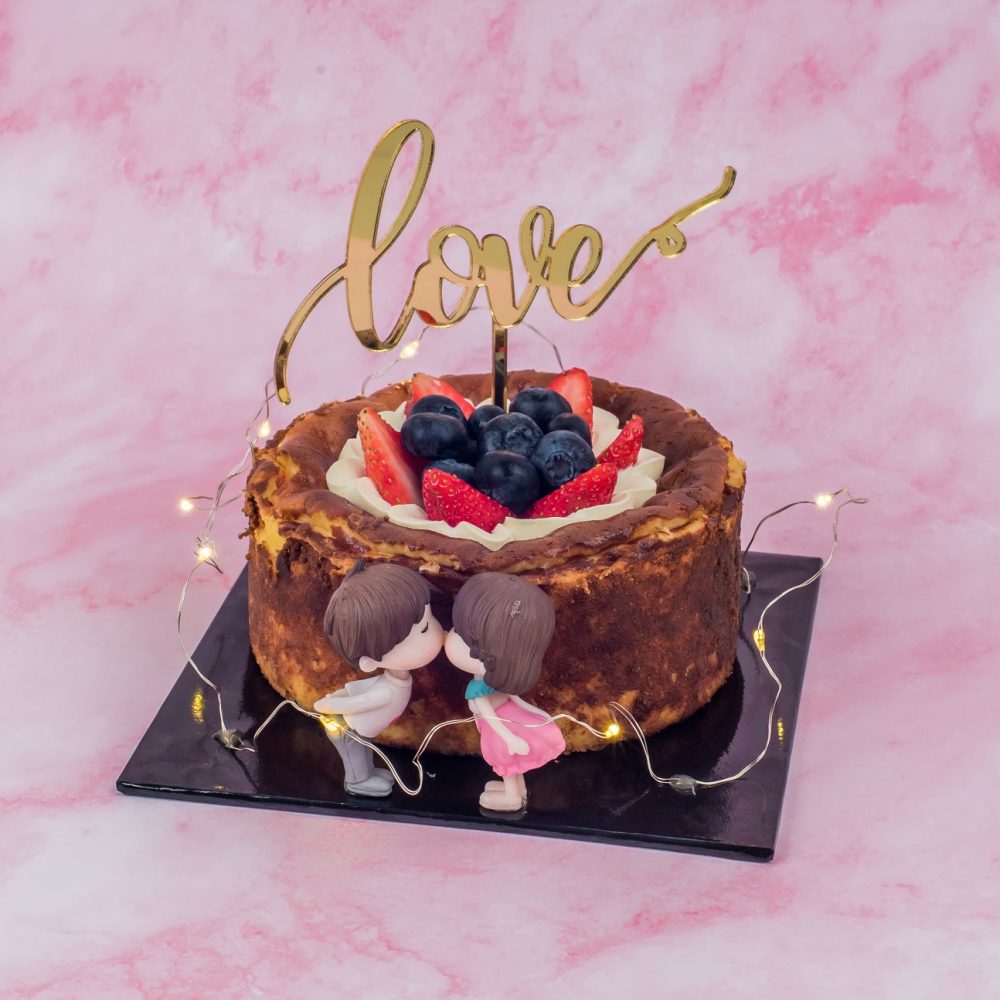 Feel like dancing to "Ice Ice Baby" during Valentine's Day? The fairy lights twirling our Baby Burnt Cheesecake will light up your night or even blink according to the tempo of your dance moves! Being one of the best-selling cakes in the patisserie, its creamy texture will instantly melt in your mouth just like the moment your other half melted your heart.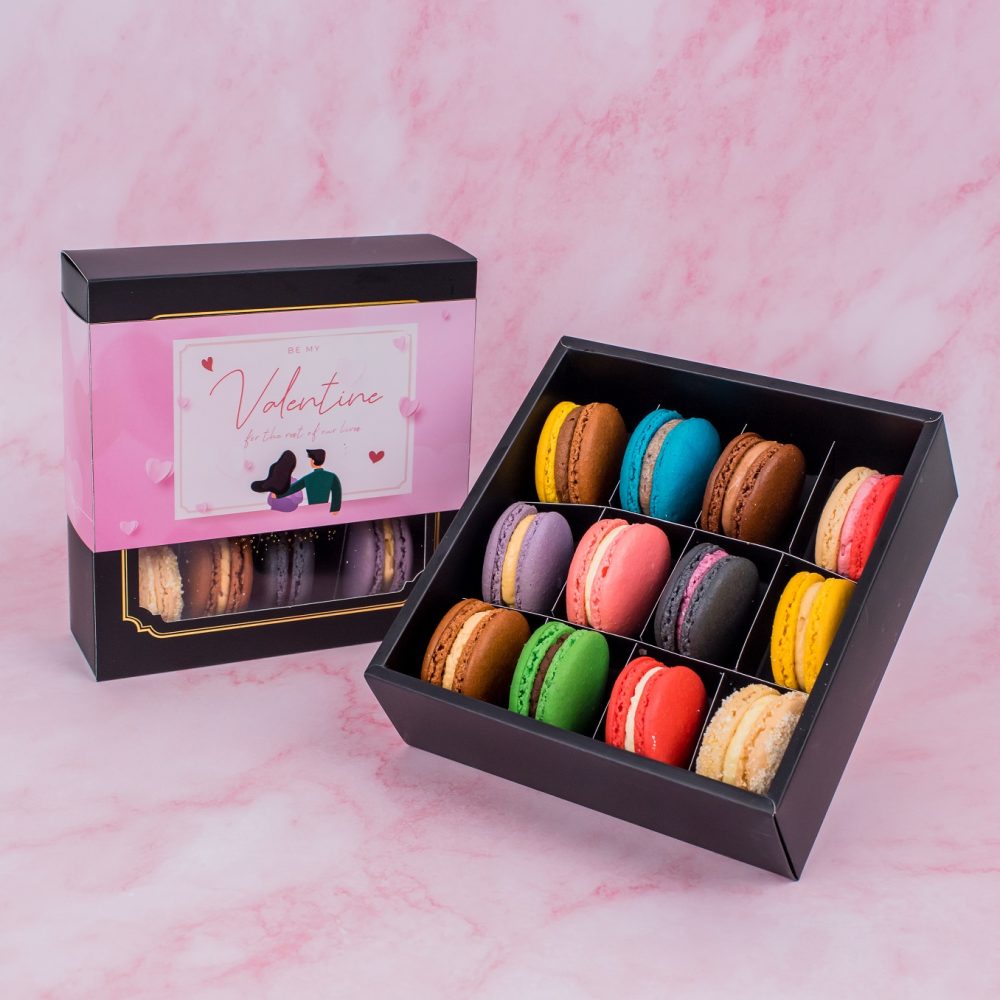 Confess to your Valentine with something colourful this year. Been wanting to try Elevete
Patisserie's most sought-after macaron? Get a box of 12 Macarons with a preserved flower
bundle this Valentine's Day. One out of the 12 different flavours could be a way to get to your crush's heart.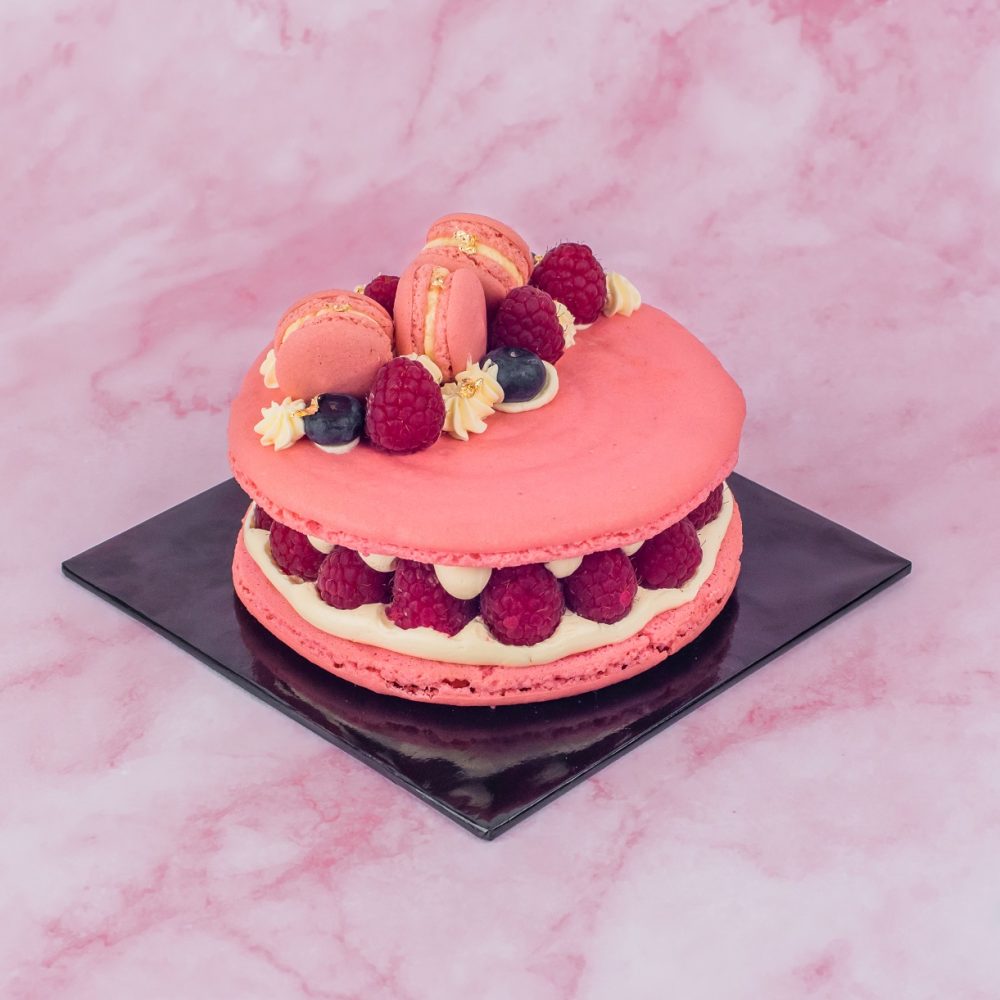 If not, perhaps the Ispahan Macaron will! The petite 5-inch wide crunchy macaron cookie is back with a soft finish, enveloping a refreshing filling made from a beautiful combination of fresh raspberries and lychees with smooth rose lychee buttercream. Serve it with tea or coffee, this might be the love of your life.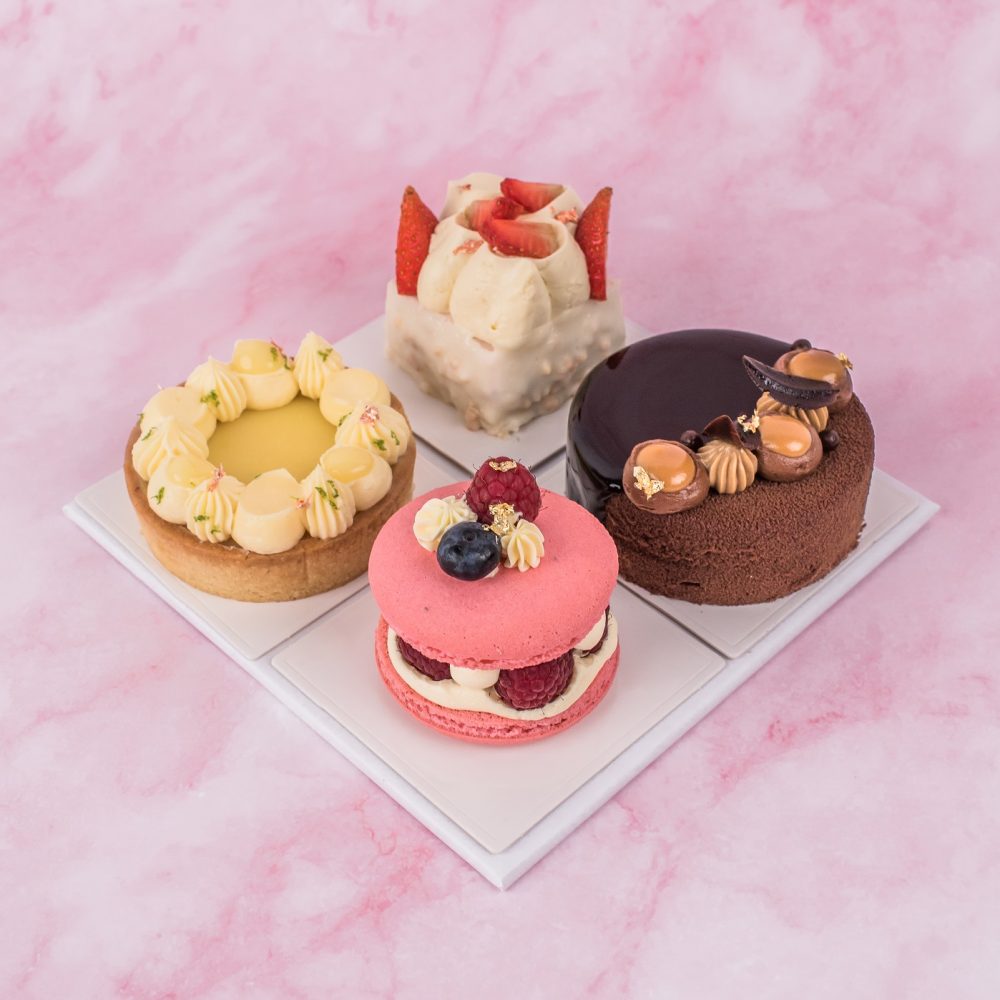 Chef's Signature Petit Gâteaux is a modern dessert that is mainly crafted for anyone who has an appreciation for the finer things in life. It is best to enjoy these desserts by starting with Sunrise, followed by Wonderlust, Midnight Sin and lastly Ispahan. Elevete Patisserie's chef recommended the following to simply bring you on a journey of sensations.
Elevete Patisserie's Chinese New Year and Valentine's Day collection will only be available for purchase on their official website. From now until 19 February 2022, free red packets will be given upon purchase of any Chinese New Year collection. Pre-order for Valentine's Day from 1 February until White Valentine's Day to grab Elevete Patisserie's 'It's a Bundle of Love' collection. The Valentine's Day collection can also be purchased without the preserved flower bundle through the patisserie's permanent menu.
Let us begin the prosperous adventure with some sweet treats here:
https://www.elevete.com.my/collections/chinese-new-year-2022.
About Elevete Patisserie
Elevete Patisserie aims to deliver the most delectable desserts the culinary world has to offer, which is why we ensure that each and every order that leaves our kitchen, is guaranteed to both visually entice and excite any flavour palate.
The name, Elevete, was derived from the desire to take modern-day desserts and put them on a pedestal of their own, hence the non-stop pursuit for new methods and combinations of ingredients to create sweets that would catapult taste buds to new heights. Website: https://www.elevete.com.my/
Elevete Patisserie is also available on Cakerush, Cake Together, Eat Cake Today, Foodpanda, Beepit and Grab