Achieving Eco-Conscious Milestones: Coway Malaysia successfully planted 20 trees with FRIM and collected more than 250 KG of river rubbish with EcoKnights 
KUALA LUMPUR, 9 NOVEMBER 2023 – Coway, the Best Life Solution Company acknowledges the significance of environmental stewardship and takes proactive measures to champion sustainability and is committed to fostering a greener, more sustainable future for the betterment of lives and societies.
Carrying on its Corporate Social Responsibility (CSR) direction, Coway partnered with the Forest Research Institute Malaysia (FRIM), one of the leading institutions in tropical forestry research, conservation, and sustainable forest management. In alignment with the Ministry of Natural Resources, Environment and Climate Change's initiative which is the Greening Malaysia Programme through 100 Million Tree Planting Campaign, Coway and FRIM jointly planted 20 trees which included nyatoh taban merah (Palaquium gutta), meranti rambai daun (Rubroshorea acuminata), merawan siput jantan (Hopea odorata), sentul paya (Sandoricum beccarianum), jambu bol (Syzygium malaccense) and resak irian (Vatica rassak) at the FRIM recently. To date, FRIM has contributed to the planting of over 50,000 trees in Malaysia and Coway remains steadfast in its support of national sustainability initiatives through its collaboration with FRIM.
Kyle Choi, Managing Director of Coway Malaysia said, "At Coway, we believe that corporate responsibility goes hand-in-hand with our commitment to innovation and excellence. Our partnership with esteemed organisations to support environmental activities and maintain the ecosystem reflects our unwavering dedication to creating a sustainable future."
Dr Ismail Parlan, Director General of FRIM commented, "We are delighted to announce our collaboration with Coway in support of the Ministry of Natural Resources, Environment and Climate Change's initiative, the Greening Malaysia Programme through 100 Million Tree Planting Campaign. FRIM has a longstanding commitment to promoting sustainable forestry practices, and this partnership with Coway perfectly aligns with our mission. Together, we aspire to make a meaningful contribution to environmental conservation and to underscore the vital importance of tree planting for a healthier planet. The backing from Coway for this venture is greatly appreciated, and we are optimistic that our collaborative endeavours will motivate others to engage in similar influential initiatives."
Persisting in their commitment, Coway also partnered with EcoKnights, a non-governmental environmental organisation devoted to advancing and facilitating sustainable practices for a healthier planet through collaborative efforts with key stakeholders. Since 2021, Coway and EcoKnights have been working together closely to keep the community clean and cleared over 2,000 kg of waste from rivers in the Klang Valley. Recently, they undertook a successful clean-up at the Kayu Ara River in Taman Tun Dr Ismail (TTDI) and removed 252.5 kg of rubbish. This collaboration between Coway and EcoKnights will extend more river clean-ups in the upcoming months in multiple locations within the Klang Valley. Besides, to further educate the volunteers on proper waste management, the volunteers get to experience soap-making Eco workshop and learnt ways of upcycling used cooking oil into soap.
"By collaborating with like-minded entities, we amplify our collective impact, working together to safeguard our planet's precious resources. These initiatives not only align with our core values but also serve as a testament to our belief as the Best Life Solution Company that provides solutions beyond care from our products to our actions. Every small action contributes to a brighter, cleaner world for generations to come. We hope that these initiatives will inspire many others to join in to care and protect our environmental heritage and Mother Earth," concluded Choi.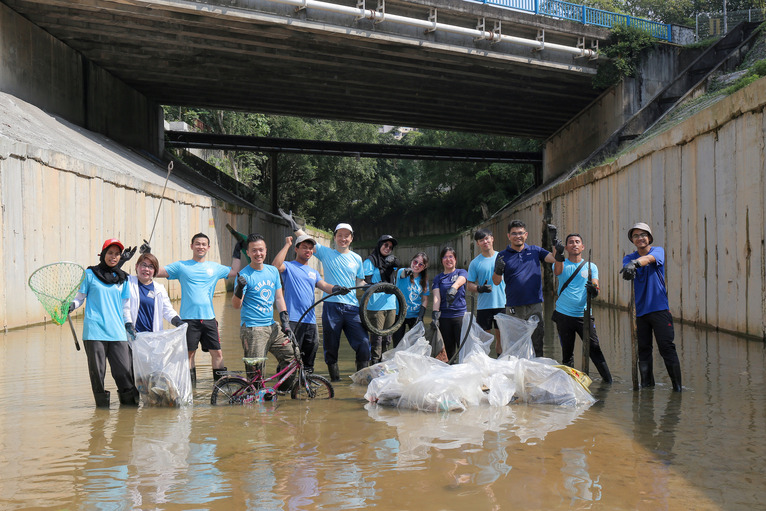 As part of Coway's dedication to a robust and sustainable future, Coway carries out CSR activities to aid nature and communities in Malaysia to build better lives and societies. Coway Malaysia has been collaborating with various partners to support environmental activities that include river log boom clean-ups, picking up litter while jogging (Plogging), encouraging recycling efforts, coral reefs conservation and more. By nurturing the environment, Coway aims to foster a legacy of cleaner, greener communities for generations to come. For more information about Coway Malaysia, kindly visit www.coway.com.my.