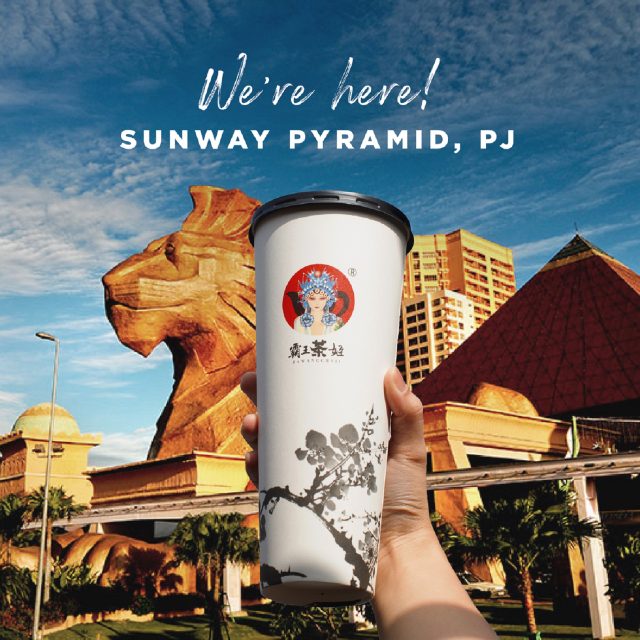 BaWangChaJi Brings Their Premium Tea To Sunway Pyramid
PETALING JAYA, 26th October 2021 – BaWangChaJi has been serving Premium Tea-based beverages to Malaysians with a modern twist since 2019. Not only are they a specialised premium tea store but also a great place with an oriental mixed modern ambience to dine in with family and friends. With already 22 outlets across Malaysia, BaWangChaJi is proud to announce their very first outlet in the Subang Jaya area which is also their second flagship store, will be launching on the 30th of October 2021 at Sunway Pyramid Mall, Petaling Jaya.
Following the grand opening of BaWangChaJi's flagship store in Sunway Pyramid, they will be opening two additional outlets in Subang at SS15 and USJ Taipan, making it three store launches within five days in one district.
BaWangChaJi's flagship stores bring a higher levelled experience with the fusion of luxurious elements into modern oriental interior design concepts. Launches of new products and exclusive seasonal items will be first available at the Flagship Stores. BaWangChaJi's bespoke Royal Selangor handcrafted pewter tumbler which enhances tea lovers' tea drinking experience will also be available exclusively at the flagship stores.
During the grand opening of their second flagship store on 30th October 2021, BaWangChaJi will be having a one day only signature Tear & Win campaign in conjunction with the grand launch.  Tea lovers will be able to enjoy a cup of their favourite milk tea from BaWangChaji's Fresh Milk Tea Series and also receive gifts and surprises when tearing the bottom of BaWangChaJi's very own Big Big Cup.
All BaWangChaJi fans who purchase the Fresh Milk Tea Series can expect gifts in the form of vouchers, branded lipsticks, branded perfumes and also exclusive BaWangChaJi merchandise.
BaWangChaJi will also be launching a RM288 Season Card during this grand opening which can get you 30 cups of any tea beverage from BaWangChaJi Sunway Pyramid Flagship Store worth RM567. BaWangChaJi fans can enjoy their drinks for only half the price with this RM288 Season Card and it is valid until the 31st of January 2022. Tea lovers should hurry as there are only a limited amount of season cards available through walk-in at BaWangChaJi Sunway Pyramid Flagship Store on the 30th of October 2021.
"The launch of our second flagship store at Sunway Pyramid is BaWangChaJi's commitment to bring our fans a unique tea drinking experience. All of us at BaWangChaJi would like to welcome all tea lovers to the opening of our brand new flagship store at Sunway Pyramid and experience yourself the enjoyment brought upon by the combination of our premium tea beverages with a premium atmosphere," said Jack Chong, CEO of BaWangChaJi Malaysia.             
Be sure to make your way down to Lot 142B, LG2, Sunway Pyramid Mall, PJ on the 30th of October 2021 and grab yourself a cup of BaWangChaJi's Fresh Milk Tea Series for a tear cup surprise. The Tear & Win will be available to all who take away and dine-in at BaWangChaJi's Sunway Pyramid outlet. For those who wish to join the Tear & Win from home, you can get BaWangChaJi's Fresh Milk Tea Series delivered to you from only BaWangChaJi's Sunway Pyramid flagship outlet through BW delivery or ShopeeFood.
To find out more about BaWangChaJi Malaysia's events and promotions, do follow the Facebook page as well as Instagram at @bawangchaji_my.
About BaWangChaJi Malaysia
Originated from Yunnan Province in November 2017, BaWangChaJi is one of the earliest regional teahouse chains that positions itself as the purveyor of Original Tea Leaf of the Chinese Culture. From Yunnan to China Nationwide, China Nationwide extending throughout the world, the brand has expanded rapidly with over 400 outlets across Asia.
BaWangChaJi offers 4 different categories of tea drinks, which are Cheese Macchiato, Fresh Milk Tea, Cold Brew Tea & Fresh Fruit Tea. We pride ourselves with strict material selection standards where everything is freshly made to ensure the quality of each drink that we serve. We strive to bring a modern twist to the heritage of Chinese Tea and cultivate a new culture in the tea industry in Malaysia where authentic and healthy drinks are cherished by people of all ages.