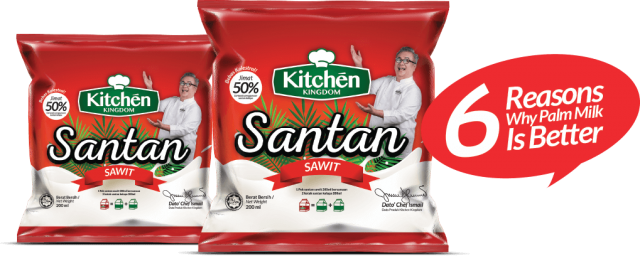 Santan kelapa or coconut milk is a popular ingredient used in Southeast Asia and is best known as an indispensable ingredient in nasi lemak. In August 2015, the Malaysian no-frills airline AirAsia aptly named its new inflight menu Santan for use across all its routes as santan binds the food across the region.
In Malaysia, however, santan is increasingly getting a bad reputation for its saturated fats and is being blamed for contributing to high levels of bad cholesterol. The common alternatives to santan are yoghurt and milk. Nestle has been promoting yoghurt as a substitute for coconut milk for cooking.
Santan sawit by Kitchen Kingdom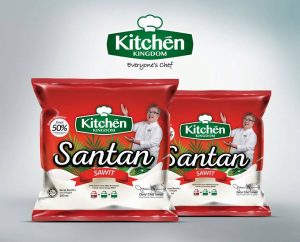 Apart from milk and yoghurt, there is an existing challenger to coconut milk. It is called santan sawit, a palm oil-based coconut milk substitute. Santan sawit was developed by Lembaga Minyak Sawit Malaysia (MPOB) or the Malaysian Palm Oil Board in 2008. In 2010, local Premium Food Corporation Sdn Bhd.(PFC) introduced Khalis santan sawit into the market but the response was not exceptional.
Now, new entrant Kitchen Kingdom Sdn Bhd plans to change that with its new santan sawit. Actually the product was available since the end of 2015. Kitchen Kingdom santan sawit was officially launched at Halfest or Halal Fest at the Mines Convention Centre held over a five-day period from 31 August 2016 to 4 September 2016.
According to Kitchen Kingdom, the company claims its santan sawit has 6 benefits:
Cholesterol free
Low fat (contains 2 times lower fat compared to coconut milk)
Nutritious (contains Vitamin A, C and E)
Last much longer (up to 5 months while in packaging and 30 days when the packaging is opened.)
Save up to 50% (usage of 200ml Santan Sawit Kitchen Kingdom is equivalent to 400ml regular coconut milk usage)
Simply delicious (similar texture, taste and smell as regular coconut milk in your daily meals)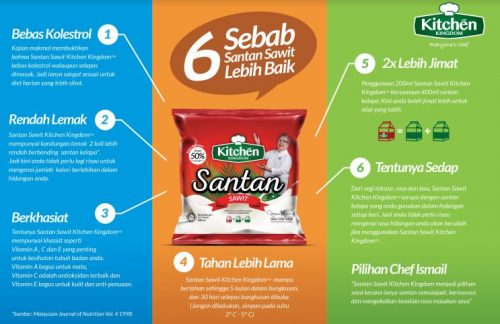 Kitchen Kingdom said it will work to promote santan sawit usage in Malaysia and has roped in celebrity Chef Ismail as its brand ambassador. The company also has plans to expand into Indonesia via Giant Supermarket. In the coming two years, the plan is to go into Pakistan, China and Thailand followed by other Southeast Asian countries, said Kitchen Kingdom Executive Director Mutanazim Abd Mubin.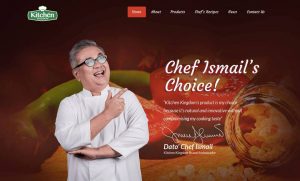 Less fat compared to coconut milk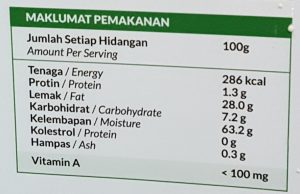 Based on the study by MPOH comparing the nutritional composition of commercial santan sawit versus coconut milk, santan sawit's total fat is only 4.8% less than coconut milk on a 100g per serving basis. The ready-to-use liquid santan sawit PLUS developed by MPOH has lower total fat than the two. But according to Kitchen Kingdom, 200ml Santan Sawit Kitchen Kingdom is equivalent to 400ml regular coconut milk usage. Therefore, the total fat should of Kitchen Kingdom santan sawit should be less than coconut milk.
On a per 100g basis, the commercial santan sawit has higher calories than coconut milk and lower protein than coconut milk. The carbohydrate of commercial santan sawit is much higher than coconut milk at 7.2g vs 2.3g per 100g serving. At the end, it is down to consumer education to ensure the success of santan sawit. Image below comes from the Nutritional Value report from MPOH.