Target of RM 500 million e-commerce sales
Nestle (Malaysia) Sdn Bhd has officially launched its e-store on 11Street and Lazada on 6 October 2016 with a target of achieving RM 500 million in sales. The company did not give an exact timeline on when this will be achieved. To put things into perspective, RM 500 million e-commerce target is equivalent to nearly 40% of Nestle (M)'s 2015 annual revenue of RM 1.3 billion.
E-commerce at around 1% revenue at the moment
At the moment, Nestle (M) is getting about 1% or less of its revenue from the e-business, said Nestle (M) managing director Alois Hofbauer. The company started the e-commerce business in Malaysia in early 2016. At 1%, it is equivalent to RM 15 million of 2015 full-year revenue.
The Sun Daily newspaper reported on 7 October 2016 that Nestle (M)'s turnover from e-commerce has reached RM 1 million per month today, quadrupling within the past six to eight months starting from just RM 100,000 to RM 200,000 per month.
E-retailers to focus on back-end operations
11Street and Lazada will handle all the back-end operations including delivery and logistics. Nestle will invest RM 1-2 million into hardware with most of the investment flowing into infrastructure and new resources and working with professional e-retailers, reported the The Edge Financial citing Hofbauer.

Start of month-long online Wellness Together-Gather campaign

The launch of the e-store also marks the launch of the one-month Wellness Together-Gather campaign where Nestle products on 11Street and Lazada will be discounted by up to 45%. The campaign will cover 260 products from 10 brands.
Close look an the savings on Nestle official store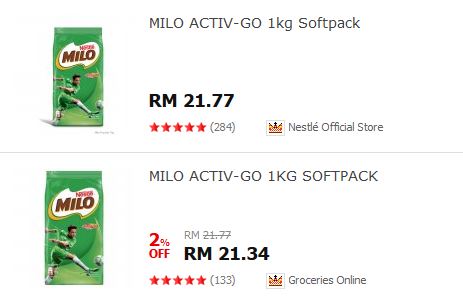 On 11Street, Groceries Online is selling Milo Activ-Go 1KG softpack at a 2% discount on 7 October 2016 compared with a similar product on the Nestle Official Store. This makes the Milo on the Nestle Official Store slightly more expensive.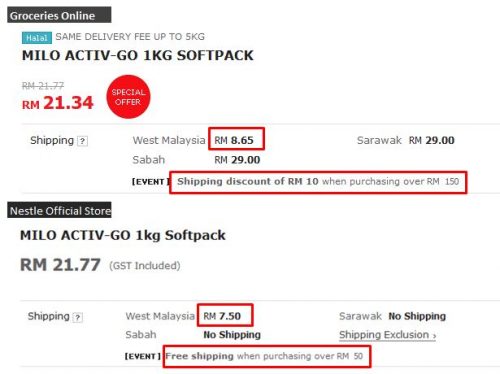 Shipping fees make a huge difference
But discounted shipping is what makes shopping at Nestle Official Store worthwhile. The Nestle Official Store offers lower shipping rate and free shipping when purchasing over RM 50, which makes it very competitive. On the other hand, Groceries Online only offer a RM 10 shipping discount and this is only when purchasing above RM 150.
Unfortunately, Nestle does not deliver to Sabah and Sarawak, which means it is not reaching out to consumers in East Malaysia.
Selling in bulk and bundled promotion

Nestle Official Store on Lazada 8 October 2016 (image above)
Nestle is making full use of the e-store to promote the bulk selling of its products to drive volume. Not only are products are sold in pairs or in multiple units, some of them are in promotional bundle with limited-edition gifts to provide extra value to consumers.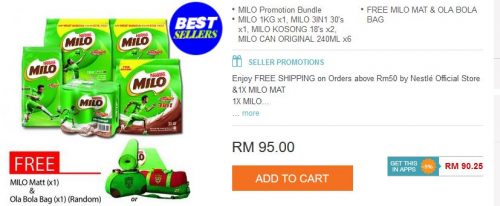 Exclusivity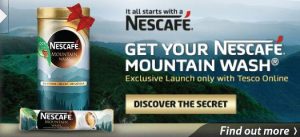 Having an e-store enables Nestle to provide exclusive offers to its online customers. The company started partnering with online merchants for exclusive product launches in 2015. A good example is the partnership with Tesco Online in July 2015 for the exclusive online debut of Nescafe Mountain Wash decaffeinated coffee. The product was eventually sold in brick-and-mortar stores.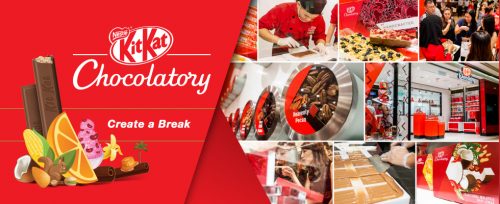 Now, Nestle KitKat Chocolatory is available on 11Street with four limited-edition KitKat up for grab including KitKat Traditional Malaysian Nasi Lemak, named after the famous local dish. This promotion is an extension of the KitKat Chocolatory pop-up store at Mid Valley Megamall, which closed on 4 October 2016.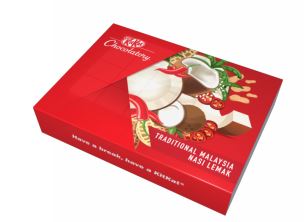 Completing the digital engagement journey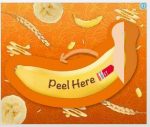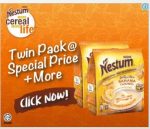 The new Nestum Banana Caramel is a good example of how Nestle uses the e-store helps to complete the digital engagement journey from clicking the ad to placing the order on Nestle's e-store. The order goes to the Nestle's e-store and not to other online merchants, which gives Nestle control over the entire digital journey.
Key takeaways
With consumers migrating to online to fulfill their shopping needs. It is a good move by Nestle to follow suit with the changing times. The e-store also serves as a useful platform to engage consumers especially millennials with exclusive pre-launch and online-only offers. There is a strong likelihood that Nestle will use e-commerce for new product testing to gauge the responsiveness towards new innovations from the company going forward. Finally, the consumer data generated from the e-store will provide Nestle with valuable consumer information the track consumer shopping habits in the online realm.