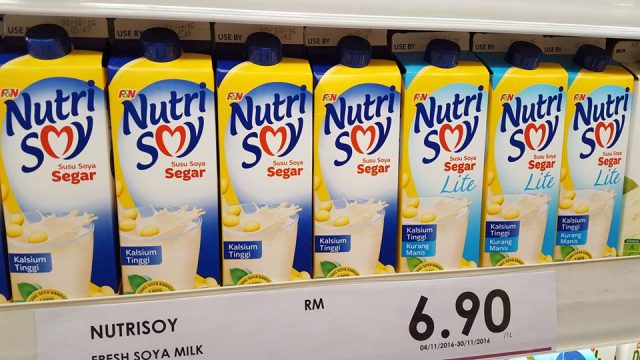 F&N has recently introduced Nutrisoy Fresh, a new soya milk-based drink and also Malaysia's first pasteurised fresh soya milk drink. The shelf life is able to reach 35 days after being treated with the High Temperature Short-Time Method. The drink is made from non-GMO Canadian soy beans and comes in two variants – Fresh and Fresh Lite (less sugar). The selling price for the 1L format is RM 6.90. As a comparison, the UHT version is priced at RM 2.20.

F&N Nutrisoy Fresh was first spotted at the 16th Taste Fully Food & Beverage Expo 2016 on 10-12 November 2016.
Memperkenalkan F&N NutriSoy Segar baharu! Rasa susu kacang soya asli yang diperbuat daripada kacang soya bukan GMO dari Kanada. Ia dipasteur untuk rasa bagai baru disediakan! Nikmatilah kesegarannya hari ini!

Posted by F&N NutriSoy on 14hb Disember 2016
Timeline of F&N soya bean category evolution in Malaysia:
2013 – Changed to F&N Seasons NutriSoy from F&N Seasons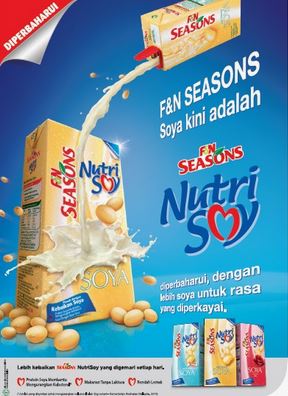 2014 – New packaging design with 9x more calcium than ordinary soy bean milk
In 2016, F&N Nutrisoy is back with a new packaging design. The lite version now features the outline of a female body to suggest it is

Singapore F&N leads fresh soy bean innovation
Fresh soya bean drink as a category in Singapore has evolved beyond less sugar. In Singapore, the Nutrisoy range includes almond with reduced sugar and omega with reduced sugar. What this means is some of these innovations may be introduced in Malaysia in the future to meet the growing sophistication of Malaysian consumers opting for fresher products.