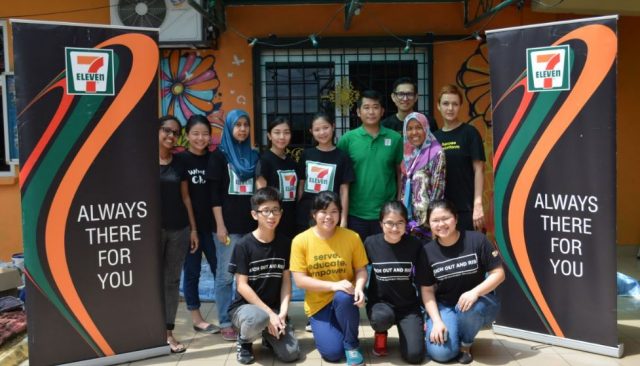 7-Eleven Malaysia, the No.1 standalone convenience store chain operator in the country, recently carried out another CSR activity in collaboration with its start-up, NGO Hub Asia by carrying out a makeover of a shelter home. The beneficiary of 7-Eleven and NGO Hub efforts in this were Taman Seri Puteri in Cheras.
Taman Seri Puteri Cheras is a shelter home managed by the Welfare Department of Malaysia for the care and rehabilitation of at-risk girls who are exposed to moral harm or any forms of abuse and has been a beacon of light for its residents. The home functions not only as a shelter by providing for their physical needs but also seeks to uplift their emotional, mental and spiritual life by helping its residents to begin a new chapter in their lives by having regular counselling and guidance sessions, religious classes, technical and vocational trainings such as farming as well as recreational projects.
As part of the project, the team from 7-Eleven and NGO Hub worked hard prepping the external walls of the home ready for a new coat of paint as well as bringing professional expertise to create a "flower power-themed" mural on one section of the home's structure to liven up the environment further.
Pn. Vimmisyasmin Abd. Razak, Board Member of Taman Seri Puteri added, "Community outreach initiatives such as this project by 7-Eleven Malaysia and NGO Hub helps to bring awareness to our cause as well as brings hope to the home residents in the sense that there are parties out there that care about them and we're grateful for these support as we need all the assistance we can get in our efforts to make a difference to the lives of those that need us."
"We believe in active volunteerism for our CSR initiatives whereby one contributes one's time and energy, thus one is better able to appreciate and understand how their efforts can make a difference as community work is just not about contributing financial aid, but touching the lives of people one may encounter, no matter how briefly" said Ronan Lee, 7-Eleven Malaysia's General Manager of Marketing.
He concluded by saying, "We're pleased to be able to make a difference, no matter how small to those that are less fortunate or marginalized by society as at 7-Eleven Malaysia, we always believe in giving back to the society that we operate in as well as striving to Always Be There For You."
For more information, please log on to www.7eleven.com.my or follow 7ElevenMalaysia on Facebook.
About 7-Eleven Malaysia
7-Eleven Malaysia Holdings Berhad through its subsidiary 7-Eleven Malaysia Sdn. Bhd. is the owner and operator of 7-Eleven stores in Malaysia. Incorporated on 4 June 1984, 7-Eleven Malaysia has made its mark in the retailing scene and have been a prominent icon for over 28 years. 7-Eleven Malaysia is the pioneer and largest 24-hours standalone convenience store operator in Malaysia with over 2,000 outlets nationwide and serves more than 900,000 customers daily. 7-Eleven stores can be found across bustling commercial districts to serene suburban residential compounds throughout Malaysia, from petrol stations and LRT stations to shopping malls and medical institutions. 7-Eleven is Always There For You.