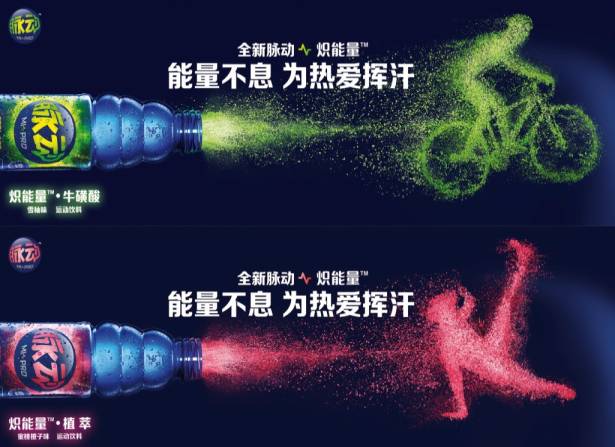 Danone has introduced a new Mizone with taurine and green tea plus ginseng extract in China in March 2017. The new range is known as 炽能量 (chi neng liang) or literally translated as "burning energy". On the packaging, it is called Mi-Pro.
Two variants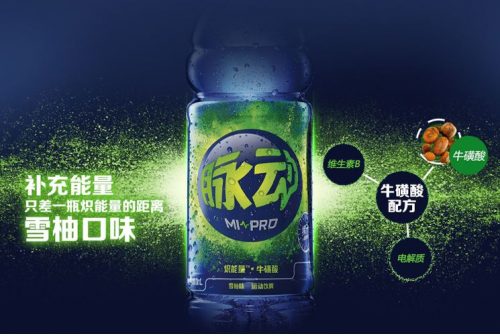 The range comprises two variants – pomelo (雪柚) (image above) and orange peach (蜜桃橙子) (image below). The pomelo flavour contains taurine, while the orange peach flavour comes with ginseng and green tea extracts.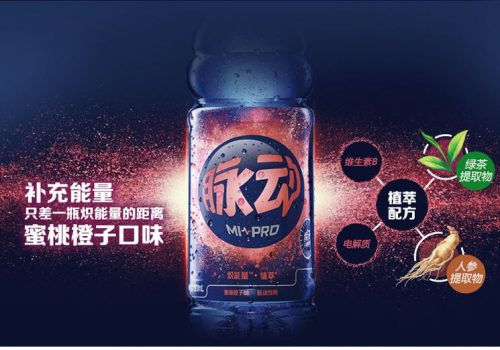 Now with added sodium
Unlike the existing Mizone range, which is free from sodium, the new 500ml Mi-Pro in PET bottle comes with sodium with a content of 16mg per 100ml. The addition of sodium is seen as a deliberate move to narrow the focus on two groups of consumers – those with an active lifestyle and those who engage in sporting activities. The underlying theme for Mi-Pro is the drink is good for those who sweat.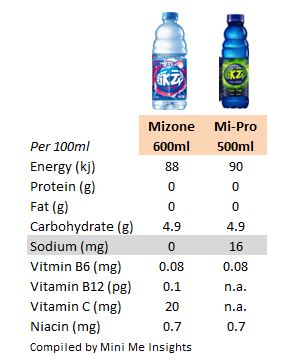 The addition of taurine, green tea extract and ginseng extract in Mi-Pro also means Mizone has crossed into the energy drink category.
Mizone gets a new flavour and packaging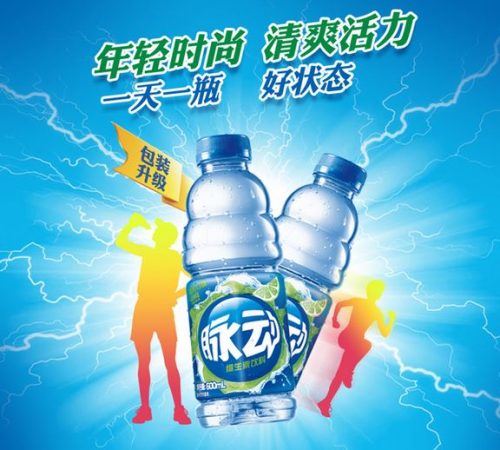 The existing Mizone range has been given a slight makeover to the brand logo. In addition to the new logo, the range has also been added with the pineapple and coconut flavour, which was introduced in March 2017.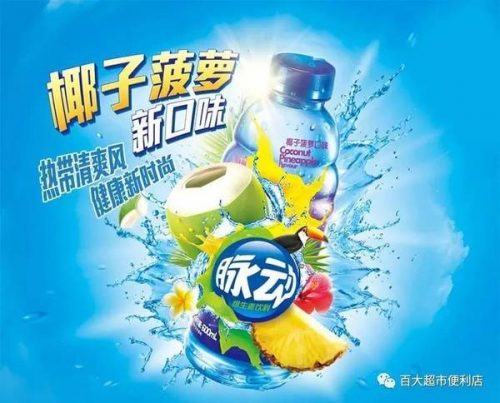 New Mizone with pineapple and coconut flavour. Image above from the web
This is how the old Mizone packaging looks like.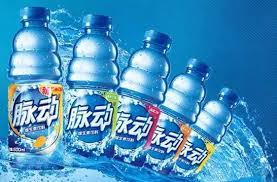 Mizone sales fell
Mizone experienced its first sales decline in 2016 due to destocking as heated competition sees consumers migrating to other beverages.
Danone CEO Emmanuel Faber speaking about Q4 2015 results hinted the strong growth of Mizone in China had come to an end.
In China, as you know, we have hit the point where the secular growth of Mizone of about 20%, 30% growth over the last several years has now come to an end. That's the end of the phase one story of Mizone in China after seven, eight years of very high growth.
A year later during the Q4 2016 result announcement, he stated that Mizone was currently in a transition period.
Just one word on China where we continue the transition of Mizone and we are focusing on two things, the first one which is to protect our market share in an environment that is more and more competitive and the second one is to protect the profitability of these brand.
What Mini Me thinks
In China, we are seeing the same shift that is happening in Indonesia with the introduction of Mizone Activ in mid-2016. See the post here. To stay relevant, Mizone is moving beyond a broad positioning from a lifestyle drink to something more niche that targets special need occasion such as sports. The year 2017 will continue to be a transition period for Mizone in China as the brand is facing massive headwinds.