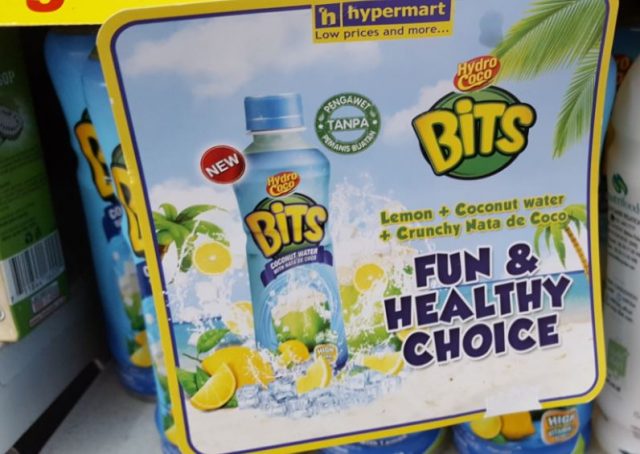 Competitive chewable nata de coco beverage category
The chewable drink category is a highly competitive category in Indonesia. Beverages with nata de coco include Mogu Mogu from Thailand's Sappe, Fruitamin CocoBit from Indofood Asahi, Nutrijell Jelly Shake from PT Aloe Vera Indonesia and I'm Coco from PT Niramas Utama (Inaco).

Hydro Coco Bits
PT Kalbe Farma Tbk, the company behind the Hydro Coco coconut drink, has extended the brand into the chewable segment with the new Hydro Coco Bits. Launched in the first quarter of 2017, Hydro Coco Bits does not have artificial sweetener and no preservatives.
Key ingredients
The key ingredients are water, coconut water, fructose, nata de coco (5%), cane sugar, nature identical coconut water flavour, lemon puree (0.1%), acidity regulator (malic acid, citric acid), sodium chloride, nature identical lemon flavour, vitamin C and vegetable stabilisers (gellan gum, xanthan gum).
Hydro Coco Bits is available only in one variant and is in a 300ml PET bottle.
Lower potassium content
Compared with Hydro Coco (real coconut water), Hydro Coco Bits is positioned as a coconut water with nata de coco, which means the focus is largely on the fun aspect from the chewable nata de coco but still healthy from the use of coconut water.
As a result of that, the potassium content in Hydro Coco Bits is much lower at 150mg per 300ml compared to Hydro Coco with 360mg per 250ml.