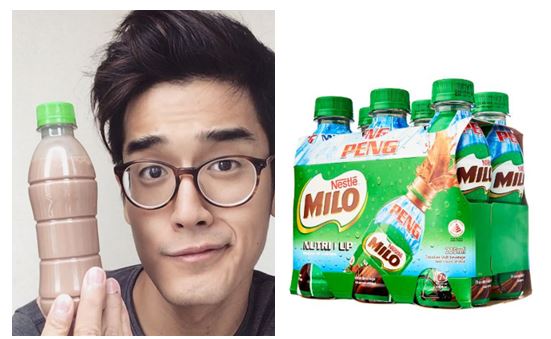 The pledge
In Singapore, actor and singer Nathan Hartono's love for Milo has finally turned him into a Milo brand ambassador in 2017. Those in Singapore would know in 2016, he pledged to "rent a fleet of Milo vans and treat everybody to Milo peng (iced Milo)" if he won the Sing! China contest.
Milo responded by giving out Milo at Plaza Singapura on 7 October 2017 hours before the competition final so that Singaporeans could show their support to Nathan. He ended up in second place.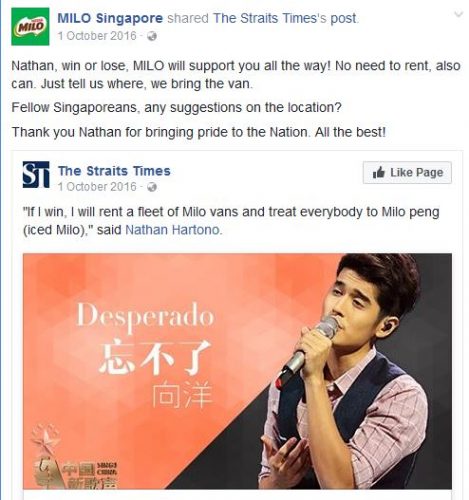 On 15 October 2017, Nathan surprised everyone by showing up at Bugis+ in a milo van to fulfill his vow. The collaboration with Nathan was a great publicity stunt for Milo.
The dare
Well, the ardent fan has done it once more with a dare to Milo to turn the unlabelled bottle into an actual product. It all started on 13 April 2017 when Nathan posted on Instagram saying "Climbing the Great Wall today. So tired. Send help. And Milo peng."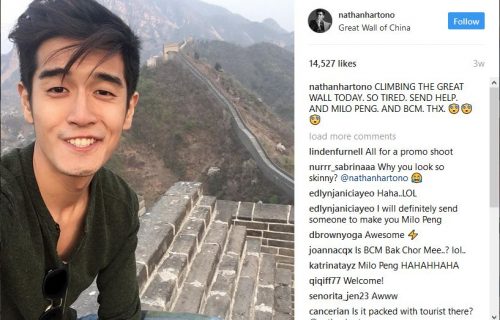 After a few days, he actually received a box from Nestle containing unmarked bottles, likely to contain Milo. Soon after, Nathan presented Nestle with a Dare.
Nathan's second engagement with Nestle has been a resounding success for Milo with the brand turning the 25-year-old heartthrob into the brand ambassador for Milo in Singapore.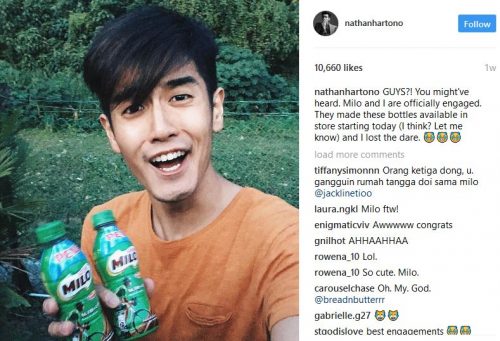 The product
The new product from Nestle is the Milo Peng Nutri Up Chocolate Malt Drink and is now available in Singapore in a 225ml PET bottle.
Is it the same as those in Malaysia?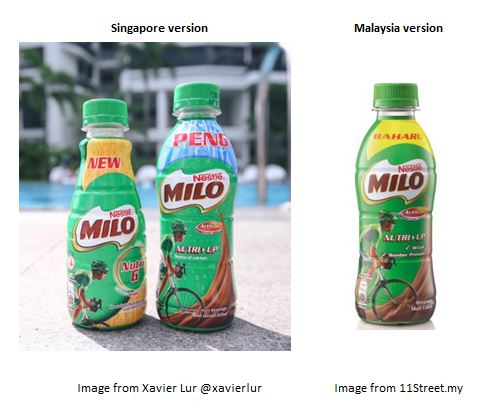 Singapore has its Nathan Hartono's Milo Peng moment. In Malaysia, we do not have a celebrity that has openly expressed their love affair with Milo and actively engage with the brand.
Coincidentally in Malaysia, Nestle has launched a new Milo Nutri Up Chocolate Malt Drink and this is how Nestle describes the new product.
Leveraging on the potential of the growing 'on-the-go' lifestyle amongst adults, introducing the latest MILO® innovation – MILO® NUTRI UP™, enriched with high calcium and source of protein to fulfill your lifestyle needs as an active and busy individual.

MILO® NUTRI UP™ comes in an attractive and convenient re-closeable 225ml PET bottle priced at RM 2.15 for you to enjoy and recharge anytime, anywhere!
Singapore's Milo Peng Nutri Up and Malaysia's Milo Nutri Up look identical except for the packaging. Both are made in the same factory in Malaysia. Could it be they are the same but under a different name – one is Milo Peng Nutri Up and the other is the Milo Nutri Up?
In Malaysia, Milo Active-Go Nutri Up (225ml) is priced at RM 2.20 at Village Grocer, while Milo Active-Go Nutri G (190ml) is selling at RM 2.60.
Nutri Up for adults


In the Philippines, Nutri Up was launched in February 2016. Milo Nutri Up has 50% more protein and 33% more calcium than the regular Milo drink. It helps to give grown-ups what they need to up their game and reach their daily energy and nutrition needs.
More calcium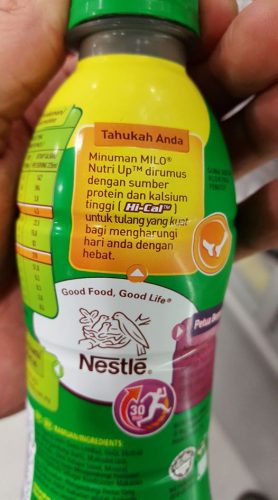 As Milo Peng Nutri Up looks quite similar to the existing Milo Nutri G in plastic bottle, it is therefore natural to compare the two. Milo Nutri G in the convenient bottle was first introduced in Malaysia in 2015 and subsequently in Singapore in early 2016.
Milo Nutri G (Nutri stands for Nutritious and G stands for Grains) contains whole grains – brown rice, wheat, oats, and barley. It is formulated to meet the dietary requirements of young adults who are unable to eat at regular times. This is reflected in the high energy and dietary fibre content in Milo Nutri G relative to the new Milo Peng Nutri Up.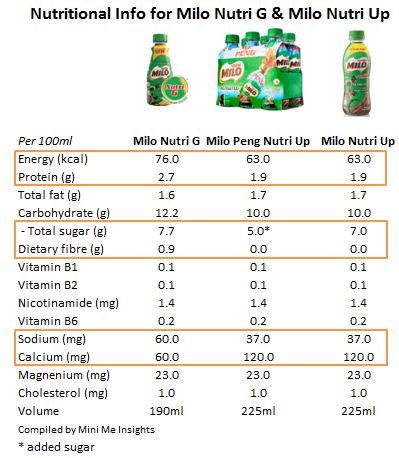 On the other hand, Milo Peng Nutri Up has more calcium and less sodium and sugar compared with Milo Nutri G. Interestingly, the Milo Nutri Up is sweeter than the Singapore version since Malaysians generally have a sweet tooth.
What Mini Me thinks
In Singapore, the use of the word "peng" or ice to ride on the Nathan Hartono's craze has probably diluted the Nutri Up message of high calcium for adults with an active and busy lifestyle. Perhaps the name is intentional to make it easier for consumers to relate to – that's Nathan Hartono's Milo Peng.
In Malaysia, it is understandable that the new Milo Nutri Up will be compared with the existing Milo Nutri Go. The marketing message has to be clear so that Milo Nutri Up will not cannabalise the market of Milo Nutri Go.