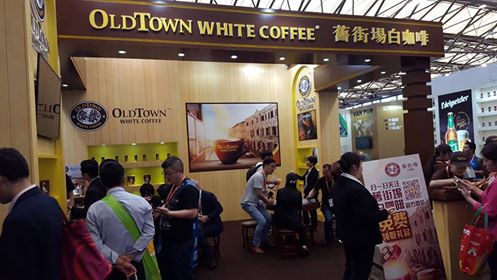 OldTown Bhd, the maker of Old Town white coffee and the operator of the namesake coffee shop chain, is betting on the vast China market for future growth.  The company also plans to introduce RTD coffee in China to drive growth forward.
China key to OldTown manufacturing growth

For the first nine months of FY 2017, Greater China (Hong Kong, Taiwan and China) accounted for 45% of OldTown's manufacturing revenue, replacing Malaysia (35%) as the top sales generator in the beverage manufacturing segment, according to the Hong Leong Investment Bank – FMCG – Far More China Growth report on 23 February 2017.
Another Hong Leong Investment Bank's  Asian Odyssey Underway equity research report on 24 February 2017 mentioned OldTown had a "strong network in China (with over 100 online retailers including Taobao, JD and TMall, which accounts for 80% of sales in China)."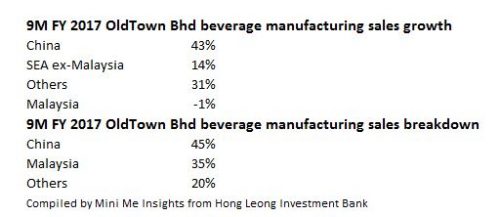 Note: China refers to Greater China – Taiwan, Hong Kong and mainland China. Mainland China contributed less than 15% of beverage manufacturing revenue.
The strong sales growth in Greater China contributed to the sterling performance of the overall beverage manufacturing segment in FY 2017, which rose 17.2% year-on-year.
In FY 2016, export contributed 59% or RM 116.7 million towards beverage manufacturing revenue. The beverage manufacturing export revenue for the first nine months of FY 2017 jumped 35% year-on-year, largely driven by Greater China.
OldTown introducing RTD coffee in China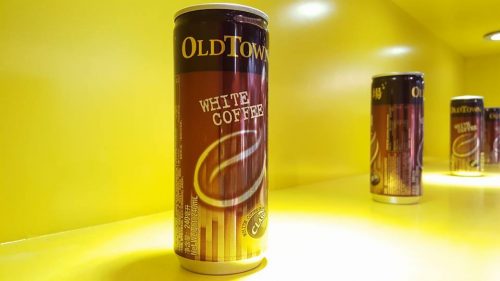 Ready-to-drink (RTD) coffee (image above) will be the next phase of growth for OldTown in China. According to Chen Lu, regional sales manager at Shenzhen OldTown White Coffee Trading Co., Ltd., the OldTown RTD coffee will be made available in convenience store and online and will be rolled out in the coming months. She also disclosed the stock has already arrived in the country.
Three pricing segments in RTD coffee in China
According to the PwC presentation entitled How to Build a Successful F&B Brand in China at SIAL China 2017, there are currently three pricing segments in RTD coffee in the country.
Below RMB 10 is highly competitive with 84.1% of market share in 2016, down from 85.6% in 2011.
RMB 10-20 is a growing segment with a market share of 15% in 2016, an increase from 13% in 2011.
Above RMB 20 has a limited market with a fall in market share to 0.9% in 2016 from 1.4% in 2011 due to the inability to compete with freshly-made coffee at this price level.
It is interesting to see which pricing OldTown will adopt for its RTD coffee.
Mocha flavour main thrust in 2017
OldTown launched the mocha flavour in China in 2017. The mocha flavour is aimed at young consumers and those that do not drink coffee. The original flavour remains the most popular choice in China.