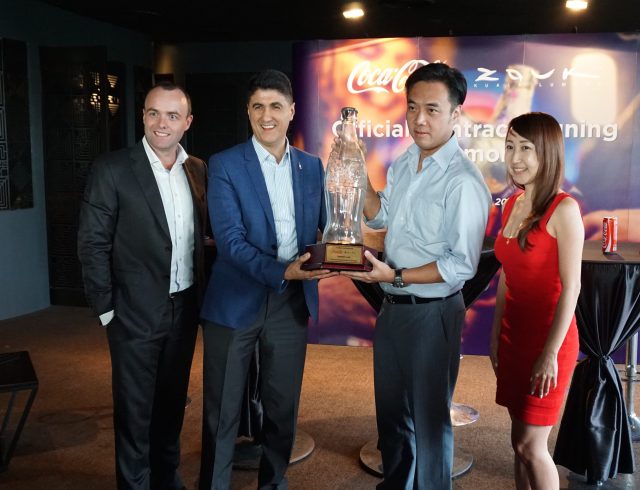 24 July 2017
After 13 years in Malaysia, Zouk Kuala Lumpur has chosen to take the party to the next level with Coca-Cola as its new beverage partner
The three-year agreement that was signed recently between Coca-Cola Malaysia and Zouk Club KL will see the iconic clubbing destination serving Coca-Cola, Coca-Cola Zero Sugar, Coca-Cola Light, Sprite, Heaven & Earth Jasmine Green Tea, Schweppes Ginger Ale and Tonic Water.
The agreement was signed by Gareth McGeown who has since assumed the positon of Chief Executive Officer of Coca-Cola's Bottling Investments Group Singapore, Malaysia and Brunei and Cher Ng, Executive Director of Zouk Kuala Lumpur. Witnessing the signing was Calin Dragan, Coca-Cola's Bottling Investment Group Regional Director for ASEAN and Middle East and Yean Ng, General Manager of Zouk Kuala Lumpur.
"We are really excited to be a part of Kuala Lumpur's clubbing scene as a partner of the iconic Zouk Kuala Lumpur where we will be refreshing patrons and keeping the party afloat with our own iconic brands from the Coca-Cola portfolio," said McGeown.
Zouk Kuala Lumpur first arrived in Malaysia on 2004 where it was located along Jalan Ampang, Kuala Lumpur and after 11 years, it relocated to the TREC entertainment hub and the RM38-million superclub is ranked #21 clubs in the world by DJ Mag's Top 100 Clubs global poll.
Comprising 11 venues which occupy a total of 60,000 sq ft of build-in club space, Zouk Kuala Lumpur draws over 17,000 visitors every week and was awarded "Nightspot of the Year" by the Hospitality Asia Platinum Award 2016-2018 and also "Brand Laureate Best Choice Brand Awards 2016 – 2017 for Brand Excellence in Lifestyle and Entertainment".
"We are pleased to announce the start of a new business relationship with a global brand the stature of Coca-Cola. A leader in its market and a favourable brand among our target audience, this partnership sits well with Zouk KL commercially. With a highly commendable marketing support and an extensive distribution network, it is safe to say that Zouk KL will be receiving all the support we need," said Cher Ng, Executive Director of Zouk Kuala Lumpur.
The Coca-Cola Company in Malaysia
In addition to Coca-Cola, one of the world's most valuable brands, the Coca-Cola system in Malaysia manufactures, markets and distributes over 80 products including sparkling beverages (Fanta, Sprite, A&W, Schweppes), zero-calorie sparkling beverages (Coca-Cola Light, Coca-Cola Zero Sugar, Sprite Zero), juice drinks (Minute Maid Pulpy), teas (Heaven and Earth), isotonic (Aquarius) and water (Dasani).
Coca-Cola has invested RM1 billion in Malaysia since 2010, creating more than 800 jobs and touching over 75,000 customers directly with a total reach of over 200,000 customers across Peninsula Malaysia and East Malaysia. Through its programmes and partnerships Coca-Cola Malaysia aims to make a lasting positive difference in the local community.
From recycling through partnership with the Malaysian Nature Society and Universiti Putra Malaysia (UPM), to working with Raleigh International and Muslim Aid Malaysia to provide access to clean water for more than 22,000 villagers in rural Sabah, and economically empowering women through the Coca-Cola KU entrepreneurship programmes – Coca-Cola is committed to building sustainable communities in Malaysia.
 About The Coca-Cola Company

The Coca-Cola Company (NYSE: KO) is the world's largest beverage company, refreshing consumers with more than 500 sparkling and still brands and more than 3,800 beverage choices. Led by Coca-Cola, one of the world's most valuable and recognizable brands, our company's portfolio features 20 billion-dollar brands, 18 of which are available in reduced-, low- or no-calorie options. Our billion-dollar brands include Diet Coke, Coca-Cola Zero, Fanta, Sprite, Dasani, vitaminwater, Powerade, Minute Maid, Simply, Del Valle, Georgia and Gold Peak. Through the world's largest beverage distribution system, we are the No. 1 provider of both sparkling and still beverages.  More than 1.9 billion servings of our beverages are enjoyed by consumers in more than 200 countries each day. With an enduring commitment to building sustainable communities, our company is focused on initiatives that reduce our environmental footprint, create a safe, inclusive work environment for our associates, and enhance the economic development of the communities where we operate. Together with our bottling partners, we rank among the world's top 10 private employers with more than 700,000 system associates.
For more information, visit Coca-Cola Journey at www.coca-colacompany.com, follow us on Twitter at twitter.com/CocaColaCo, visit our blog, Coca-Cola Unbottled, at www.coca-colablog.com or find us on LinkedIn at www.linkedin.com/company/the-coca-cola-company
 About Zouk Kuala Lumpur
Zouk Club first landed in Malaysia in 2004 with its first and original outlet located at Jalan Ampang, Kuala Lumpur where in 2015 after 11 years, Zouk KL relocated to a new vibrant and trend-setter concept under one roof, TREC (Taste, Relish, Experience, Celebrate) entertainment hub. The iconic superclub is a unique combination of night club, lounge, bar, private event venue and restaurant.
Representing the city's electronic dance music scene for 13 years, Zouk KL is lavishly outfitted with a state of the art lighting and sound equipment set against the kaleidoscope of soundscapes from EDM, House, Electro, Open Format, Trance, Techno, Trap, R&B, Hip-Hop to Indie and Nu-Disco. The award winning nightspot is a hallmark of club design and concept with its dramatic architecture befitting its status as a global club brand. It comprises 11 venue which occupies a total of 60,000 sq ft of build-in club space.  With a strong base of 340k followers in Facebook and 25k in Instagram, this Superclub never fails to deliver expectations on each event, a mark of an ever-ready and progressive club always looking to embark on bigger and bolder aims to lead the standard of global club culture for years to come.
Zouk Club KL is operated by Zouk Club (KL) Sdn Bhd.