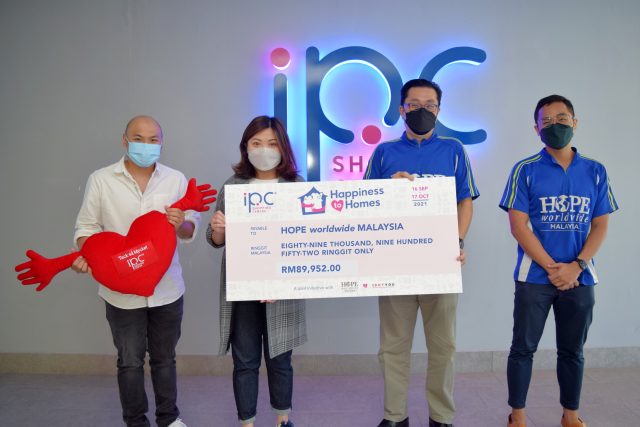 Kuala Lumpur, January 6, 2022 – IPC Shopping Centre together with its long-time partner, HOPE Worldwide Malaysia has recently completed yet another meaningful CSR initiative bringing happiness to homes of the B40 families in the Klang Valley. The Happiness to Homes campaign that took place from 16th September to 17th October 2021 saw a total of RM89,952 raised. This is approximately 20% higher than its initial target of RM75,000.
With the generous support of tenants namely Ben's Independent Grocers, Harvey Norman, AEON Wellness, and Popular Bookstore, the funds were channelled to purchase seven varieties of home essential kits which includes food packages, home electronics, and school supplies worth RM101,103 at cost below market price.
On 10th and 11th December 2021, HOPE Worldwide Malaysia distributed 300 food packages, 150 essential home appliances, and 300 school supplies kits to the B40 families at its Sentul Clinic.
Mark Tan, Marketing Manager of IPC Shopping Centre said, "At IPC Shopping Centre, our heart goes out to the community around us who are affected by the pandemic. This not only includes the B40 community around us but also those within our reach – our tenants. As we reimagine the world post-pandemic, it is important for us as brands and businesses to remember that we exist to serve the people and improve lives. That is why as iron sharpens iron, we should strive towards bolstering communities around us and work together to drive business growth. That is why we were glad that our tenants have also joined us to give back to the community and allowed us to purchase the items at a special price.
Though the pandemic has resulted in a shift in shopping behaviour from in-stores to online, it is heartening to see that the hearts of our shoppers remain community and people-centric. We are also proud to have partners such as our tenants who contributed the items, our digital agency partner, Idotyou who developed the platform on a pro bono basis, and HOPE Worldwide Malaysia, our NGO partner whom we've worked with since 2017 to bridge us to the families in need. We acknowledge that it was only through a team effort together with our patrons were we able to make our first ever digital donations and crowdfunding campaign, Happiness to Homes, a success," he added.
Through campaigns such as these, IPC Shopping Centre hopes to continue providing innovative ways to work together with its patrons to give back to the community and create a long-lasting impact in the lives and homes of many.
About IPC Shopping Centre:
Malaysia's first shopping centre anchored by IKEA, and the first of many shopping centres in IKEA Southeast Asia's portfolio in the region. A sub regional Shopping Centre strategically located in the heart of a mixed development of offices, hotel, commercial centres & residential, it serves as the neighbourhood shopping destination for the community, complementing the shopping hub in the district known as Mutiara Damansara Commercial Centre. We opened our doors in December 2003 and today we welcome an average visitation of 15 million visitors per year to our Centre.