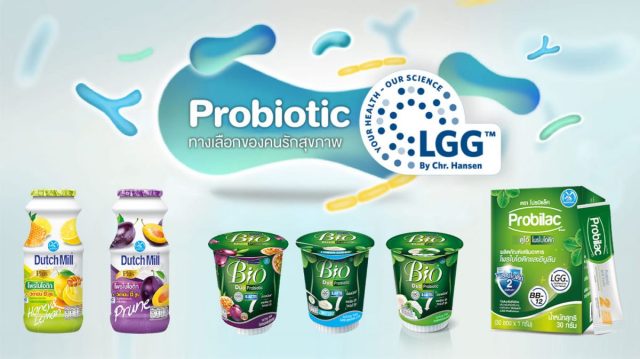 Thursday 06 January 2022
Dutch Mill reinforces its leadership in the Thai dairy market by transforming dairy products and healthy beverage in the country through collaboration with Chr. Hansen, a probiotic research institute from Denmark, to develop new products with innovative super LGG(TM) probiotic, allowing Thai people to build strong immunity every day which is the key to fight diseases in a sustainable way. Dutch Mill also stresses on its leadership in probiotics with three outstanding products "Dutch Mill Plus", "Dutchie Bio" and "Dutch Mill Probilac" dietary supplement, introduced to encourage Thai people across the country to strengthen their immunity through consumption of probiotic products that is easy to do every day. They are suitable for all genders and ages at a price that is accessible to everyone. It is a simple way to build stronger immunity for the body and people in your family.
Mr. Pornchai Sawadsuksobchai, Managing Director, Dutch Mill, Co., Ltd, said "Over the past two years, under the situation of COVID-19 which still continues to mutate, it has resulted in more preventive health care behavior trends such as choosing nutritious food, exercising and getting enough rest to build a stronger and better immune system to fight diseases. Meanwhile, the World Health Organization (WHO) has warned that in the future there may be a chance for emerging diseases that are more severe than COVID-19. This includes other strains of pathogens such as influenza. From this current crisis, Thai people are beginning to realize that having good health is important. Therefore, they began to look for products that complement the health and strength of the body. And "probiotic" is one of the best answers that meet the needs of consumers which explains why it becomes more and more popular."
Dutch Mill is the leader in dairy products in Thailand. We have pioneered the innovation of using good-quality probiotics as ingredients in fermented milk products, yogurt and dietary supplements. We see the importance of the quality of probiotics added to Dutch mil products. That is why we look for probiotics from reputable research institutions like the Chr. Hansen from Denmark who owns special "LGG(TM)" probiotic strain which is live microorganism. It has proven its effectiveness with the most research results in the world. There are more than 250 published clinical studies including those showed to help build a stronger immune system and create balance for intestines. The LGG(TM) probiotics are found only in Dutch Mill Plus, Dutchie Bio, and Dutch Mill Probilac. From studies, it has shown that over 70% of the body's immune system resides in intestines. Therefore, consuming probiotics on a regular basis helps balance digestive system and intestines, boosts immune system.
"We have an idea to build on our strengths in probiotics by developing a special Dutch Mill products those all Thai people can access. This is because we want Thai people to take care of themselves, exercise regularly and eat nutritious food and probiotics from Dutch Mill every day. Especially in the current situation, it is important that we always strengthen our bodies and build our immune system. If today a mask is a device to protect ourselves from diseases, bacteria and viruses that we have to face, eating probiotics every day is another important factor in building a protective defense for people of all ages. This is not to mention that we offer consumers easier access to probiotics in a variety of formats based on consumer preferences and at affordable price," added Mr. Pornchai.
In addition, Dutch Mill has also developed others products containing probiotic strains of LPC-37, L.casei431(R) and BB-12(R) as ingredients such as Dutchie Plus and Delight, reinforcing our leadership in the dairy market and healthy milk innovations by targeting consumers of all groups, including children, teenagers, adults and seniors. This is a major change in milk innovation and healthy food in Thailand. Currently, Dutch Mill has a no.1 market share of 27%.
Ms. Dorte Eskesen, commercial development and senior scientific manager for dairy cultures and probiotics from Chr. Hansen, said: Probiotics or small, good microorganisms, may play an important role in helping to support the body's immune system in strengthening the natural defenses. Probiotics have not always been easy accessible for Thai consumers. Now with Dutch Mill products containing the LGG(TM) probiotic strain by Chr. Hansen, consumers of all genders and ages have the opportunity to have access to adequate probiotic intake every day. Specifically, LGG(TM) probiotics have been widely accepted and used worldwide since 1990. Backed by more than 1200 publications, it is the most researched and documented probiotic in the world. LGG(TM) has pili or "hairs" that help it to adhere to mucus in the stomach walls. This is a unique characteristic that supports the functionality of the LGGTM strain and the survival in the body. When the body receives an adequate amount of LGG(TM) on a regular basis, it contributes to the balance of good bacteria in the body. Science on the LGGTM strain show that this particular probiotic can interact with immune cells and therefore may strengthen the body and its' immune function. In addition, LGG(TM), L.casei431(R) and BB-12(R) are trademarks of Chr. Hansen.