Staff-less retail concept booming in China
Staff-less retail (无人商店) is taking off in China ranging from BingoBox 缤果盒子 by Sun Art Retail to F5 Future Store (F5 未来商店). With no humans running the store, all it takes to ensure everything is running smoothly is technology and China has the ecosystem – technology and consumers – to support the new retail concept.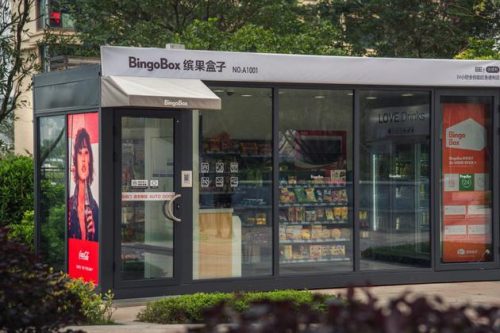 Expects strong growth potential
iiMediaResearch (艾媒集团), the China-based consultancy in mobile internet research, expects staff-less retail transaction in China to reach RMB 459.2 billion (USD 68 billion) by 2020, which seems on the high side but plausible given the rapid change in the industry.
China's top vending player bought by Fujian supermarket chain
Another major news from China, which strikes a chord with the Malaysian retail scene, is the acquisition of China's top vending machine operator Beijing Ubox Online Technology Corp. (友宝在线) by Fujian-based New Hua Du Supercenter Co. Ltd. (新华都) through an equity swap agreement.  New Hua Du operates 124 supermarkets and 9 department stores mainly in Fujian.
Ubox's revenue reached RMB 1.6 billion in 2016, up from RMB 1.2 billion in 2015 and RMB 0.82 billion in 2014. The company runs a network of 57,000 vending machines in 2016 (including franchise), up from 31,000 in 2015.
The acquisition is seen as a move by New Hua Du to enter into staff-less retail and other new business models.
Vending machines selling pet food in Malaysia
Closer to home, Malaysian retailers are focusing on vending machines first rather than the sophisticated and futuristic AI-powered staff-less retail in China. The online community for pets Petster recently unveiled pet food vending machine at M3 Mall in Kuala Lumpur, reported Discoverkl.com. The vending machine sells pet food for dog, cat, hamster and rabbit. There is also a RM 1 corner selling affordable meal for stray animals. It is claimed that this is the first pet food vending machine in KL.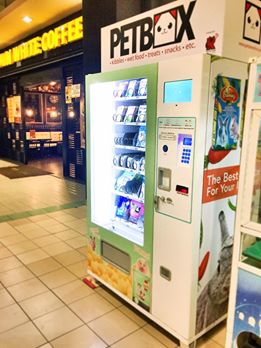 Vending machines to go cashless
Another interesting news was the announcement on 25 July 2017 of a new cash-less vending machine where products can be paid for by using the Touch 'n Go card.
"The machines, introduced by Touch 'n Go Sdn Bhd (TNGSB) in collaboration with Ventaserv Sdn Bhd (Ventaserv) and Coca Cola Refreshments (M) Sdn Bhd (Coca Cola) are available in public areas in the Klang Valley including hospitals, recreation parks, shopping malls, and office buildings," said the press release.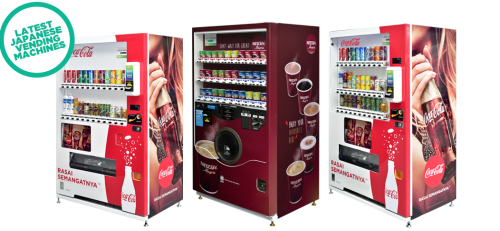 Ventaserv is a 100%-owned company of Creador Sdn Bhd. The key beverage partners of Ventaserv are Nestle, Nestle Professional, Coca-Cola, Red Bull and Yeo's.
New vending machine standard launched in Singapore
Across the causeway, the Singapore government has recently announced on 21 July 2017 a standard for vending machine operation. The key objective is to provide best practices to new entrants and ensure food safety for consumers. It is known as TR 57. The guideline can be downloaded here.
"Covers the hygiene guidelines for design, installation and maintenance of machine, and operations, which include the supply and replenishment of food and related accessories, for food vending machines for pre-packed shelf-stable food products, juices and beverages, both hot and cold beverages from powdered ingredients or syrups, ice cream, milk and milk products, and ready-to-eat food items. The machine may vend these food items frozen, chilled or hot."
The new regulation shows there is a need to regulate the vending machine sector, which is growing rapidly in Singapore as companies automate the selling process.
What Mini Me thinks
The automation of route to market leveraging on technology is set to grow in importance as the infrastructure is in place to support a new retail environment.
*2nd image from Petbox, 3rd image from Ventaserv