In the fight against diabetes, Singapore Prime Minister Lee Hsien Loong announced in a National Day Rally on 20 August 2017 that 1 in 9 Singaporeans has diabetes. The situation has reached a point where he called diabetes a "health crisis" particularly for Malays and Indians where the incidence is much higher than the Chinese.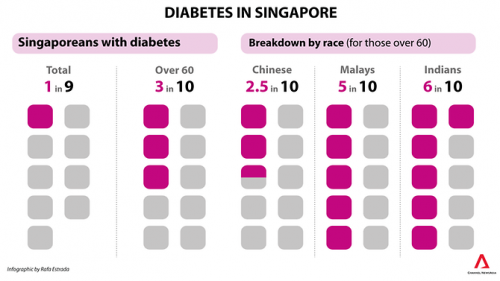 Infographic by Rafa Estrada for Channel News Asia
Seven key players pledge to reduce sugar level
In response to the call by the PM, the Ministry of Health (MOH) announced on 22 August 2017 that seven leading beverage makers in the island nation have pledged to reduce the sugar level in their beverages to 12% or lower by 2020. This works out to 12g of sugar for every 100ml. The seven companies who made the pledge are:
Coca-Cola
F&N Foods

Malaysia Dairy Industries

Nestle

PepsiCo

Pokka
Yeo Hiap Seng
Minimal impact
Most of the beverages manufactured by the seven leading beverage companies in Singapore already have 12% or less sugar. POKKA's press release on 23 August 2017 mentioned that only "less than 5% of the beverages POKKA manufactures and distributes in Singapore contain total sugar of 12% or more."
An article in Today Online cites Yeo Hiap Seng group chief executive Melvin Teo of saying that less than 1% of Yeo Hiap Seng's range contains over 12% sugar.
Malaysia Dairy Industries, meanwhile, said none of its products contain more than 12% sugar and the same were echoed by Nestle Singapore and F&N Foods. For PepsiCo, 20% of its range has over 12% sugar, while three Coca-Cola products have over 12% sugar.
The beverages with over 12g of sugar per 100ml are as follow:
Coca-Cola
A&W sarsaparilla

Schweppes bitter lemon

Fanta Strawberry
PepsiCo
Mug root beer
Mountain Dew
Kickapoo (a Monarch trademark)
Pokka

Soursop juice drink
Guava juice drink
Yeo Hiap Seng
Coca-Cola to reduce sugar content by 10% by 2020
General Manager of Coca-Cola Singapore, Malaysia, Brunei and Cambodia Tony Del Rosario said the company will lower the sugar content of its beverages by 10% by 2020. He added the average sugar content of Coca-Cola's portfolio in Singapore is 8.1% and this will further reduce to 7.29% or lower by 2020.
"We're offering more new drinks with low sugar content or no sugar added. We're making smaller, more convenient packages available so managing sugar is easier. We're giving people the information they need to make truly informed choices." he said as reported by Channel News Asia.
Other measures on the table
Apart from capping the sugar content of the key beverage players, the Ministry of Health said other measures including advertising restrictions, warning labels and sugar tax may be on the table. Such measures are being investigated by a national task force tackling the disease.
What Mini Me thinks
Even though the recent announcement would have minimal impact on the leading beverage players, it does set the stone rolling for a gamer changer such as a sugar tax, which is being implemented or proposed in Thailand and the Philippines. In the future, new product launches in the beverage space will focus on low/no-sugar and will come in smaller packaging sizes to control sugar intake.