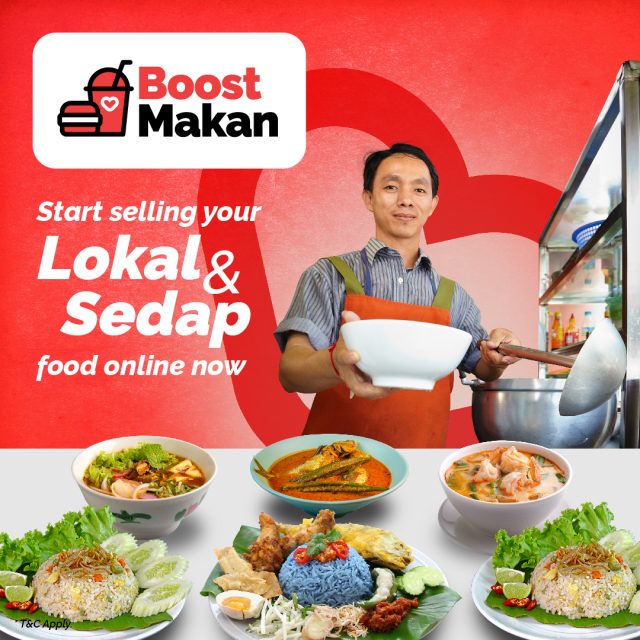 The new 'Boost Makan' is a versatile and easy to use food ordering platform integrated within the Boost Biz merchant app
Kuala Lumpur, 29 November 2021 – Boost recently added a new food ordering platform called Boost Makan to help its F&B merchants bring their businesses online without the hassle of complicated backend systems and expensive fees. Existing Boost merchants can easily access Boost Makan directly within the Boost Biz merchant app and sign up for the food ordering platform with no onboarding fees imposed for a limited time. 
Boost Makan is open to all F&B merchants who want to shift their business online using a platform they are already familiar with. This includes cafes, restaurants, home businesses, hawkers, food court stalls and even food trucks. Some of the benefits merchants can enjoy include a user-friendly platform, low transaction fees, reliable third-party delivery partners, and fast payment settlements within two (2) working days. 
Sheyantha Abeykoon, CEO of Boost said, "The addition of Boost Makan to the Boost Biz merchant app is part of our efforts to enhance the merchant solutions we offer. This platform was rolled out six weeks ago as a trial with selected existing Boost F&B merchants. We received positive feedback from our merchants who participated and we're happy to serve the needs of F&B businesses of any size run an omnichannel operation with ease. Our F&B merchants can leverage more functions without needing an additional device, system or Point-of-Sale (POS) terminal since it is integrated within the Boost Biz app. This will help them widen their business reach as well as give our users a more options for their meals." 
"Boost currently has over 380,000 merchants across Malaysia, of which a large segment are F&B businesses. We are excited to help these entrepreneurs take their businesses online, broaden their revenue streams and reach a wider customer base while leveraging on our more than 9.5 million users," Sheyantha added. 
The Boost Makan platform syncs up on the Boost eWallet app, where users can access and browse to place food orders. This means that changes made on the merchant's side via the Boost Biz app will be reflected instantly on the customer's side. 
There are four order fulfilment methods merchants can choose from on Boost Makan. Options include delivery with a 20KM coverage radius, pick-up, in-store contactless orders for walk-ins and drive-thru. Delivery and pick-up methods allow customers to set their expected delivery time or preferred pick-up time respectively. Whereas the drive thru method allows customers to provide their vehicle number together with their order, so merchants can identify customers' cars and have food sent directly to them upon arrival at the merchant's place of operation. This is a value-added service option merchants can choose to deliver a better customer experience, where customers do not need to worry about parking or leaving their cars. 
Registration for Boost Makan is simple. Interested merchants can visit Boost's web portal to complete a simple registration process. Guides are available for merchants to refer to through the web portal for help with registration and using the Boost Makan food ordering platform. Alternatively, merchants can reach out to their respective agents to help with the registration process. 
From now until 31 December 2021, new and existing F&B merchants will receive RM50 merchant incentive upon registering with Boost Makan. This incentive is only applicable to new and existing F&B merchants who have yet to onboard with Boost under the Go-eCommerce Onboarding Campaign. 
For more information on Boost Makan and all the features offered, kindly visit www.myboost.com.my/features/boost-makan/