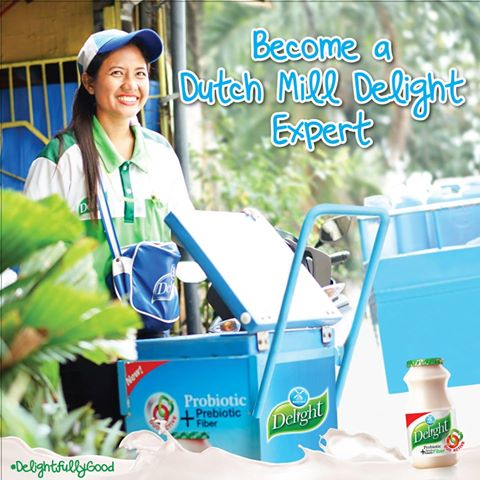 Dutch Mill is developing a network of Dutch Mill Delight Experts to bring its probiotic drink closer to consumers in the Philippines. The Dutch Mill Delight Experts are similar to Yakult Ladies who deliver the probiotic drink right to the doorstep of consumers.
Coverage of Dutch Mill Delight Experts
According to the Dutch Mill Delight Philippines Facebok site, the company is looking for individuals to become a Delight Expert in the following locations in Metro Manila. The contact numbers are as follow:
Las Piñas: 0917 953 1941 / 0932 878 8783
Manila:

0917 887 0444 / 0917 895 2255

Pasig:

(02) 508 5760

Quezon City (Fairview):

(02) 372 7753

Quezon City (Cubao):

0917 810 2908 / 0917 703 3971

Rizal:

(02) 651 1608 / (02) 651 0162

Taguig:

0917 563 9643
Yakult Lady System works in Indonesia
There is no publicly available information on the performance of Yakult Lady in the Philippines but in Indonesia, Yakult Ladies (home delivery) accounted for 48% of the bottles sold in 2013, up significantly from 19% in 2007. The remaining bottles are sold through the retail outlets.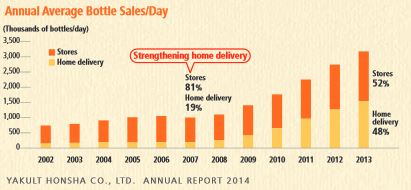 Yakult Lady System in Indonesia. Image from Yakult Honsha Co Ltdannual report 2014 for the year ended March 31, 2014
Yakult posts double-digit growth in the Philippines
In the Philippines, Yakult sales have been increasing by double-digit, reaching 2.5 million bottles sold per day in 2016. That's equivalent to 2.4% of the population, a figure indicating there is still ample of room to expand in the country in terms of penetration and usage.

Dutch Mill Delight now in a larger pack size
Dutch Mill Delight probiotic drink, containing both Pro and Prebiotic fiber, is now available in a larger pack size of 400ml. This adds to the current 100ml, which competes directly with Yakult (80ml) in the same segment.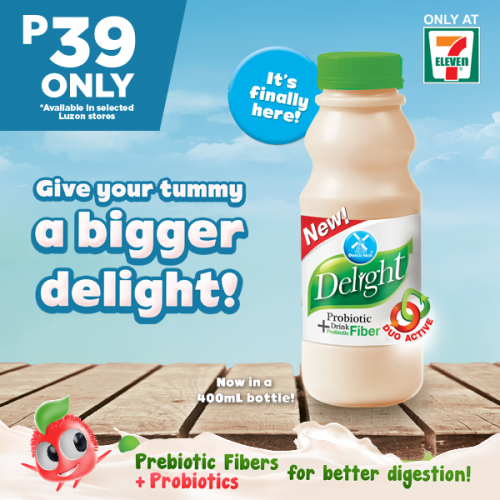 The Dutch Mill Delight probiotic drink was first launched in the Philippines at the end of 2016. It was then known as the "2nd generation probiotic drink."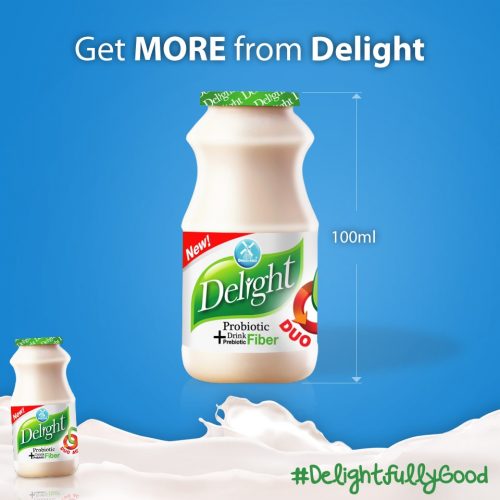 Dutch Mill Delight in 100ml. Image from Dutch Mill Delight website
Following the footstep of Betagen in Thailand
Dutch Mill's latest 400ml pack follows the practice in Thailand, which offers more packaging options for the different consumption needs and occasions.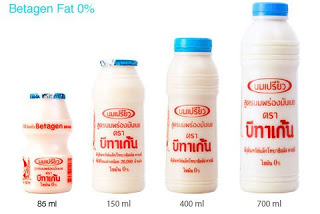 What Mini Me thinks
In the Philippines, the Yakult Lady System has sank its roots in the country. To compete with Yakult, it is imperative for a contender brand like Dutch Mill (distributed by Monde Nissin) to introduce a similar system to close the last mile.
The introduction of Dutch Mill Delight in 400ml, a format inspired from Thailand, might work in the Philippines but it needs to be clear whom the 400ml is targeting at.