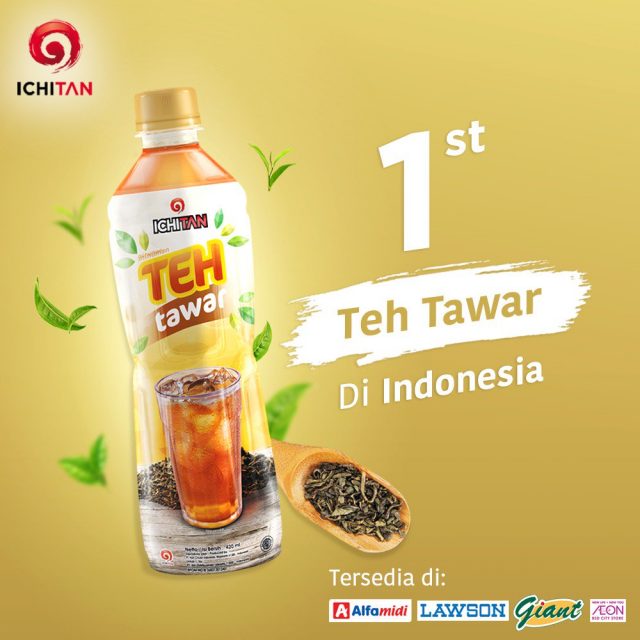 First sugar-free tea
Ichitan Teh Tawar, the first sugar-free ready-to-drink (RTD) tea in Indonesia, has been launched by PT Ichitan Indonesia, the local unit of Thailand-based RTD tea giant Ichitan. Teh Tawar is translated into English as plain tea.
No preservatives
The RTD tea does not contain sugar and preservative. The tea is made from green tea and jasmine (bunga melati). Ichitan Teh Tawar is currently available at Lawson, Alfamidi, Giant and Aeon.
Ichitan Teh Tawar is the latest innovation following the launch of Teh Manis (Sweetened Tea) and Teh Hijau Melati (Jasmine Green Tea) in the first half of 2017. Teh Hijau Melati is made from organic green tea of less than four months old.
Limited no/low-sugar option
Most major RTD tea players Teh Kotak, Pucuk Harum, Sosro and Frestea have launched the low-sugar option. OT Group's Teh Gelas was the latest to offer the low-sugar option in 2017.
At the moment, Indonesian consumers have limited choices when it comes to unsweetened RTD tea. As most Indonesians prefer their drinks to be sweet, Ito En Oi Ocha is among a few that is available in the market, thus making sugar-free tea a niche segment.
Health experts recommending plain water or tea
To combat LDL or "bad" cholesterol, an Antaranews.com article in June 2017 quoted Doctor Saptawati Bardosono of recommending readers to drink plain water or plain tea to control LDL. Saptawati is a lecturer in the Department of Nutrition in the Faculty of Medicine at the University of Indonesia. The recommendation was given to deal with the excessive consumption of food made with santan (coconut oil) usually occurred during the major festivity like Lebaran, also known as Idul Fitri.
What Mini Me thinks
As lifestyle changes, there is a growing wariness towards sugar and this opens up opportunities for brands to innovate around sugar replacement and varying the sweetness level.
Ichitan green tea with corn flavour in the pipeline
Ichitan is likely to release a new product – green tea with corn (teh hijau rasa jagung) in Indonesia soon as the product has already been registered and approved by LPPOM MUI in the latest May 2017 update. LPPOM MUI is Indonesia's sole halal certification body.