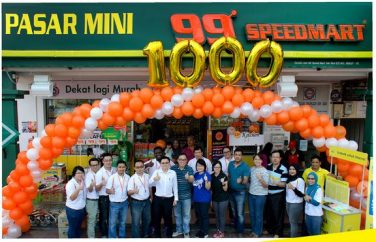 99 Speedmart has announced the celebration of its 30th anniversary and the opening of its 1,000th outlet in Malaysia. The 1,000th outlet was opened in Shah Alam Seksyen 13 on 12 August 2017.
For 30 years, 99 Speedmart has been serving consumers with shopping convenience and affordable prices. The outlets open from 9am and close on 10pm. They provide consumers with their daily shopping needs for packaged goods and essential grocery items. As 99 Speedmart does not sell fresh produce, consumers still have to get their vegetables and meat from the wet markets, sundry shops or supermarkets.
Proximity shopping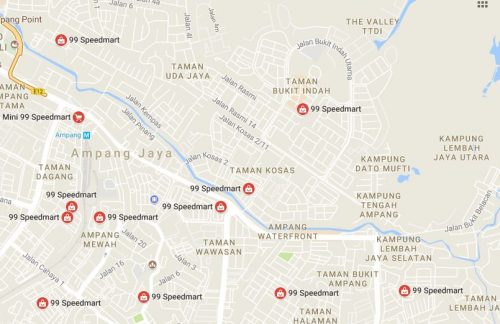 The unique selling point of 99 Speedmart is proximity shopping for consumers who want to top up their grocery. The price is competitive comparable with modern hypermarket or supermarket chain. The most notable price advantage is baby food and disposable diapers, which take up a sizable space in the store, as there is a huge demand for such products at 99 Speedmart.

The example for the Ampang Jaya area in the state of Selangor shows how the 99 Speedmart outlets are located in the commercial district within walking distance from the residential areas (taman). Prime location makes 99 Speedmart accessible to even those without their own transport such as housewives, students and migrant workers.
The minimarket chain has also made available a range of services including bill payment, mobile reload and parcel pick-up and drop-off as well as ready-to-eat meals in-store, similar to the services offered by other convenience stores.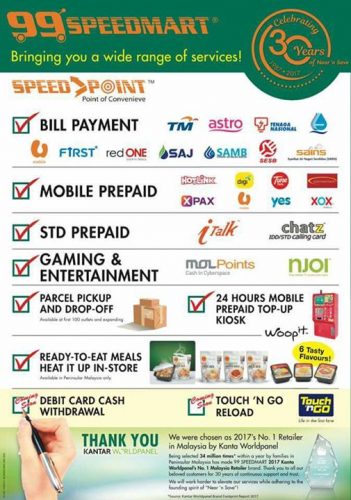 Rapid expansion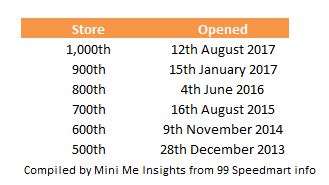 It takes less than 4 years for 99 Speedmart to grow from the 500th outlet to the 1,000th store, equivalent to the opening of more than 100 stores each year. The chain aims to expand its current store count to 2,000 outlets in the coming three to five years, reported The Star.
Still no presence in many states
Despite having opened its 1,000th store in August 2017, 99 Speedmart only has stores in 7 out of 13 states and 2 out of 3 federal territories in Malaysia. The current stores radiate out of Selangor and they are located in the states of Perak, Pahang, Negri Sembilan, Sabah, Melaka, Johor and in the federal territories of Kuala Lumpur and Putrajaya.
Among the states that are still not penetrated by 99 Speedmart are the northern states of Kelantan, Terrenganu, Kedah, Perlis and Penang and in East Malaysia's Sarawak plus the federal territory of Labuan, reported Sinchew daily.
The strategy is to focus on cities with large concentration of the population for example in Kota Kinabalu, the state capital of Sabah, before moving into other smaller cities within the state.
Overseas expansion beckons
99 Speedmart has plans to expand overseas as some Asian countries still do not have minimarkets, said Lee Thiam Wah, founder and managing director of 99 Speedmart. However, the overseas expansion will only happen after 5 to 10 years, said Lee. The company is currently studying the markets in Thailand and China.
Revenue reached RM 3 billion in 2016
Sales revenue of 99 Speedmart reached RM 3 billion in 2016, up from RMB 2 billion in 2014 and RM 1 billion in 2011, said Lee. He expects revenue in 2017 to rise to RM 3.5 billion, thanks to the expansion of the store network.
As a comparison, 7-Eleven Malaysia generated revenue of RM 2.1 billion in 2016 with 2,122 outlets at the end of 2016, while Tesco Malaysia posted revenue of RM 4.45 billion in the financial year ending February 2017 with 71 outlets. This makes 99 Speedmart an important chain for FMCG sales in Malaysia.