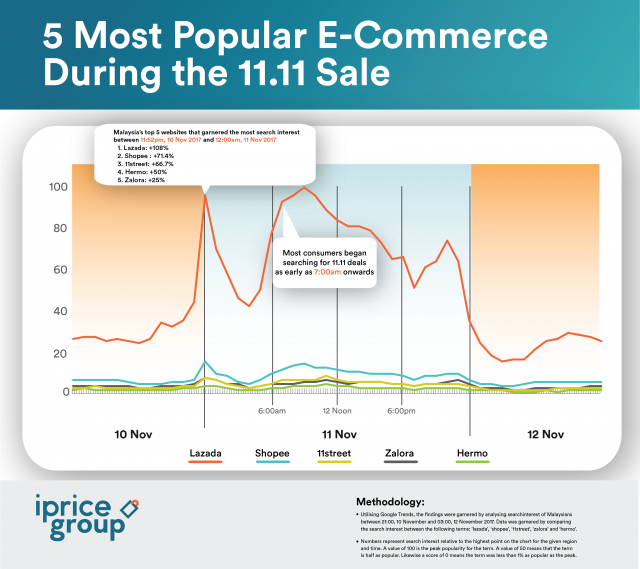 Analysing Malaysia's Top E-Commerce During the 2017 Singles' Day Sale
Last Saturday (11 November 2017), Alibaba broke its previous sales record by garnering a total of US$25 billion (RM104.86 billion) during its Singles' Day sale. Known as the 11.11 Sale, the e-commerce phenomenon has entered Malaysian soil in recent years and this was evident as we see various online and offline retailers promoting the sale on multiple channels. However, were businesses able to galvanise consumers' interest for Singles' Day? If yes, consumers were most attracted by deals by which e-commerce? To find out, we conducted a study utilising Google Trends and found the following insights from Malaysians.
 The Top Five Online Merchants
Lazada solidifies its market dominance in Malaysia by owning the number one spot by a large margin. Owned by the originator of the 11.11 Sales, Alibaba, Lazada experienced an increase of 108% in Google searches just within eight minutes (between 11:52pm, 10 November and 12:00am, 11 November). Just recently, Lazada announced that it experienced an 'explosive growth' in Malaysia and across the region, racking up US$23 million (RM96.4 million) in sales through the 6.5 million items ordered by shoppers.
Other top merchants who experienced an increase in search interest in the same period were Shopee (+71.4%), 11street (+66.7%), Hermo (+50%) and Zalora (+25%). By averaging the search interest on 11 November 2017, the five most popular e-commerce in Malaysia is:
1st Place                      : Lazada
2nd Place                      : Shopee
Sharing 3rd Place        : 11street & Zalora
4th Place                      : Hermo

Shoppers Began Searching for 11.11 Deals by Midnight
Consumers began searching for deals as early as 12:00am on Singles' Day. After the wee-hours of the morning, consumers were back up searching for deals as early as 7:00am and search interest reached its highest point at 9:00am. This is a unique occurrence as Singles' Day is the only sales event that has successfully garnered such a high number of search interest during midnight.
Methodology
Utilising Google Trends, the findings were garnered by analysing search interest of Malaysians between 12:00, 10 November and 12:00, 12 November 2017. Data was garnered by comparing the search interest between the following terms: 'lazada', 'shopee', '11street', 'zalora' and 'hermo'.
About iPrice Group
iPrice Group is a meta-search website where Malaysian consumers can easily compare prices, specs and discover products with hundreds of local and regional merchants. iPrice's meta-search platform is also available in six other countries across Southeast Asia namely in; Singapore, Indonesia, Thailand, The Philippines, Vietnam and Hong Kong. Currently, iPrice compares and catalogues more than 100 million products and receives more than five million monthly visits across the region.
iPrice currently operates three business lines: price comparison for electronics and health & beauty; product discovery for fashion and home & living; and coupons across all verticals.